Fresh Ball Gag
I love this gag and expect it to continue to serve us well for quite awhile. Although I'll need to replace it someday, I'm glad that this toy is in our box and I would most certainly suggest it to anyone looking for a ball gag that is non-threatening and fun to see and wear. It's not real leather, and isn't too expensive, so it won't put you out once it does break. An easy but great investment, if you ask me.
Published:
Pros:
extremely adjustable sizing
easy on the wallet
lovely colors
buckles
Cons:
not leather (for some)
made cheaply
seam in ball
After getting sick of using the breathable gag we have over and over, the husband and I finally decided it was time to get a nicer, better looking gag to play with. Manufactured by PHS International, this gag is part of a lovely set that mostly isn't sold on EF anymore, but that I would love to own all of, even if it's not the highest quality toys. I just am in love with the color scheme, I can't help it. I've had my eye on the Fresh line since my first days on the site.

This ballgag is made from Polyethylene, which is only rated a 7 on the EF safety-rating scale. Now normally, I don't play with lower quality toys, but this is not a toy that is going inside anyone at anytime, other than the actual gag ball, which is either made from rubber or silicone, I'm not really sure which. Polyethylene is a fake-leather type product, which is great for those of you who like to live cruelty-free. It makes up the straps on this gag and can be easily cleaned by using a mild soap, warm water, and even a soft-bristled brush or washcloth. I don't really see it getting dirty enough to have to take a brush to it, but hey, everyone plays differently. ;) Now the ball has a noticeable seam going through the middle, which isn't noticeable during wear, you can just see it. It is a lovely pink color that absolutely pops against the blue of the straps and I love it. Like I said before, I have always been in love with the color scheme of this. The blue, pink, and white really go well together, and even the silver fittings and buckle look fantastic.

Like most things, you really are getting what you pay for with this gag. I don't expect it to last forever, but if you treat it well, don't just toss it in a drawer of toys and be gentle when you play, this should last you for quite awhile. I personally keep mine in the plastic clamshell package it came in (with the cardboard insert thrown away, of course) inside my EF tote with the rest of my toys. Since I'm not 100% sure what the ball is made of, I don't want to risk it getting near any of my other toys, just in case the chemicals have a bad reaction, which definitely happens sometimes and you should always be wary of. If you're looking to gift this, I wouldn't suggest using the package it comes in. You'll probably wanna make it look a lot nicer than it does, which is to say, it's very cheap. No instructions. You know the kind.

This gag is 26" in total length and can fit easily back into the clamshell packaging, in a drawer, and would most certainly look great hung up along with your other toys. There are lots of sizing options for this gag, and I most certainly believe it could fit almost anyone of any size. I am personally a small person, and I use it extremely tightly and on one of the smallest fittings, and it fits me pretty much perfectly. So if you're wanting it to be a little loose, you have that option, too. It's really great. Now the rings on either side of the ball do look a little cheap, and I must mention that the straps, when pulled tightly (like during wear), seem to be stretched a little thin. That's what worries me and makes you realize that this is not a top-quality product. I do like that the side that you wear against your skin (the white side), seems to be lightly padded and is cotton or something similar-very comfortable to wear and shouldn't rub you in a bad way should sweat and prolonged wear be introduced.
Experience
We love this gag so much! It looks great during wear and just kept up. I love peering into my toys and seeing it there, it always brightens my day.
The gag folded up in its clamshell packaging with the cardboard thrown out~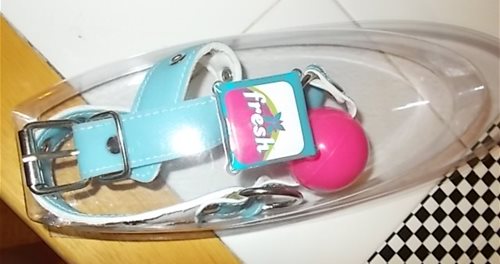 A photo of the whole gag, from end to end~

A closeup of the ball and a bit of the straps. As you can see, the colors are super lovely, and you can also see the seam of the ball pretty well in this photo. I'm not even sure if you can make a ball WITHOUT a seam, but if you can, they didn't put one in this~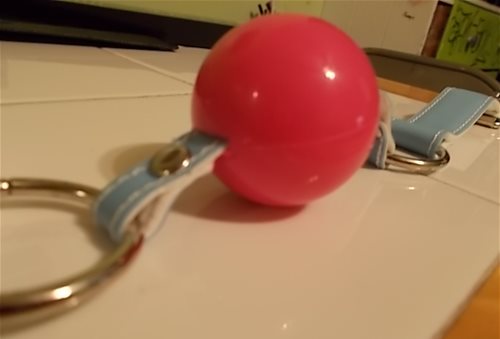 I'm giving this gag four stars for a few different reasons. It will need replaced, the metal pieces are cheap, the fake leather is cheap (but it's fake, which I love), it buckles, the sizing will fit a lot of different people, the colors are amazing, it is part of a really nice line, and the ball is a very nice size (5 1/2", I think), which makes it not too big and not too little (for me, anyway.)
This content is the opinion of the submitting contributor and is not endorsed by EdenFantasys.com

Thank you for viewing
Fresh ball gag
– headgear review page!