Bargain Price, Quality Product
These cuffs are a great addition to anyone with any level of experience. If you want to have light or heavy restraint play, take them to a play party or use privately, and/ or combine them with other restraint systems- look no further! These versatile cuffs are perfect for any occasion!
Published:
Pros:
*Easy to use
*Easy to clean
*Beginner friendly
Cons:
*Cannot be in wet or humid environments
*Needs to be shaped and conditioned before using
These simple and easy to use bondage straps arrive to your house in a tall box, so they're a little stiff and pin straight. Therefore, the first thing I recommend doing before using is conditioning and also shaping them. If you've never used a leather product before, jump down to the bottom of my review where I give you some helpful tips on caring for and using leather goods.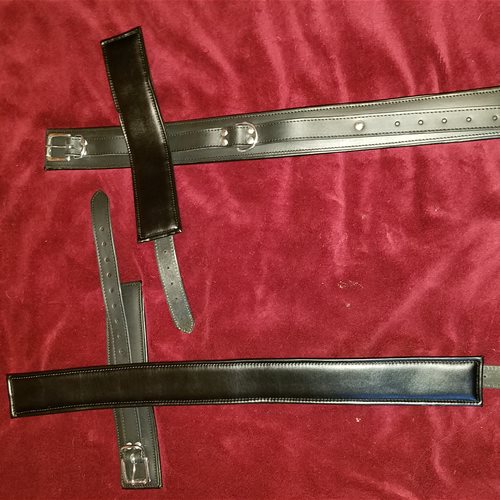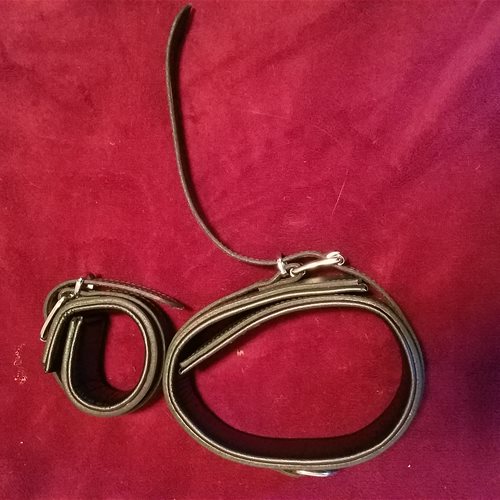 These cuffs are easy to use, adjustable, and the wrist cuff rotates via a rivet so you can have the buckle on either side. Each cuff is made from durable leather, measures approximately 12" for the thigh and 10.5" for the wrist, and there is a big of plush feeling to the straps as well which makes them comfortable to wear. Additionally, there is a D-Link attachment on each part of the cuff so you can combine these restraints to other linking toys, straps, or restraint furniture.
I can't say the phrase "Simple to use" enough. There is a standard buckle on each strap allowing for full customization of tightness. The thigh portion wraps around your leg and buckles securely, and then the same for the wrist. And that's it! So simple right? This makes it great for beginners and advanced players alike!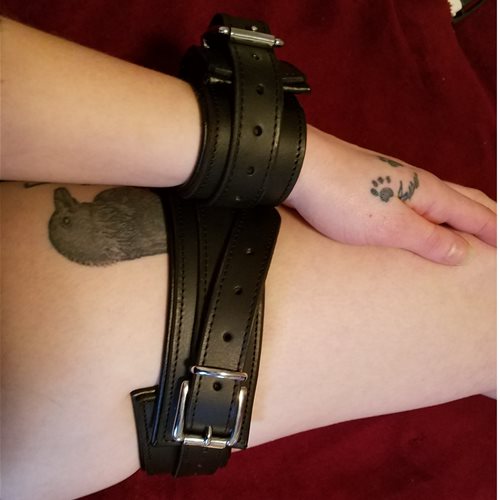 I find cuffs in general to be a very versatile toy. There's really no wrong way to use them, so long as you're mindful of your partner and don't make the straps too tight. Cuffs can be used during foreplay, sex, at play parties, and I've even seen someone use them as a fashion accessory. The sky's the limit with these cuffs!
~* LEATHER CARE 101 *~
1) No direct sunlight!
It dries the leather out and causes it to become brittle. Once this happens, it will be prone to cracks and also deterioration.
2) Keep them cool and dry!
Mildew can also deteriorate leather if it is allowed to grow. So, don't leave your items in a humid or wet area. Also do not store your leather in plastic. Removing all air supply from the leather is bad for the material, let it breathe.
3) Keep leather away from abrasives that can cause damage!
Once you rip, tear, or otherwise distress leather there is no going back.
4) Add moisture when needed!
If your leather is starting to dry out it's time to moisturize the material. There are a number of oils and waxes that can help you reduce and prevent damage. Add leather dressing intermittently, (even if you haven't used your item(s) recently.) A few great brands are Hubbards, Brahmin Care, Frye, and Bickmore.
5) Keep the leather clean!
Dirt particles get into the leather and can cause abrasions. If you do quick clean of your leather regularly and after use, then you won't have to worry about deep cleaning or damage. Use a damp cloth and gently wipe it down. No soap or non-leather cleaners. If your leather becomes wet (IE a jacket caught in a rain storm) keep it away from a fire/ heat source and the sun. You must let it dry slowly in a room temperature environment as drying leather quickly will change its chemical structure, causing it to become brittle and crack.
6) Remember to check which type of leather you have so you know the best ways to clean it!
For example, Suede leather has different care instructions than Polished leather. When in doubt, check with the manufacturer for cleaning instructions or consider taking it to a dry cleaners.
7) To shape it, rub your oil or care product of choice on first (you want a matte shine, don't overapply the product). This will allow the material to soften and will prevent accidental damage. With a product like this, it's easy to shape because it's designed to be latched. So your next step is to just secure each cuff like you would when it's in use. This will train the leather to be in it's operational state all the time; in the long run this prevents things like cracking at joints or bends from irregular use.
Experience
From the moment I opened the package, I was just in love with these cuffs. I already have the under the bed restraint straps that go under my mattress but was never happy with the cuffs that came with. With these cuffs being so universal, I was able to combine them and was super happy with how the fit together. If I had a soapbox, I'd be standing on it shouting how much I love these.
This product was provided free of charge to the reviewer. This review is in compliance with the FTC guidelines.

Thank you for viewing
Heavy duty leather wrist to thigh restraints
– cuffs review page!