Best Left for Real Cats
While this collar is such a pretty accessory for submissives, it sadly won't fit the majority of them. The product page is misleading, as this product is much smaller than it lists. I loved the construction and look of this collar, but I had to return it.
Published:
Pros:
+ Adorable.
+ Acceptable for most public wear.
+ Leather is soft.
Cons:
- Very tiny!
- D-ring is in the back.
Overview
The Diva Stars collar is a lovely symbol of submissiveness or ownership that can be worn during play or in most public situations, since it is more subtle than most collars. Available in pink or black with pink gems on either, it has a hint of femininity to it. While it is both adorable and soft, there are some major sizing issues with this product, so be sure to measure before buying!
Material
This collar is made of lambskin leather, which is exceptionally soft and comfortable. This material is notably softer than regular leather.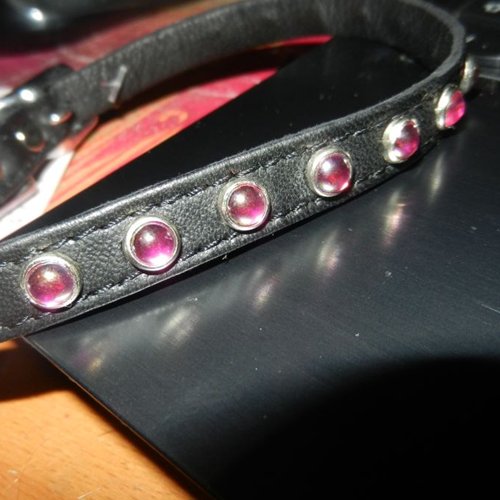 The majority of it is lined with silver-colored pieces that hold pink faux-gems. There are sixteen of these gems in total. They do appear to be securely fixed to the collar, and I do not expect there to be problems with gems falling out.
There is a buckle closure to this collar, which is made of metal.
Functionality
While this collar can be used for leash-play, I would recommend it be used more for show. The lambskin is softer and thinner than regular leather, and may damage if pulled on with force.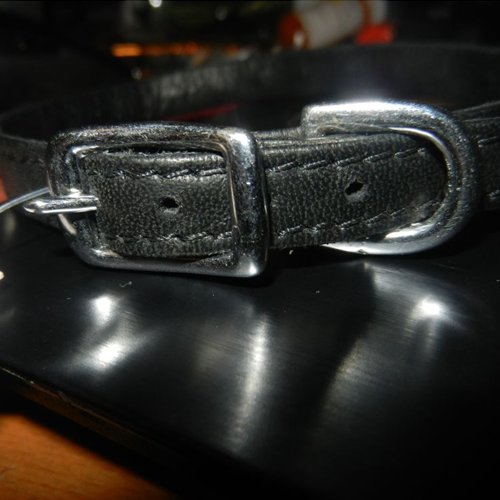 There is a D-ring on this collar, but it is in the back of the collar, as with real pet collars. If you would like to attach a leash to the back of the collar for light play, that is possible. However, most collars for BDSM have a leash attachment in the front, which this does not.
This collar may be best used for jewelry or as a BDSM accessory as apposed to a functional collar due to the potential to damage and lack of functionality for some activities.
Sizing
Sizing is a huge issue with this collar, as it runs much smaller than listed on the product page, or even on its tag. I have photographed the collar with a standard lighter for size comparison. As you can see, it's quite tiny.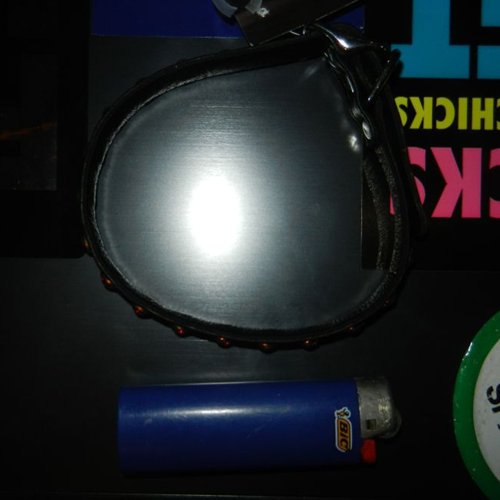 While the product pages says this collar is 17" long, it is just over 14" in actuality. The tag states that it will fits necks 12"-16", which is quite a claim, considering that it 2" longer than the actual product. I was very disappointed in this error, as the collar did not fit me at all.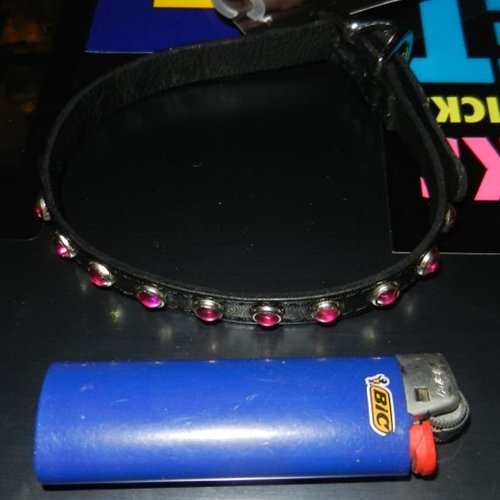 I would say this collar would comfortably fit a next sized 10"-13", but no larger. Most males will not fit this collar, as well as a large portion of females, sadly. Only very slender necks will get comfortable use of this product.
Packaging
There is no packing with this product, only a tag with incorrect information on it. I was very disappointed with this, and expected better from Ruff Doggie Styles. I have purchased from them before and was extremely satisfied with their products, but this was a complete let-down.
Maintenance/Storage
This collar should not require deep cleaning. If it gets dirty or dusty, a damp cloth should work just fine. Avoid contact with bodily fluids, as this is real leather.
For storing, anywhere clean and dry will work. A drawer, toy bag, or toy box are all suitable. In addition, some people like to display their BDSM gear. This can be hung by the buckle with other gear if desired.
Experience
Sadly, I had no choice but to return this collar to EdenFantasys. It had major sizing issues and did not even fit around my neck. I was very disappointed by the incorrect product information, not only on the product page, but the actual tag.

I am rating this three stars because it is a nice quality collar. However, with such sizing issues, I cannot give it a higher rating as it may not fit the majority of people that purchase it. Measure your (or your submissive's) neck before buying this to save yourself the trouble of having to return it.
This content is the opinion of the submitting contributor and is not endorsed by EdenFantasys.com

Thank you for viewing
Diva stars collar
– collar review page!