Better than the rest
Honestly, if you are in the market for a blindfold or love mask, this one is your best bet. It is the picture of comfort for BDSM light play and comes to you for a very reasonable price.
Published:
Pros:
Comfortable and made of Satin, Stretchy bands to fit any head, Covers eyes completely
Cons:
None
Introduction
The
Love Mask
and similar blindfolds are intended to block out visual stimuli and light. This forces the person wearing the blindfold to use their other senses. Frequently, this causes heightened arousal, but for different reasons for different people. For some, the lack of use of their eyes increases their anxiety about the inevitable sex. For others, cutting off their sight heightens their other senses, especially their sense of touch, or feeling being touched. Whatever your reason for checking out this blindfold, it is an easy introduction to kinky play in the bedroom.
Material & Comfort
The two main components used in making this love mask are Satin and elastic. The entire panel that will be covering your eyes is satin. Inside this satin exterior, there is some kind of padding, but it is not solid in the least. This padding gives it a thickness, but does not hinder it's flexibility. The padding is very soft and coupled with the satin feel of it, it is quite feminine in feeling.
Wearing this mask is extremely comfortable. It has two elastic bands that wrap around your head and secure it. At rest, the elastic bands are 12" long, but can be stretched to be much larger. The elastic bands are not silky smooth as the mask itself, but they are a cloth like elastic and will never rip at your hair like a rubber band would.
On the inside of this mask, there is a small tag on the right side. This black tag has white writing letting you know the mask was made by Pipedream and in China. I found this tag to be barely noticeable when wearing, but some may not want a tag in their face while getting it on, and I thought it was worth mentioning..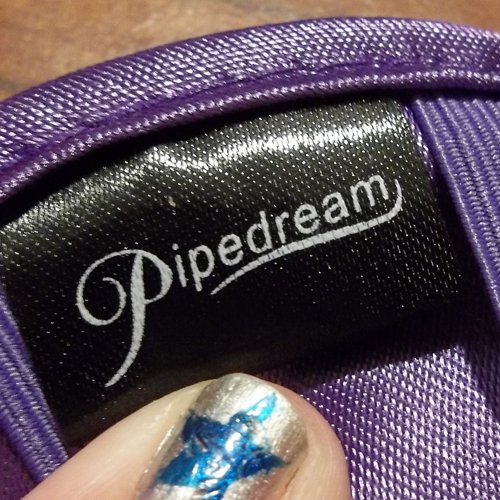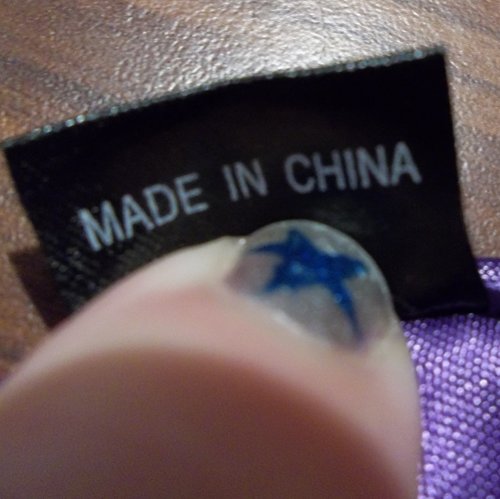 Durability
After quite a bit of tugging on the elastic bands and the seams at the edges of the mask, I can safely say that it is quite a durable mask. You would have to really be trying to harm this mask to do it any damage. The elastic bands are very secure and I could easily see someone with the largest of heads wearing it comfortably, without popping a band free. The stitching along the seams was done with care and I don't see them coming loose or fraying anytime in the near future.
Can you still see through it?
When wearing this mask, I can't see anything. Not even the little triangles of light I generally can see when wearing a blindfold. Those with larger noses may still see the triangles of light, but will still not be able to see clearly.
Cleaning & Storage
The inner padding makes me suggest strongly against machine washing at all costs. The mask is pretty easy to clean without the washer getting involved. Should you happen to get lubricant or bodily fluid on your mask, I recommend taking a damp cloth and wiping the liquid away. If whatever you have gotten on it has happened to set, I recommend adding a little soap to your damp cloth and hand washing.
I don't think this little blindfold requires any special storage. I have been leaving mine in my toy box and have not had any issues. Should you choose to give it it's own special wrapping, it would fit elegantly inside an envelope.
Packaging
The packaging for this Love Mask is very basic. It doesn't come in a box, but instead comes on a sheet of cardboard, enclosed in a plastic panel. The front panel is very basic. You can see the blindfold through the clear plastic and the writing simply states the company(Pipedream), brand(Fetish Fantasy), and that the enclosed is a "Satin Love Mask".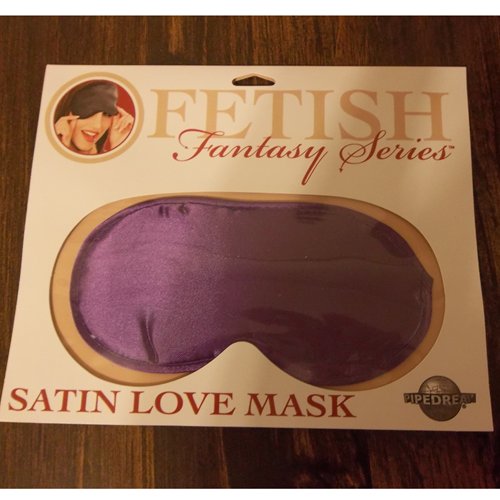 The rear of this cardboard panel has a bit more writing, but not much more information. It restates the information from the front, but this time with contact information for Pipedream. There is also a paragraph o this panel talking about the possible uses and how a blindfold can make your sex life better.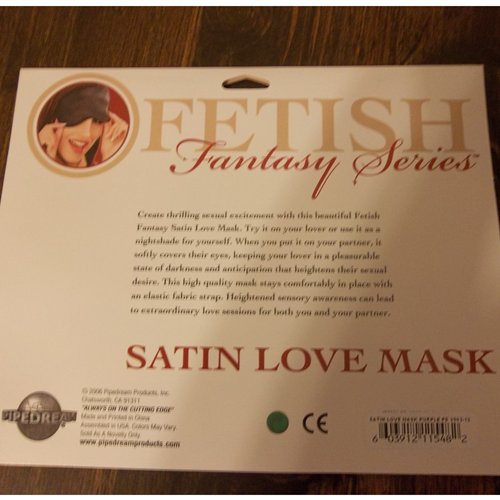 In order to get your blindfold out, you will have to tear open this panel and it will not be reusable for storage. Since the packaging it just cardboard and plastic, it is recyclable and should be set out as such.
Experience
Comparing the Fetish Fantasy Love Mask to other blindfolds
On the screen, they all look identical, but in real life, the differences are easy to spot.
This is a comparison to the mask that comes free with the
Fetish Fantasy Series Shock Therapy Kit
.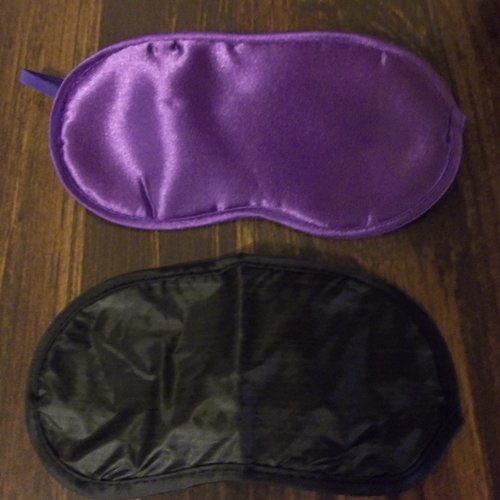 Here, you can see the different. The black one(Free one) is much thinner and made of a much cheaper material. You can see from the wrinkly material that the free one is a much lower grade mask.
This is a comparison to the
Sex and Mischief Blindfold
.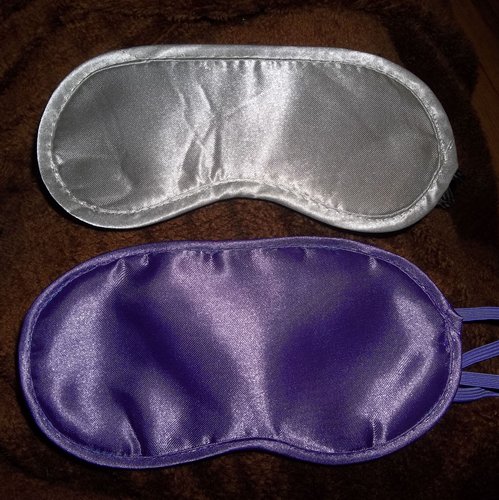 Here, you can clearly see a slight size difference. The purple one(the Love Mask) is actually slightly longer and comes down farther over the nose than the Sex and Mischief Blindfold does. Size is not the only difference. The next difference is not visual, but can be felt. The Sex and Mischief blindfold has much more dense padding inside. It feels harder than the Love Mask does by far. The padding inside the Love Mask is very squishy and pliable, while the Sex and Mischief Blindfold can be squeezed, it is not nearly as squishy or comfortable.
This content is the opinion of the submitting contributor and is not endorsed by EdenFantasys.com

Forum
| Discussion | Posts | Last Update |
| --- | --- | --- |
| nice | 2 | |
Thank you for viewing
Love mask
– blindfold review page!