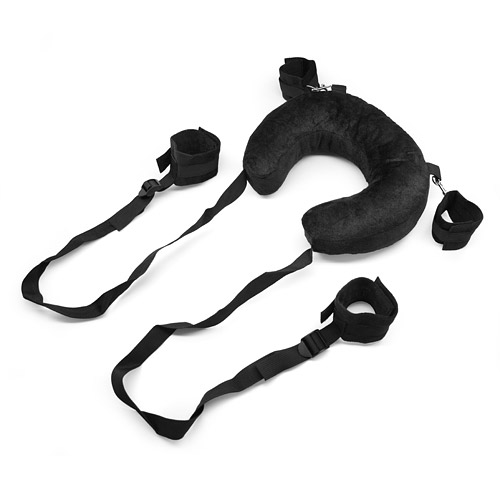 Comfy position sling
Position sling
by Charm Wear
Decent cuffs, poor straps
Fun cuffs, decent positioning pillow, but as an entire kit, not good if you're looking for a restraint set with straps.
Published:
Pros
Comfortable cuffs; The wrist cuffs can detach and reattach.
Cons
Poor quality straps make them basically useless unless tied manually.
I've never had proper restraints before, having previously done self-bondage mostly with scarves (which I highly recommend - they're comfortable and multipurpose!). So naturally, I was excited to get started with real cuffs!

The pros of this product: the cuffs are comfortable even if you tug on them, and the wrist cuffs are detachable and can be reattached. You can take them off and use them for whatever you want. Both the ankle and the wrist cuffs are easy to adjust and fit me (fairly small female) well.

The cons of this product: the straps simply don't work. They have a tightening mechanism, but the mechanism itself isn't tight enough to hold the straps. The slightest bit of push-back will have the straps sliding out. I managed to make it work by literally tying the straps where I wanted them, but it's a bit of a pain, and trickier to do - or undo.

The position pillow is on neutral ground for me. I didn't love it, but I can see its uses. I think it would be more fun with a partner since if you're doing self-bondage, you have to keep at least one hand free.

Overall, this is a fun little starter, particularly if you want the pillow. If you're looking for restraints, you'd be better off either (a) just buying some soft cuffs and DIY-ing the set-up or (b) investing in an item that's a little more high-quality.
Experience
I did try to use these several times, and the straps never did work. However, since the cuffs can be detached AND reattached to other things, I have used them successfully in set-ups where I use scarves/rope/etc. and then link the cuffs to them. That way, they can be attached to the bed, a chair - hell, you could even link them to table legs and get bent over. The possibilities are endless!
This product was provided free of charge to the reviewer. This review is in compliance with the FTC guidelines.
Thank you for viewing
Comfy position sling
review page!