Floggity floggity flogger
This flogger doesn't have a look of some "real" or "serious" BDSM gear: it's bright, frisky and inviting. If you are not sure whether a rough play is for you or simply don't want to scare your partner right away, you may want to try this one. It's a good beginner toy which can be used for making a wide range of sensations - from tingling to fairly severe thuds. Intermediate users might also find this one to be a useful low-cost product that serves its purpose well.
Published:
Pros:
- good price/quality balance
- travel-friendly size
- suitable for introduction to flogging
Cons:
- tails tangle easily
- sensations might be not intense enough for some
Overview
Medium Rubber Whip by
Sportsheets
is called a whip, though I've always noticed how terms "whip" and "flogger" are often used interchangeably. Personally I prefer to consider a whip to be any instrument with a handle and tails, while a flogger is a type of whip which has multiple tails. Therefore, in this review I will call Medium Rubber Whip a flogger.
My partner and I do not follow BDSM lifestyle, but at some point we got interested in adding some light BDSM action into our play. I chose one of
Sportsheets
floggers as our first, because it seemed like a nice-looking thing that would introduce beginners to flogging without being "too much". It was also quite inexpensive and came in multitude of size and color options. The line of these rubber whips includes small
junior
version, a bigger
medium
one and
the largest
one.
Material and construction
While describing the construction of a Medium Rubber Whip, I'm going to use some special terminology which might be useful for some other beginners like me.
This flogger consists of the multiple strands of
rubber
(called "falls") which are attached to a flexible handle which also feels like it is made from rubber. Being porous, rubber does not clean well, but if you are not using it on genitals, sharing with different partners is possible. For cleaning I would recommend warm water and soap.
The handle has a "grip" which is where you put your hand. There is a plastic ball on that grip to separate it from the falls and another ball at the very end of it - called "pommel". Pommel has a textile cord made for hanging the flogger when not in use or secure it in your hand while using. The picture below shows that a rubber-like tube which serves as a grip is transparent, but a bit yellowish. It used to be clear, but obviously changed in color after a while.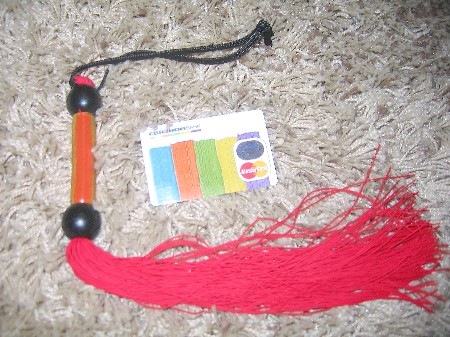 Here are some measurements of the toy:
* overall length (without a cord) - 14" (36 cm);
* width - 1.5" (3.8 cm);
* strands' average length - 9.8" (25 cm);
* handle's length - 4.3" (11 cm);
* grip's length - 2.5" (6.5 cm);
* textile cord's length - 7.2" (18.5 cm).
As you can see on the picture, the cord has a knot at the end, so its length can be adjusted easily if you like. Unfortunately, the grip feels a bit small even for my hands let alone my partner's. On the other hand, the size makes this toy easy to travel with and I'm pretty sure I'm taking it with me on our winter vacations.
I took time to count the falls of this flogger and there are approximately 160 of them. More falls means more "thud" to each strike as well as the possibility of spreading the sensation to a larger area. With fewer falls, the sensations are usually sharper and the smaller area tends to get struck. The falls here are very thin - probably, more like spaghettini or vermicelli. They are very soft to touch and their tips are cut bluntly which makes it less likely for you to break skin. They are also extremely stretchy.
Be ready that this flogger is not a premium quality toy. The falls tend to tangle easily and the material seems to be a bit cheap. However, for this price you get a nice and durable toy which totally serves its purpose. If you are looking for something more advanced, high-end or beautifully made - look elsewhere. Eden Fantasys carries a lot of
flogging toys
for every pocket and taste.
Experience
Best use and tips

Even light BDSM play is often associated with some danger. It is essential to remember that you must hit only well-padded areas of the body such as buttocks, thighs, upper back, male upper chest or calves. You can also use your flogging toy on one's genitals, but be extra careful. However, I found out that floggers are in general best used on backs. It is quite difficult to land the tips of the flogger's falls directly on the small area, and when you miss the intended target the tails of the flogger wrap around person's body and sting intensely on their side. Therefore, in my opinion, for butts it is better to use paddles, while crops would be great for the rest of the body. However, a relatively small size of this particular flogger makes it rather easy to target the right spot.

Also I've learned how to adjust my efforts in order to produce sensations of different kind and intensity. This toy can be used for tingling and teasing, light spanking, strong thuds or even for creating a serious sting or burning pain. However, different people tend to prefer one sensation over the other, so practice and check before you play. I practiced mostly on myself and that helped a lot in understanding how this thing works.

Personal experience and thoughts

Medium Rubber Whip had been sitting in my storage box for a few months by the time we finally tried it out. Neither of us even expected it to be used that evening. We were having a break between sex sessions one of those days when he didn't have to work a lot and we had time to ourselves. He was standing at the desk bending down to the laptop and searching some stuff on the Internet. I was fooling around with that flogger and somehow ended up jokingly spanking him on the behind. Started as a joke it turned out to be one of the greatest and hottest nights ever - with flogging, bondage, blindfolding and lots of passion.

Frankly speaking, I'm not a fan of being spanked, it brings back some negative childhood memories, which I'd rather not have. My partner, on the opposite, enjoys it when I use a flogger on him, so usually he's the recipient. There is this power shift in our relationship: in everyday life I prefer him being the boss, but when it comes to bedroom - I love to be in control.

Conclusion

I prefer to keep my reviews as objective as possible and I probably should have rated this toy 4 stars, but I just couldn't. I freaking love this flogger. It brought so much fun and kink to our regular sessions that I'm giving in to my highly subjective feelings and making it 5 stars.
This content is the opinion of the submitting contributor and is not endorsed by EdenFantasys.com

Thank you for viewing
Medium rubber whip
– flogging toy review page!