Fun With A Leash
I really wasn't a fan of this product. I thought the rings just hurt because of the jagged edges. The handle is also really uncomfortable to wear. On top of that, the clasp is very tiny and didn't fit well around the O-ring on the collar I wanted to use with it. I was just very upset about the whole thing.
Published:
Pros:
Cute
Cons:
Links are jagged, Handle is uncomfortable
I wanted this leash because I wanted to experiment with it a little bit for some BDSM or bondage play, but I also figured that if it didn't work out well with that then I could just use it as a leash for my dog. I'm honestly a little disappointed with the whole thing. It's not bad for BDSM play, but there are better leashes out there.

I only have one other leash and it's just a cheap leather one, so I figured a chain link one would not only look better, but function better as well. I was wrong.

With the leather one, you can use it for flogging or something like that. My husband tried to swat at me with this leash, and it stung for a while. If you like a long lasting pain, this might work for you, otherwise you should keep shopping!
The actual body of the leash is a chain-link design. The links are a pink-ish purple color. The metal rings are light, and some of them come out at awkward angles which gives it more of a curvy design, and some of the metal rings have jagged edges around where the ring clamps shut.
The handle of the leash is made of polyethylene. It feels like plastic, and really digs into your wrist if you try to hold it like you would hold a typical dog leash. It's a cute design though. The design is kind of cute though. The outer part is pink and the inner part is blue. If it was more comfortable to hold, it might be much better.
The clasp is a typical leash clasp. It's not very big though. I tried to put it around my Pink Candy Jaguar Collar, and the clasp wouldn't even fit around the O-ring. You'd have to have a really small ring to fit the clasp around.
The whole leash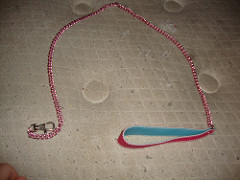 The metal links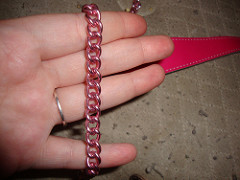 The clasp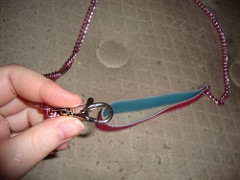 Doesn't fit around the collar ring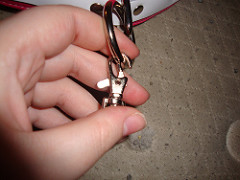 I wasn't really happy with this product at all. I had planned on using it as a dog leash if it didn't work out for BDSM play, but after messing with it, I wouldn't even use it for that. The metal rings are all jagged and the handle is just uncomfortable to hold.

It didn't fit around the O-ring for my collar, so I had to find one of my other collars to use with it. It worked, but I was upset that it didn't fit my good collar. Then my husband tried to jokingly swat at me with it. If you're into a lot of pain, this might be great for you just for that purpose, but I couldn't handle it.
Follow-up commentary
2 months after original review
I'm still not a huge fan of this leash. It's very flimsy, and just seems poorly made. I've tried to use it a couple times, but I just don't enjoy it. I'd much rather go to my local pet store and get a large chain dog leash, then try to use this one anymore.
This product was provided free of charge to the reviewer. This review is in compliance with the FTC guidelines.

Thank you for viewing
Fresh chain leash
– collar review page!