Gag? No Way! This is awesome
Great for a first gag, and a last. This is comfortable and works well and looks well. I love that its such nice looking leather and its adjustability.
Published:
Pros:
Great Fitting
Great Looking
Cons:
None
A gag is a safer way for dom/sub play used to keep the one in it from talking. It's less dangerous than shoving a sock or an apple in their mouths since its smaller and its harder to dislocate their jaw or choke on this. Personally I feel gags are for more experienced bdsm participants since it does take away their ability to say anything, but this is pretty good for a first time gag. This is also great if you're into humiliation play since after a while you start to drool.
As this is made of leather, you should stay out of the pool or shower with this.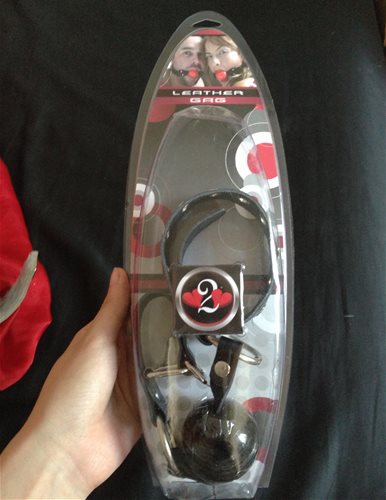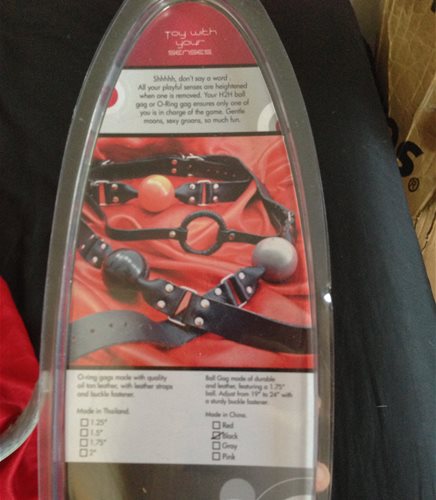 Diameter: 1.75"
Length: 19" - 24"
Width: 1"
I love that there is such a huge range on this, and the small increments it adjusts. The buckle closure keeps this securely on and makes this hard to accidentally come off. The ball itself is just the right size, it doesn't stretch my jaw too much or make it too tired, but it sufficiently keeps me quiet. It comes to that point where its just a good balance of being comfortable and muting. Unfortunately, theres no optimal way to make it perfectly sized to mute completely and not be too big.
The leather is pretty comfortable and sturdy, it doesnt really breath, but it isn't too hot due to the large holes for the closure.
The black ball and strap makes it look traditional in the kink scene, so before anyone asks there is no way this is discreet at all especially since it looks like a gag.
This works great, it was amazingly comfortable for a device that looks pretty uncomfortable. It's very easy to use even solo. Just put it over your head, ball in the mouth and secure it properly and you're done! It's also pretty lightweight so it won't weigh you down at all. As its leather it is REALLY durable. Even though you can kinda talk, it sounds like how children speak so that really works for the humiliation aspect.
This product was provided at a discounted price in exchange for an unbiased review. This review is in compliance with the FTC guidelines.

Thank you for viewing
Leather ball gag
– headgear review page!