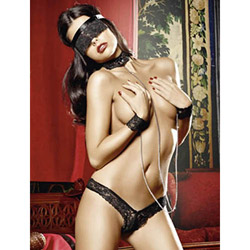 Surrender set
Panties
by Charm Wear
Give in to Temptation
For a couple looking to play 50 Shades of Grey, without getting too heavy into the bondage scene, this is an ideal set to start out with. While it's not adjustable, you can still do a lot with it in order to enhance your playtime. Hardcore BDSM players may want to spend time browsing elsewhere for toys, as this one is much more focused towards the beginner.
Published:
Pros:
*Sexy look and feel
Cons:
*Not adjustable
*May be too flimsy for advanced users
This is great for a couple on the lighter side of bondage. The lace is very lightweight and sexy in appearance. It's perfect for the female willing to dip her toes into BDSM, but nervous about some of the heavier items out there. Those into heavier restraints may feel like this set is far too light or "vanilla" for their tastes, however.
The design is beautiful if a bit flimsy. All of the lace pieces feature black flower petals in the designs. The lace itself seems a bit sturdy, though I wouldn't apply too much stress to it, for fear of it ripping. In keeping with the light theme, the chains between cuffs and collar are rather nice. Very soft to the touch, they also feature little clasps to unfasten from the lace. This means you can easily clean the collar and cuffs without needing to get the chain wet. As far as size goes, the collar is one potential concern. Measure the diameter of your head, 10" or less, and you can fit the lace over your head to wear the collar. Much larger and it won't fit.
I found the set worked rather well. Every piece is easy to work with and use. The blindfold fits snugly and doesn't hamper vision like traditional ones would. This helps for nervous partners who still want to retain sight, with the illusion of being blindfolded and unable to. The collar fits snugly at your throat, though it cannot be loosened or tightened. Depending on the size of her breasts, a woman could snug the chain to each cuff around them, before putting them on her wrists. The panties are a T-shape variety, with only a small bit of lace to cover with. My set also came with a lace garter for the thigh, with a small black ribbon in a bow on it.
This product was provided free of charge to the reviewer. This review is in compliance with the FTC guidelines.

Thank you for viewing
Surrender set
– panties review page!