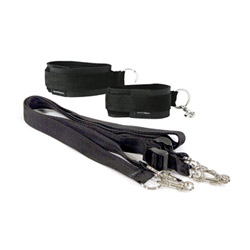 Sportscuffs and Tether kit
Velcro handcuffs
by Sportsheets
Great For Various Uses
This item is a great addition to a kinky or vanilla toy collection. These are non-threatening cuffs and tethers that are made really well. They can be used in mild, teasing play or in more serious bondage play. You will not regret your decision to by these.
Published:
Pros:
Comfortable, good value, versatile.
Cons:
1 set of cuffs just wasn't enough :)
This toy was purchased for the purpose of being an 'under the bed restraint system'. I had wanted to try one for a while, and I decided that this product might fit the bill. I wasn't entirely sure about the dimensions but my bed is double size and I figured I would take a chance. I have long wanted to strap someone down to my bed but I needed a product that was discrete. I had done some research and settled on this Sportsheets Cuff/Tether set and I was not disappointed.

The straps are black and 48" (4 feet) long. The closure are Velcro. There are clips on the end of the tethers which can be used to attach to the cuffs. The cuffs are soft neoprene and Velcro, with a clip in the middle. They are extremely sturdy. Clearly this cuff/tether set has a variety of uses. You get two tethers and two cuffs in the set. An additional set of cuffs would be useful if, like me, you are using it as an under-the-bed restraints system. With only 1 set of cuffs at my disposal, I could only restrain 2 limbs at a time. The product was scent-less and packaged very nicely. I found that they could withstand a lot of tension (they were tested on 2 different people) but I was told they remained comfortable. When I was able to try them myself, I also noticed how flexible but secure the cuffs were. I also liked how they didn't appear to BDSM-y, which can be a turn off for some. These are vegan products, which I also appreciated.

Overall, I found the "Sportscuffs and tether" set by Sportsheets to be a high quality product and suitable for anyone's toy collection. They were highly versatile, and while I wanted them mostly to tie people down to my bed, I have no doubt that they have countless other naughty purposes.
This product was provided free of charge to the reviewer. This review is in compliance with the FTC guidelines.

Thank you for viewing
Sportscuffs and Tether kit
review page!