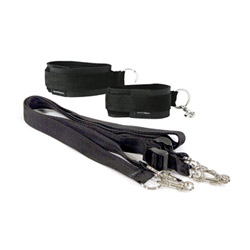 Sportscuffs and Tether kit
Velcro handcuffs
by Sportsheets
Restraining Order!
The Sportcuffs and Tethers are great beginner restraints. They're comfortable, easily adjustable, and made of a decent quality. Advanced users will probably want a leather set.
Published:
Pros:
Easily adjustable cuffs and tethers, good quality construction, comfortable.
Cons:
You may miss the feel and smell of leather!
The
Sportcuffs and Tethers
are our first real forage into restraint activities and when this product arrived we were both extremely excited for some vigorous testing. We've experimented with handcuffs before but had never played with
BDSM equipment
that was more 'advanced' like this.
Don't get us wrong, this set made by
Sportsheets
certainly isn't
hardcore bondage equipment
. It's not made of leather and the closures aren't heavy steel buckles which explains why the price tag is affordable. If you're looking for the lovely feel and smell of a leather product, this set certainly isn't for you.
We were interested in a good introductory set with some decent versatility and that is exactly what we got with the
Sportsheets kit
. The cuffs themselves adjust to fit almost any size which makes them awesome for attaching to ankles or wrists on both men and women. The velcro closures make for super easy and quick adjustments on the fly. The cuffs also don't dig into your skin because of the inner padding which increases the comfortability factor. This was a plus for us but some people may want to feel a tad more pain than what we were desiring.
The tethers themselves are a decent length, made long enough to reach the corners of our four-poster bed (another good item to have when playing with this type of toy!) and in the variety of positions we tried the
Sportcuffs
. Their length is easily adjusted with a quick release type plastic clip that holds up well to a ton of force. The tethers never slipped loose once during our play even with a fair amount of wiggling and writhing! The metal clasps that connect the pieces together are of a decent quality comparable to the hardware use on dog leashes. WOOF!
The only real drawback that we found was that the kit only comes with two cuffs and two tethers. It would be wonderful to have another set to completely restrain all four limbs of your partner. That being said, with some creativity and because of the four foot long tethers, it is possible to immobilize a person quite well with only the two cuffs and tethers.
Experience
We've used the Sportcuffs kit several times now and have become more creative with each occasion. Our last adventure saw me on my stomach with my ankles cuffed to the bedposts. We had a set of metal handcuffs already in our toy-box and they were binding my wrists over my head, the connecting chain tied off to one the the top posts of the bed. I'm sure you get the picture, I'm not going anywhere and completely at the will of my partner!
Things started slow, a nice tickling massage that progressed into more and more rough play which included our riding crop and wooden paddle. Nothing too painful, but enough to make me pull at the restraints and turn my ass cheeks a little red. My husband loved the fact that he could get away with almost anything and used a toy on my ass during his paddling. He knew the limits and would stop often to 'kiss me better' before continuing on with the teasing.

Then it was time for the doggy-style screwing. Can I again say...WOOF!

The Sportcuffs and tethers held my legs tight as his hands firmly grasped my hips during the pounding. There definitely is something to this BDSM play. The restraints just make you feel more nasty which makes for some bigger orgasms!!
This product was provided free of charge to the reviewer. This review is in compliance with the FTC guidelines.

Thank you for viewing
Sportscuffs and Tether kit
– velcro handcuffs review page!