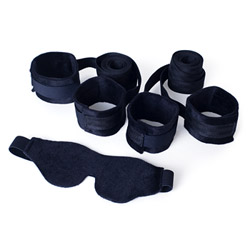 Sex and Mischief our first bondage kit
Cuffs and blindfold set
by Sportsheets
I'm even tongue tied!
When this set comes back into stock, I HIGHLY recommend everyone take advantage. It's worth every penny. No...it's worth more. For the simple BDSM tie down experience, this set is non-threatening, comfortable, easy to pack-n-go and fun!
Published:
Pros:
Soft, easy to use, travels well
Cons:
The tie down straps might not be long enough depending on location
Before I type one more word, I want to say this set was the perfect choice for a basic, non-threatening bondage set. Although it is being touted for beginners, people of all levels can really enjoy it! It's simple, lightweight, easy to use and the material is very comfortable.

Before trying it out with a partner, I tested the feel of the straps on my ankles and wrists to see if when I (or whoever was using them) pulled on them, if the nylon would cut into my skin. It did not. As a matter-a-fact, it turned me on just testing them for that moment. They were soft, quick and easy to get into and would certainly restrain someone for a bit of play. I wish I could've used them right then! Kind of hard to do alone, sadly.

Although the Velcro on the part that would wrap around your wrist or ankles would be difficult to get out of, the ties themselves are loose. Meaning there isn't Velcro or buckles to have to get out of. They are only as tight as you tie them. A simple slip knot could be used if not pulled on too much.

As far as the eye covers go...I personally don't like some eye covers when they rest right on my eyes, but I found this eye cover to be quite comfortable. It too is soft and easy to wear.

Because the "Our first bondage kit" is so simple, it would be very easy to travel with or even simply put in a bag when going to someone else's place.

I did notice although I didn't find it to be a problem at my house or on my bed, that the straps might not be long enough to tie down if what they are tying to was something that is further than where bedposts might typically be.

Side note: Don't make the straps too tight. It could cut off their circulation or cause damage to their skin. It should be loose enough for the straps to move freely but snug enough so it won't slip over the hand/foot.

Have fun. Be safe.
This product was provided at a discounted price in exchange for an unbiased review. This review is in compliance with the FTC guidelines.
Thank you for viewing
Sex and Mischief our first bondage kit
– cuffs and blindfold set review page!