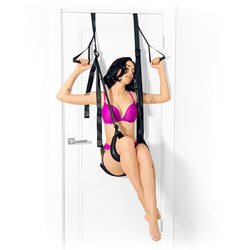 Soft touch door swing
Swing
by EdenFantasys
In the swing of things
A great swing for those looking to spice things up with new positions or even those who enjoy a standing sex position just can't hold up their partners that long. The swing is easy to set up, can hold a very good amount of weight and packs away nicely for storage! Thunder thighs beware it may dig into your booty and thighs if you have a large bottom.
Published:
Pros:
Easy to use
simple to set up
holds up well to weights
Cons:
Seat is small for large butts
First impressions

Fresh out of the box I was beyond excited for this swing. It comes packaged in a heat sealed plastic bag so it's not really the greatest for storage honestly.Out of the package it can be a fairly confusing amount of straps but placing it over a door can really help you see how it should go and make sure it gets un-twisted. Overall it's very light, no more than 5lbs making it really easy to move and set up when needed.

Material

The webpage has the materials listed as Fleece and Neoprene. However majority of the swing feels like a polyester material for all the straps, similar to seat belts. The seat and thigh cuffs have a fleece lining however I'm personally not 100 percent certain on what it is made up. The over the door holders, the large silver cylinders, feel to be a light sturdy metal I believe these are hollow.

Use & Set Up

This swing is very easy to set up. No need for a stand or to put a screw in your ceiling. You simply put the two silver cylinders over a sturdy door and shut it. Do be careful that it's not a weak door and that the hinges can handle added weight of at least the person being put into it. Don't forget to make sure the straps arn't twisted.

Personally we found it better to use on the side of the door that it opens too. So our bedroom door opens into our bedroom. We set it up on the inside of the bedroom and the holders on the outside at the living room. It felt a lot safer since one slip of a foot and you could open the door, if this did happen I'd rather be on my partner than being pulled backwards as the door goes.

Sizing

We had a few different people try this swing out pre use, this included my brother who is about 6ft3in 170 lbs (in a non sexual way prior to it being "used" by us), boyfriend who is 6ft4 in 180 and myself at about 5ft7 190 lbs. We dinked around in it quite a bit before it was used to sexy time in onsies! It is quite a blast to use be it for a sexual reason or just to be goofy with. We all fit in it decently and it seems to be holding up quite well after a few uses.

There weren't any issues with either of them sitting in it. However, I'm much meatier than they are and when we use it for sexy time it can dig in on the sides where the seat attaches to the straps that hold it. Not really to the point of being uncomfortable enough to stop but enough to notice it. It seems to hold all weights fairly easily. At one point the thigh straps did slip, but that's not really a problem. Even with my almost 200 lbs in it we were even able to raise the seat and adjust it throughout. We will certainly continue to use this swing and do an update when the two months roll around on how well it is holding up!


Maintenance and Storage

Maintaining this swing is very easy. When done using it just take a damp cloth and wipe it down. Personally we use a drop or two of dawn and warm water.

Storing is just as easy, once dry ours simply goes in a dresser drawer out of the way.
This product was provided free of charge to the reviewer. This review is in compliance with the FTC guidelines.
Thank you for viewing
Soft touch door swing
review page!