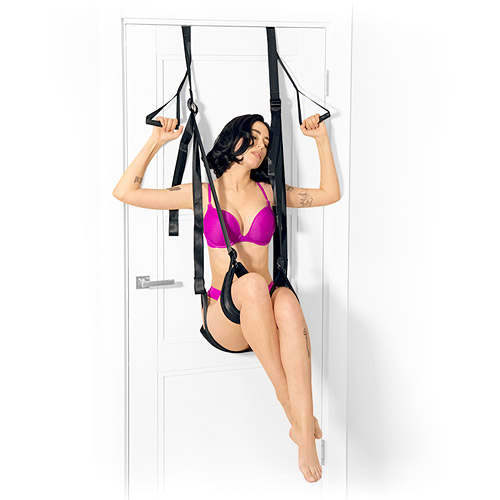 Soft touch door swing
Door swing
by EdenFantasys
Swing Your Way Into "Off The Wall" Crazy Levels Of Pleasure!
The Soft Touch Sex Swing is a very easy-to-use swing that requires no construction to be ready to use. Simply hang the two silver bars over your door, close the door, and you're ready to swing into action! The positions you can experience strapped into the swing offer an entirely new range of sensations I personally greatly enjoy, and would recommend for anyone wanting to try something new in the bedroom.
Published:
Pros
Easy-To-Use
Soft Fleece Seat
Adjustable Straps
Supports Above-Average Weight
First Impression:
While simple in design, EdenFantasys' Soft Touch Door Swing has quality, sturdy craftsmanship. I was a little confused at first, since all of the various straps looked the same to me twisted up together, but I managed to get everything unwound after unpacking it which helped me make sense of how each part of the swing works.
The neoprene straps that the majority of the swing is made of are fairly unremarkable, being in a standard black color, but I would like to make note of the fleece lining on the swing's seat. This detail is what I imagine the swing gets its "Soft Touch" name from, as the fleece truly does add a nice, soft touch.
My Experience With The Soft Touch Door Swing:
I admit when first testing out the door swing I was incredibly nervous. I was worried my door would not be able to support my weight and would break, or that I would slip out of the swing and get hurt. I had quite the stack of pillows underneath me the first time to ease my concerns!
My door would likely be considered of average quality and strength, and both it and the harness held strong despite supporting my nearly 190 lbs of weight. The adjustable straps allowed me to set the seat low enough for me to climb into it by myself, and I was able to lower the foot straps to a comfortable height as well. Once strapped in, all I can really say is... wow. I completely LOVED the feeling I got when suspended against the door by the swing, my legs spread open wide by the foot straps. It's incomparable to anything I've felt before and is not a position you could achieve without the support of the door swing holding you up in such a manner.
I used the Soft Touch Door Swing for solo play, although I can certainly imagine how fun it would be to bring this out in the bedroom with a partner! Male or female, you open up new possibilities regardless of who is in the swing.
Final Thoughts:
Some time back, I ordered the
Orgasmic Position Sling
, by and from EdenFantasys, and greatly enjoyed the sensation of having my legs supported in that way, having them held up and spread apart. Something about the position and being "forced" to keep my legs up in that manner drove me wild! The Soft Touch Door Swing tapped into that same pleasure center for me, except amplified to be even more intense, and I absolutely loved it!
I think I can safely say at this point that bondage and suspension are personal favorites of mine, and EdenFantasys' Door Swing has made its way into my top favorite sex toys as a result. The unique feeling I get when held in such a vulnerable position is derived from both a combination of physical and mental pleasure, both crucial elements you want in order to receive the utmost level of pleasure and enjoyment.
If you're looking to step into a world of new sensations and pleasure, the Soft Touch Door Swing can offer you just that!
This product was provided free of charge to the reviewer. This review is in compliance with the FTC guidelines.
Thank you for viewing
Soft touch door swing
review page!