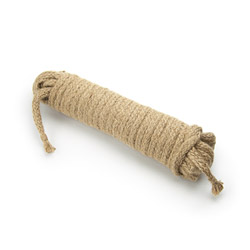 Hemp rope
Rope
by EdenFantasys
Lots of hemp!
Overall, this might be nice for someone wanting to use a natural product to play with. I think I would still prefer nylon just due to the softness of it.
Published:
Pros:
strong, lots of rope
Cons:
smell, texture
So, I got this really nice hemp rope to test out, and it has its ups and downs. The description said that this is only ten feet. I didn't measure it out, but it is a lot more than that. It is more like 25 or 30 feet or so. There is plenty there to work with. You could probably cut it into half a dozen pieces and have plenty to tie with. The diameter is not too large. It is maybe a quarter inch wide and has a bit of thickness to it. The rope is a fine braided material with some fibers sticking out of the braid. Those fibers are relatively soft though.

Overall impressions of the rope is that it is very strong. It is not too rough, but it is definitely not soft like nylon. It has a certain fibrous nature to it that you would expect from a natural made product. The one thing I wasn't expecting was a smell. It has a certain almost petroleum-like odor to it. It isn't overpowering, but you can smell it if you put it in your face. If you cut it into different re-usable pieces, tie the ends in knots. It does seem that it would fray if left untied.

In the end, this rope worked out to be a nice natural rope that doesn't cut into the skin too bad. I would have loved a better smell and slightly smoother texture. The texture may change a bit as it wears, but I am not sure of that. You can cut this into many workable pieces and use it any way you like. I would expect it to even hold a great deal of weight based on what I know about hemp fibers. These are one of the strongest natural fibers available.
This product was provided free of charge to the reviewer. This review is in compliance with the FTC guidelines.
Thank you for viewing
Hemp rope
review page!