Make Your Kitten Purr
Overall I would say this is a nice set for beginners to get some basic BDSM pieces at a decent price. It's a good kit for what it is, but advanced users may be dissapointed. If you already have some gear such as cuffs or a nice blindfold, I would skip this set though and just get.
Published:
Pros:
Strong bullet, attractive pieces
Cons:
Blindfold doesn't stay on well, might not hold up to rough use
The Smitten Kitten kit from Hustler is an attractive looking kit designed for light bondage. It comes with four different pieces for creating different sensations during play with a partner. The kit comes with a blindfold, a wrist restraint, a feather tickler, and a bullet. The set has an attractive black and red look to it. This kit would be a good choice for those who are new to bondage and are looking for a kit that is not very intimidating and aren't planning on using too rough of play. I think it could work great for straight or homosexual couples, and with the color scheme that it has it doesn't seem to be as feminine looking as many kits which may make it more appealing to use for many people.
The blindfold is made of satin and has satin ties that hold the blindfold in place. It feels nice and soft when it is on, but I find that it doesn't stay in place as well as blindfolds that are held by elastic. I blieve part of this is bacause satin is somewhat slippery and just doesn't grip that well, and part of it is that it is held by ties. It also doesn't block my vision 100% but it does block it enough to where I can't really see what is going on and still allows for the fun of having my vision blocked. To clean it, I just handwash it and let it hang to dry.
Here is a picture of the blindfold.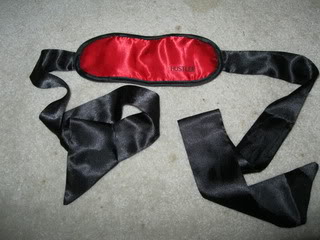 The wrist restraint is very simple in design. It is simply a strap of satin with a loop on each end. It is 27" long and is made of black satin. The satin feels very smooth against the skin, but can pinch if pulled to hard.
Due to the design of the wrist restraint, they will fit anyone. They tighten by creating a slipknot and will accomidate any sized wrist or ankle. It can be used to tie the hands together or a single hand to something like a bedpost. Be careful with this restraint as too much pulling will cut off circulation. Always check to see signs of a lack of bloodflow such as hands turning blue or purple. The restraint seems sturdy and well sewn and I have not nociced any threads fraying from the restraint. It has held up well to the tugging, but someone who struggles a lot could probably break the restraint. Here is a picture of it looped around my ankle.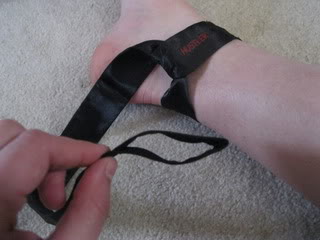 There were no cleaning instructions included, but I believe this could easily be handwashed without any damage done to it and simply hung to dry.
The feather tickler is a nice piece for teasing and gives a nice and soft brushing feeling. It is about 10 inches long from tip to tip and the feathers themselves are about 5 inches long. The feathers do tend to come off, so be prepared for some light shedding. The tickler cannot really be cleaned easily, so it is a good idea to try and avoid contact with bodily fluids when possible and avoid letting it get dirty in the first place. Here is a picture of the feather duster.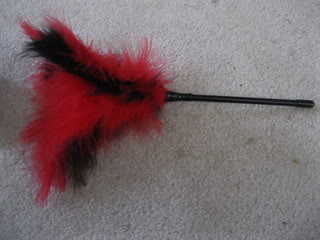 The bullet looks like your standard bullet except for it being red in color. It is made of plastic and is not waterproof. It runs on 3 LR44 watch batteries. The bullet is slightly stronger than other bullets I have used, but has buzzy, superficial vibrations. It is about average in the noise it makes, and can barely be heard through a closed door, but would not be able to be heard through a door or wall if music were playing. Because the bullet is made of plastic, it is not sterilizable and should not be shared with partners that you are not fluid bonded with.
The packaging was simple, but also pretty cute. It comes in a black plastic box with a clear front to allow you to see inside. This is not the box to keep out on the dresser if you are looking for discretion. The box has directions on doing a slipknot with the restraints on the back of the box but there are really no directions other than that and there is no mention of cleaning or caring for the products in the set. The box does give information on calories burnt during different activities such as moaning, using a vibrator, clitoral orgasm, etc. I can't imagine this is the most accurate calories burned chart ever, but it was kind of cute to see.
Experience
We had fun with this kit, we thought it had a nice look to it. However, since each of us already have a decent collection of bondage gear, we probably won't find ourselves using this more than a few times. It was fun to have the soft feeling of the satin blindfold and rastraint, and the tickler was a fun new experience for me. We did find the restraint to be kind of an awkward length and would have preferred it to be slightly longer so it could be wrapped around a bedpost, or a little shorter so my hands wouldn't move around so much.
Follow-up commentary
4 months after original review
It's not that this is a bad kit, we just don't use it much because we have sturdier leather restraints that we had already. I still think it is a beautiful and sensual set and would be a great kit to pick up to surprise a lover with. The pieces have held up to a few uses and didn't ever show signs of wear. Beginners who want to dabble into rastraint and light BDSM play will do well with this simple kit.
This product was provided free of charge to the reviewer. This review is in compliance with the FTC guidelines.

Thank you for viewing
Smitten kitten kit
– sex toy review page!