Pink Paddle Packs a Punch
If there was a Paddling 101 class, this would be standard issue. It's a very non-threatening tool, which can be light and thuddy, or a WWD — a Weapon of Walloping Destruction.
Published:
Pros:
+ Inexpensive
+ Easy to clean
Cons:
- Will not last with hard play
- Studs of unknown metal material
- Unexpectedly strong
This is a great place to start if you're new to spanking or paddling. Part of the Topco's Grrl Toyz® line, this coordinates with the
Pink Plush Wrist Cuffs
and
Pink Plush Ankle Cuffs
.
Manufactured in China, the Pink Play Heart Paddle is pink leatherette material studded with metal. Unfortunately, the packaging does not indicate what type of metal, so be wary if you have known allergies. Leatherette is made from plastic, and is very
easy to care for
: a simple wipe with a damp cloth will remove most dirt. For serious stains, add a small amount of dish detergent to the water, then wipe to clean, then wipe with plain water to rinse.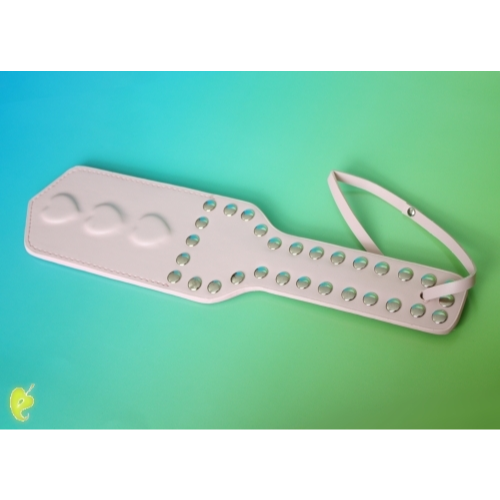 The paddle comes in an oblong clear clamshell which shows off the
studs
and the
three raised hearts
on the body. You can't see it when it's in the package, but the design is on both sides of the paddle. For the price, the quality is very good; the studs are firmly attached and the stitching around the main body is straight. The paddle is
12" in length, 3" wide across the body, and just over 1½" across the handle
. It's very thin, no more than
¼" thick
. There is a handy leatherette wrist-strap with a metal stud attached to the bottom.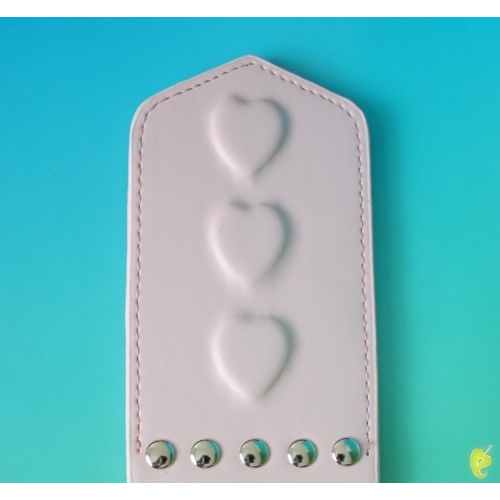 This paddle is meant for one thing: whacking! Be careful, however, because leatherette with a cardboard core is harder than you would imagine. Test it first by starting lightly and working up gradually to greater force. If you like walloping your partner, keep in mind that this is an entry-level toy and it's likely to start fraying if you're dishing out serious discipline. If you want to play hard, consider the
Spartacus Studded Paddle
instead.
While the Pink Play Heart Paddle is a foot long, it is thin enough to store easily under a bed or in a drawer. I also think it could easily ride in the pocket of a messenger or laptop bag.
Experience
Ah pink…
the visual cue for precious… playful… pleasurable… passive-aggressive? I'd say so. For something so girlie-looking and at the "cheap" end of the spectrum, this is a serious toy that can do some serious damage. Little more than cardboard and leatherette, it shouldn't be scary, but it's a feat of engineering that with a good swing can leave a serious rectangle of red behind, or more accurately,
on
your behind.
I may have turned my husband away from BDSM forever after giving him an enthusiastic whack with the paddle. The impact was
much
greater than anticipated, though it didn't leave any hearts imprinted on him. Even though it looks like a pink cheapie, treat it like the tool it is: a paddle for BDSM. Aim is of crucial importance, because you don't want to swing this with full force at the tailbone or any other area where it might do ER-worthy damage.
On the flip side, if you can keep a leash on your inner Dom / Dominatrix, this is fun for light use and will last longer if you treat it (and your partner) gently.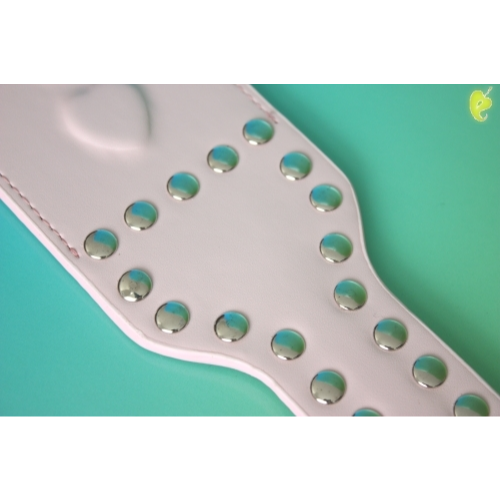 This content is the opinion of the submitting contributor and is not endorsed by EdenFantasys.com

Thank you for viewing
Pink play heart paddle
review page!