Pipedream's Pipedream
If you're looking at this for primarily a great bondage tool, look elsewhere. If you're looking for a fun, unique, and good giftable item, this will work! This item can get some fun uses as clothing accessories and decent bondage if you have the patience and a sense of humor.
Published:
Pros:
-Good Price
-Good Amount
-Pretty!
Cons:
-Bunches & Twists
-Lint Collector
-Time Consuming
-Doesn't Hold Perfectly
You can't be too picky when it comes to this. It says "tape" and it's decently cheap. With this being said, I didn't expect it to me a miracle product. If you're looking for something uniquely fun and/or a good party gift, this works well enough!
FIRST LOOK
This item comes in a plastic mount with a cardboard backing. It's about 9"x7" and the picture on it isn't too obscene. The box is easily opened and I assume it's recyclable as well.
The roll itself looks like a shiny roll of duct tape. It's about 3 1/2" Wide and perhaps 2oz. The tape mounting is a typical cardboard roll you would find on regular tape. The tape stands out about 1/4". It may not look like much at first, but once you've unrolled some you will realize that there is plenty there.
The tape is a little under 2" wide and very thin. There is a tiny bit of stretch to it. It's made from PVC and has a very shiny vinyl look. The product states that it is non-sticky and only sticks to itself, which I've found completely true. It has the feel of smooth duct tape, only double sided with no sticky side. However, unlike other tape materials, this will adhere to itself. It seems to me it sticks because of static. The product also says it's reuseable, which is true if you want to take the time to straighten it all out and keep it away from lint. This item also has NO smell.
Box description:
"Put your lover in a sticky situation with this non-sticky bondage tape. This shiny PVC tape only sticks to itself, so it does not pull hair or leave any sticky residue. It is perfect for the novice and the fetish aficionado alike. Pleasure Tape can be used to bind, gag, blindfold, or dress the object of your affection. It is easy to use and visually stunning. Wrap your lover up tonight. It's bound to please you both!"
Although it says to use it to gag, way on the bottom it says this: "Sold as a novelty only. Do not use to cover the nose and
mouth
. Ok then... thanks for being consistent? The box also says it's made in Taiwan, printed in China, and assembled in the USA. Quite a journey for this little guy!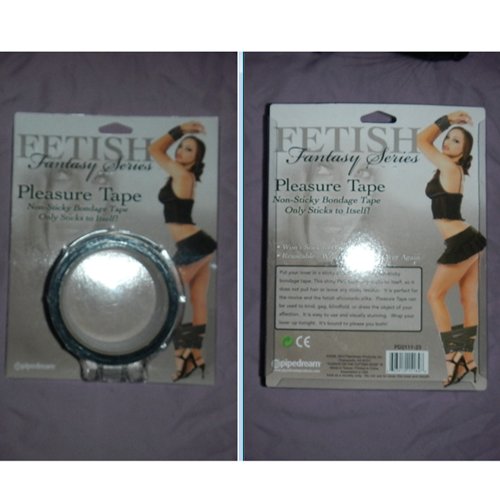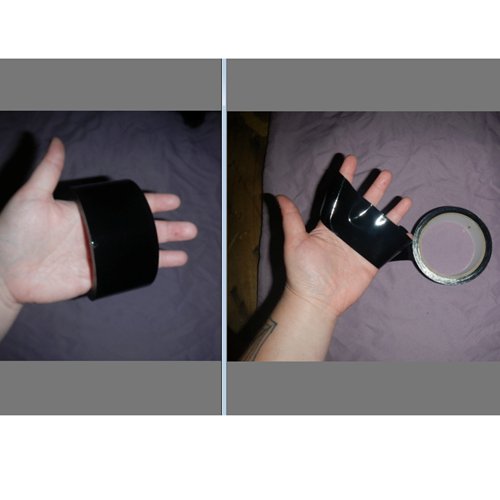 MY EXPERIENCE
I originally bought this because I wanted to use it as fetish wear. I thought it would be good to tape around my thighs and upper arms to hide my fat and make me feel sexier when I wore lingerie. However, this didn't work so well like that. Trying to tape my own upper arms with this was way too hard to do alone. As for my thighs, when you are taping a bigger area, it needs to be wrapped a few times before it will hold. Trying to wrap myself meant awkwardly holding the tape and trying to get it around a few times without it bunching or twisting. It was pretty fail. If you want to use these as wrist/ankle cuffs though, it sticks a LOT better and easier to do alone.
As for using for bondage, you will need a partner that is patient. You should probably cut the tape ahead of time or suffer the non-sexy wait of doing it in the bedroom. This will also twist easily and take forever to straighten if you're not careful. If you don't mind the twisting, you will have an easier time applying. This WILL hold pretty well as long as you wrap it more than a few times. If you don't, a little tugging will stretch and unstick the tape.
This is reusable if you have the patience. You will need to fold it over and over and be careful that it doesn't get bunched or twisted. Although it says it doesn't stick to anything else, it will attract hair and lint. I believe the tape is static cling, and therefor will attract everything that is normally attracted to static. When I first opened this, my slippery hands dropped it and I spent an hour getting all the pet hair off of it.
Overall, it's a cute and original item that is almost worth the price. I had made two big cuts for experimenting and another two little cuts for cuffs and there is still plenty tape left. I keep the cuffs folded up in my jewelry drawer to prevent lint collecting and this has been working well. I'm considering getting more colors just for the look of using this as cuffs and chokers. If you're creative, you can twist and cut this to make some cool clothing items.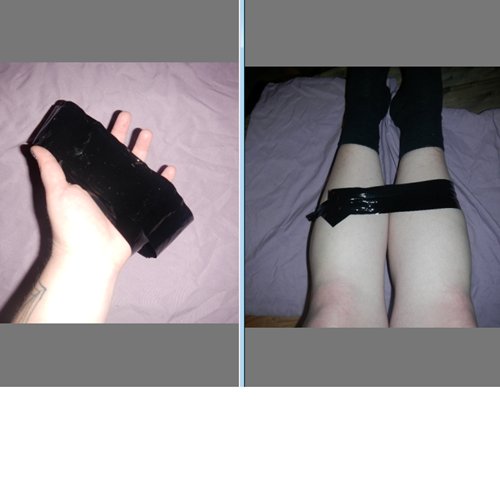 Follow-up commentary
2 months after original review
This really wasn't worth having. I tried using it a few times but in the end, the bedroom was more fun without it. If you're into fetish clothing, you COULD make it into bracelets, chokers, etc, but really you could find better pieces more worth your time.
This content is the opinion of the submitting contributor and is not endorsed by EdenFantasys.com

Thank you for viewing
Fantasy bondage tape
– restraints review page!