See you later alligator
If you are looking to add a little extra kink to your life, the Alligator clamp by PHS International are the perfect start. Easy to use and comfortable to boot these were an excellent addition to my collection.
Published:
Pros:
Pretty blue, easy for beginners or experienced, nice chain length
Cons:
None to my knowledge
This is my first pair of nipple clamps; I never thought they would work for me previous to now, so I never tried. Let me explain, I have never had a lot of sensitivity in the area, like freakishly none. I had my nipples pierced for a period during college and even when I got them done I barely flinched. Clamps were something I always thought would be a lot of fun but just never thought would work for me. So when I received the assignment I decided to try it anyways and I am really glad I did. The only information I know prior to receiving or trying them was that you wore them for x amount of time and when you took them off you would have added nipple sensitivity for y amount of time. Sounded simple enough, but I wanted to learn more.
The point of the nipple clamp is adjusting the clamp to give the right amount of pain and pleasure. You do so by turning the screw on the side in and out. I have mine about half in half out, so it's tight enough to stay on but not applying too much pressure yet---I want to slowly adjust to closing them tighter and tighter.
Alligator clamp by PHS International are a metal clothes pin style clamp in a fun blue color. At 16 1/4" in length they will hang nicely once applied with just the right amount of weight from the added chain. A lot of people like to buy added weights to hang from the middle of their chains for added weight and pain (pleasure). On each side of the clamp there are black plastic end caps, under the caps are teeth but you can't tell unless the caps are off. They don't feel as bitey as you would expect for plastic covered teeth. The plastic caps are smooth on both sides, I understand that some have texture so they stay in better place but even without them like these, I didn't seem to have much trouble with them slipping.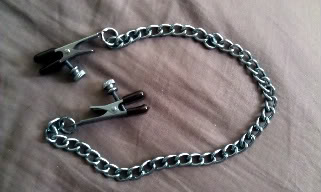 To use the nipple clamps you first have to make sure your nips are nice and hard. This is where a partner can help out and make this a fun couple's experience. After they were erect, I made the mistake of just trying to put them on and seeing how they felt, and it hurt! I quickly took them off and opened them a lot wider than I needed---I slowly turned the screw to tighten them till they stayed on correctly. I didn't hurt once adjusted but it did feel weird. The longer I kept them on the better they felt and I knew exactly why people liked using them. When you get used to the feeling this is where you can give the chain a little tug and feel the added pressure and pull. After you take off the clamps you might experience some immediate pain, not much but a little. This is because when the clamp is on, it stops blood flow from reaching the nipples---when the blood rushes back it make them super sensitive. A sensitivity I didn't know I could have, I might add.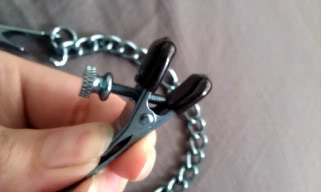 It is recommended you don't leave the clamps on too long, just like cock rings leaving these on too long can cause some damage. If you start turning colors or start to swell it is best you immediately take them off.
Experience
I am really glad I took a chance to try these even though I didn't think they would work for me, lesson learned. Finding that I do have sensitivity to nipple clamps excites me because now I can go out and get a few I have been eying. When I got them pierced before I don't think I felt it because it was quick and not that much pressure, but when you have something like clamps that you can adjust the pressure and leave on for a prolonged amount a time compared---it makes a world of a difference. Even after I took them off; something like a lick which I would have never felt before, I could feel for the first time, this was exciting like venturing to new territories.
This product was provided free of charge to the reviewer. This review is in compliance with the FTC guidelines.

Thank you for viewing
Alligator clamp
– nipple clamps review page!