Shower Fun, Here I Come!
For taking bondage into the shower the Suction Handcuffs are not bad at all. If you are into heavy duty bondage, these don't translate into that, but they can still delight you. Just be careful not to pull at extreme angles or fall and these babies are lovely.
Published:
Pros:
Big, strong suction cup, versatile, fun.
Cons:
Not for advanced peeps, not for suspension, need to always be aware
So now there's a way to have EVEN MORE sexy times, Mwar?
Indeed there is! Now, the Suction Handcuffs by Sportsheets is not for heavy duty play, but it can certainly add some spice to shower fun. The material and design of the cuffs allow for bondage of the wrists (and some ankles) to a variety of surfaces with a good level of comfort. It is noted to work on most smooth surfaces and tiles that are at least four inches wide. This is by no means a serious restraint and you can free yourself from these cuffs. Even if you couldn't undo the suction cups (very, very unlikely) you could free yourself from the cuffs by either destroying them or undoing the velcro (which might take some flexible handy work, but is certainly possible). If you're looking for heavy duty bondage, look elsewhere.
NOTE: This item is not designed or intended for suspension. It clearly states this on the back of the packaging, but I think it should be larger and more apparent. Do not expect the Suction Handcuffs to hold your weight completely. For safety, it's best to make sure you can maintain your own balance or that you trust that your partner can (it also doesn't hurt to have some rubber duckies or similar grips on the tub floor either). Always be careful when engaging in shower *ahem* activities.
Give me some specs! Size, material and all that Jazz!
The Suction Handcuffs are made primarily of neoprene, which is a synthetic rubber among other things. While it is derived from synthetic rubber, these cuffs are fabric-y. Neoprene is everywhere and is in laptop sleeves and medical braces to name a few things. Neoprene is very hardy and tough. It's also soft enough for skin if you decide to pull against it. It is also an excellent choice of material considering they are made for the shower. So long as you let them dry between uses, these cuffs will not degrade from the water.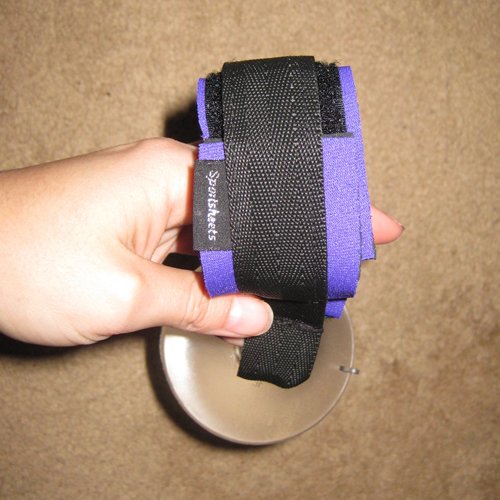 The suction cups are made of the plastic/rubber of any standard ones. They are larger then I expected. The suction cups are 3.75 inches in diameter, hence the 4 inch tile requirement. The cuffs can change in size depending on how you adjust them. They should be able to fit the majority of wrists and maybe even some ankles. They are easy to adjust with the velcro.
How did these babies hold up?
In terms of suction, the Suction Handcuffs are impressive. So long as you keep the cups clean they adhere to smooth surfaces well. They stick on painted walls, tile, wood and counters to names a few places. The easiest way to place the suction cuffs is to choose your desired location while not bound and press on them straight on (not at an angle). Then your partner can fasten you in the cuffs or vice versa. You should be fairly secure.
I did some testing once bound in these cuffs. YAY SCIENCE. I found that pulling away parallel to the ground is has the most resistance. This is where the suction is strongest. The sharper your angle the more strain on the cuffs and the more likely they are to slip or fail. This is especially true if the surface you placed them on was very wet. This means that you shouldn't think these will support you if your legs give out. Still, you should be able to enjoy some moderate resistance with these cuffs.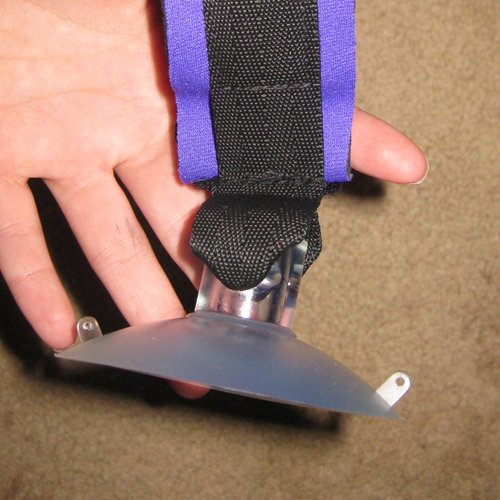 You won't be able to use these with wild abandon. Then again, one should never be going too crazy in the shower since it is FULL of hazards. You will have to have some awareness when using these, but you can still enjoy the feeling of being bound.
What else should I know? Care? Packaging? Other?
Sportsheets is far from discreet with their packaging and are quite provocative. The box has a picture of a couple using the product in the bathtub. The bath bubbles cover up the rated-R bits, but it still is far from tasteful. Open the box to reveal the cuffs. There are no paper instructions but the back of the box explains the warnings of using the product and how to best use it.
Cleaning and maintaining these cuffs are easy. Make sure they are placed somewhere they can air out and dry completely between uses. This will keep the cuffs from molding or smelling bad. Once dry the cuffs can be stored about anywhere you have the space. Keep them out of direct sunlight. It's also best to inspect the suction cups and wipe them down before use to assure the safest suction.
Experience
Anything else you want to share?

I own nylon rope, so I don't really mess around with cuffs and other types of bondage. However, seeing these cuffs with the shower capability appealed to me. Personally, I don't care to have sex in the shower. It creates a squeegee effect, if you will. While sex isn't on the menu in the shower, foreplay is a big thing. My partner likes to play in the shower and I always bat his hands away. With these, I won't be able to do so that easily. When I told him of this purchase he was pleased. When they came in it was conveniently time to shower.

We both like them, but I think he likes them more. While I prefer having more heavy duty restraints, I can enjoy the Suction Handcuffs. They're more to keep me from moving away as opposed to making me immobile. For this purpose, it works. Another favorite use is to use these on a wall and have some foreplay that way.

All in all, I think they're a good buy, but maybe wait for a sale if you're on the fence.
This content is the opinion of the submitting contributor and is not endorsed by EdenFantasys.com

Thank you for viewing
Suction handcuffs
review page!