Soft (almost) Darkness
All in all, this is a decent beginners item for those just getting into kinky sex. It can be used as either a blindfold or wrist tie; just don't expect complete darkness while wearing it.
Published:
Pros:
Soft, attractive, ties well
Cons:
Can see through the bottom
The Soft Darkness Ribbon Blindfold lives up to its name...almost. The material is indeed soft; it is made from a silky poly-blend that is very pleasing against the skin. However, as with most blindfolds, it does not ensure complete darkness. If all one is after is the conceptual idea of blindfolding a lover, this item will do just fine but if the goal is sensory deprivation, then this is not the item for you. Look for something just a little thicker.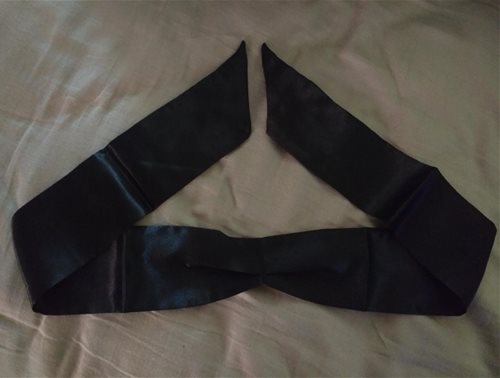 This blindfold is a deep shade of black and the stitches on mine were neat and well made. When I measured it, I found it just over 36" from tip to tip. It is 2 5/8" thick except for where it is drawn in at the center. It is thinner there and measures just 1 5/8". For me, this was not enough to prevent from seeing out through the bottom. There was a strip of light underneath the blindfold, right above my nose, where I had a pretty good view of what was happening. Even when tying the blindfold tighter, it still slipped up to where I was able to see a little bit. This may have not mattered as much in a sitting position but when the blindfolded participant is lying down, it does lose a little of the desired effect. In the second picture below, the gap between the face and bottom of the blindfold should be evident.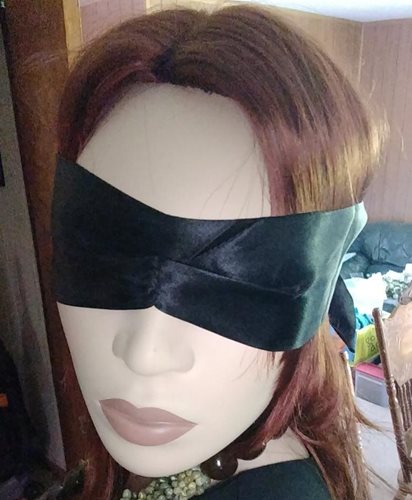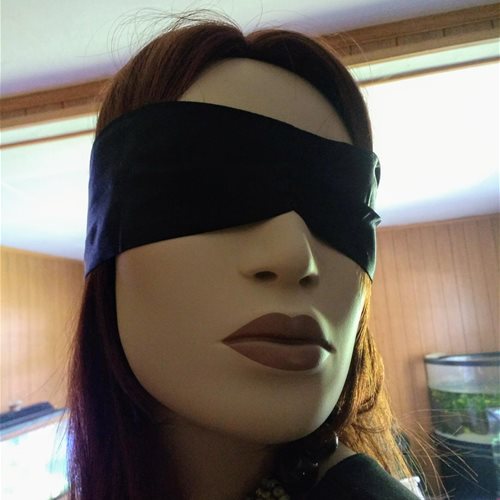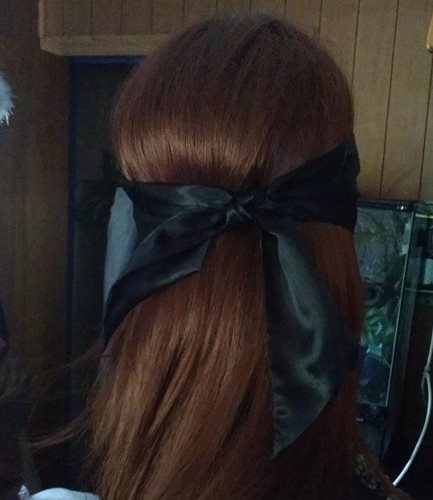 The length of the item is long enough to also lend to light bondage of the wrists if the moment strikes. It can be tied rather tightly while still remaining comfortable. In fact, I would venture to say that it works better as a wrist restraint than it does as a blindfold.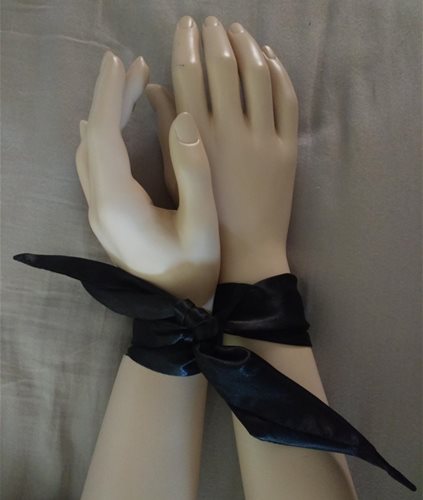 This item comes in a plain, wholesale type of sealed plastic bag. If giving it as a gift, I would definitely recommend finding a box or gift bag.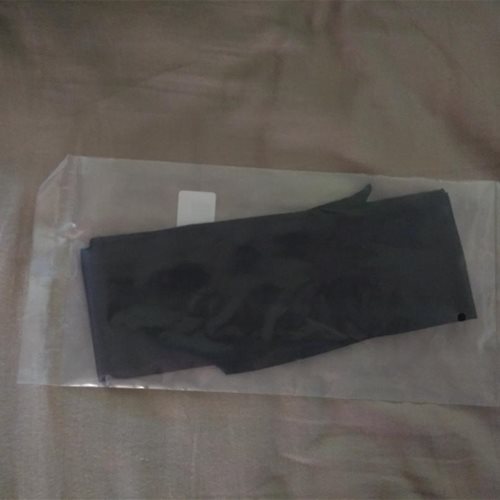 This product was provided free of charge to the reviewer. This review is in compliance with the FTC guidelines.

Thank you for viewing
Soft darkness ribbon blindfold
– headgear review page!