Softest Mask I've Ever Worn!
A well made, super silky-soft mask at a reasonable price. I bought this to use for sleeping and it is the softest, most comfortable mask I own! The only drawbacks are the one size fits all which made it a tad loose on me (but I just use a hair clip to hold it in place). The other issue I have is the same with every mask I have ever tried and that is, a little light enters down near the sides of my nostrils. Not only do I recommend people try it, I plan on buying several more in black!
Published:
Pros:
Inexpensive, comfortable, super soft, nothing to poke or pinch you
Cons:
One size fits most, some light gets in around nose
As far as I'm concerned, Sportsheets has knocked it out of the park, in creating a truly soft, comfortable mask. It doesn't pinch or grab anywhere, and doesn't have any metal or plastic adjusters to dig into my head. When I removed it from the package, it had only the fainest whiff of an almost vinegary scent when I held it right up to my nose. But, it doesn't have any smell after washing which is a huge consideration for me, especially as it is going to be sitting right near my sensitive nose!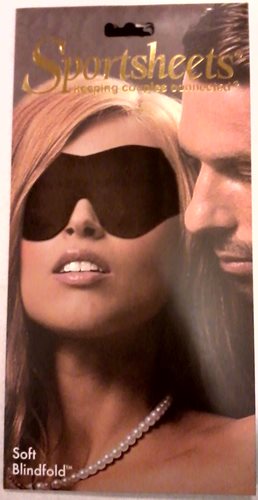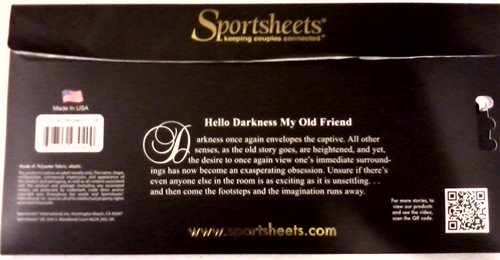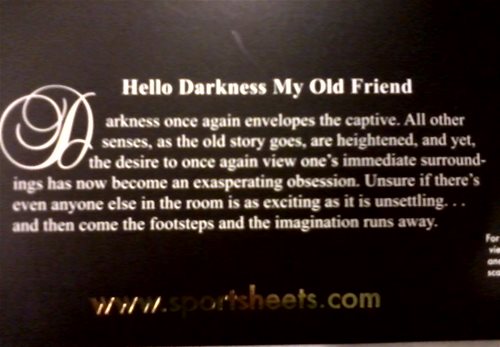 The faux fur is flat instead of standing on end like a brush cut, so it's silky & doesn't tickle my skin or poke into my eyelids.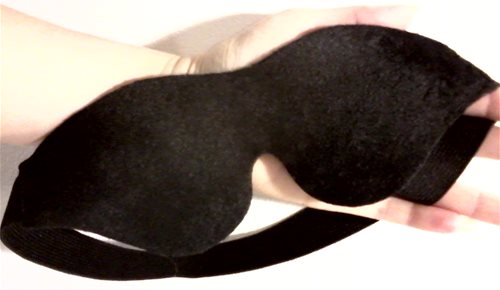 Another other faux fur mask I tried had a deep, plush pile which I thought was going to be soft, as well an conform to the contours of my face to block out all light. In theory it sounded good, but in practice, the pile ended up irritating me as the fur wiggled back and forth on my skin every time I moved. I didn't realize at the time that the cut ends of the pile were microscopically sharp and were actually causing micro-abrasions which made me itch, so I finally had to remove it. No such problems with this mask! The "fur" lies in one direction so it is flat against your skin and feels more silky than you might expect; I find it soothing on my skin. And since this mask is so flat and flexible, it travels very easily, plus there is nothing about it that suggests sex, so you could wear it on an airplane with no one batting an eye.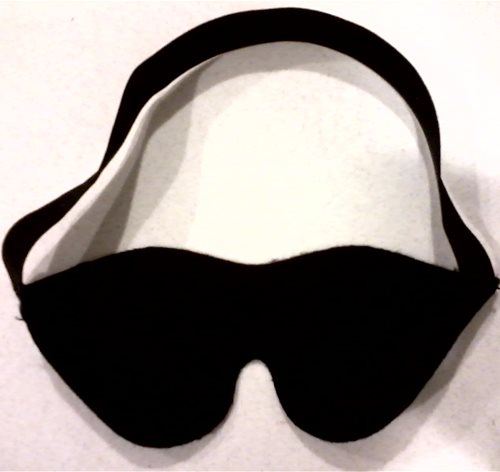 The wide, flat elastic band doesn't roll on you and securely anchors the mask. I found the band, which is 1" wide by 13 unstretched inches long, to be just slightly loose which surprised me because I have a 22.5" head. I remedied this by using a hair clip to anchor the band at the back of my head. That worked perfectly and is something I frequently do with other sleep masks. Eventually, the elastic wears down and stretches out more, so the hair clip solution always comes in handy at some point! As for people with heads over 23", I would be concerned that the opposite problem might arise - the elastic when stretched might cause the mask to put pressure on the eyes, but this is an issue with all elastic banded masks. I was also pleased that the stitching connecting the band to the mask is securely sewn all along the length and isn't at all scratchy on my face. I tried my best to show that in the following photo: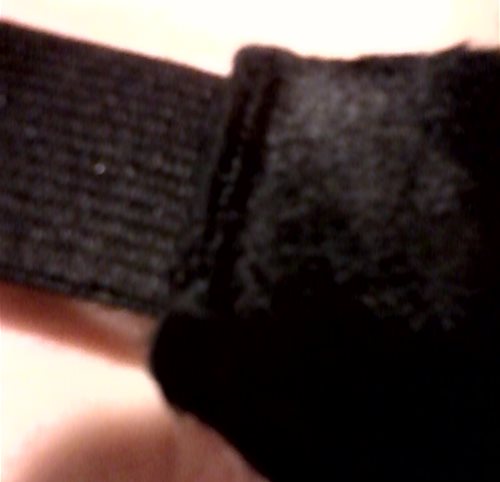 Not having little metal or plastic adjustment pieces means no adjusting the fit, but I always find those pieces dig into my head and I end up cutting them off anyway and sewing in my own wide elastic band. Another adjustable feature that I have seen is a velcro closure, but those always grab my hair and pull. One that I owned, had the scratchy side of the velcro exposed after I fitted it to my head. Unfortunately, as a back sleeper, that velcro shredded a fine cotton pillowcase by grabbing the fibers every time I moved my head. Not until I awoke the next day, did I see the damage to that pillowcase. That was bad enough, not to mention having to try and unsnarl my hair for 20 minutes from the velcro! Never again!
I bought the black for added protection from the light and plan on buying several more so I always have a clean one available. I really like the way the flexible material conforms to my face and doesn't slide around from left to right as my satin masks do. At 8.5" wide by 3.5" tall, it really covers a lot of my face and feels very secure and there is enough material to conform to just about any face shape; I find this a very smart design consideration. The only potential issues someone might have with it is that it comes down past the cheekbones which might be more coverage than they like.
Experience
In all, for the price, I think this is a good bargain. Mine has held up to three hand washes without the faux fur shedding all over or falling out in clumps (yes, that has happened to me before!). And by drying it flat, it has kept its shape while maintaining the elasticity of the band, since high temperatures from dryers break down elastic fibers. I have been very happy with the light blocking ability of the black and since I rely on that when I have a migraine, as well as when I sleep, I will be buying more of these!
Follow-up commentary
3 days after original review
I find this to be the most comfortable sleep mask I have ever used. I have used it every time I slept for two weeks, even during the day and I have always been happy with it! Even after several hand washes this mask looks like new! I highly recommend it for sleep and even for sensory play. I chose the black to get the most light blockage I could and it really works well! Just remember, depending on your face shape, some light usually can get in down near the sides of your nose, or under the bridge. I have a very tiny nose and almost no bridge, so I see a tiny amount of light right in the corners, outside of my nostrils. This is common for me with blindfolds, so I do't have a problem with it. Besides, it's a negligible amount of light, even with the sun outside. I would have to constantly focus on it to have it bother me. In all, I would recommend this to anyone wanting a blindfold for any reason. Plus, I am ordering more until I have a good supply!
This content is the opinion of the submitting contributor and is not endorsed by EdenFantasys.com

Thank you for viewing
Soft blindfold
– headgear review page!