Yes! Yes! Yes!
Whether you're looking for an excellent, completely waterproof clitoral vibrator or a luxuriously sexy handcuffs and blindfold set, you'll find something in this kit that you can't live without!
Published:
Pros:
Sexy, luxurious, great value, great design, multiple uses, excellent quality, set saves money.
Cons:
Satin hard to clean/stains easily, blindfold doesn't block out all light, cuffs won't hold up.
The Adore Me pleasure set by Lelo is nothing short of fantastic. From the first second you lay eyes on it, this screams luxurious sexiness! It comes in a black box with a magnetic closure, which makes a fantastic place to store everything. It comes ready to give as a gift (and I mean, seriously, who wouldn't want to receive this?)!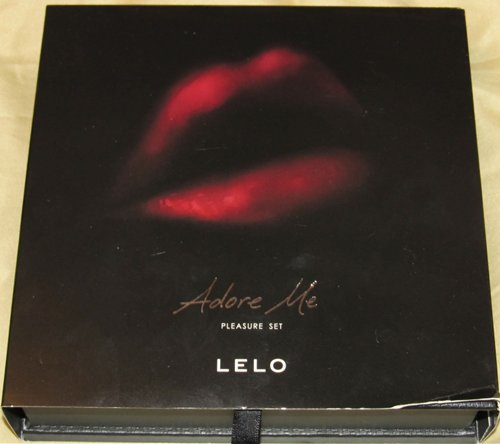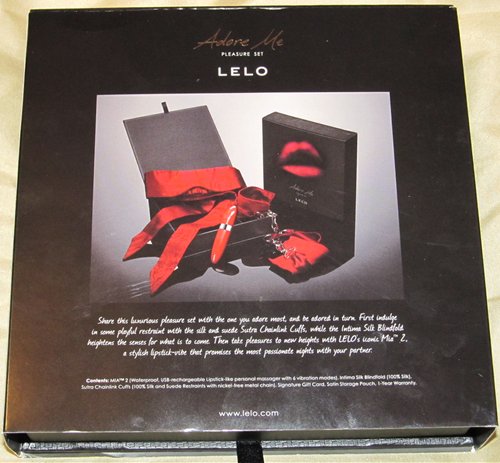 This set comes with
Sultra Chainlink Cuffs
,
Intima Silk Blindfold
, and
Mia 2
. Everything in this set is red, including the Mia 2, which is in red exclusively for this set! You can buy all three items separately, for $209.98, but buying the kit saves you over $70! Each item in this set can be used individually on their own, in conjunction with other toys you may own, or all together for one very sexy, hot, steamy night!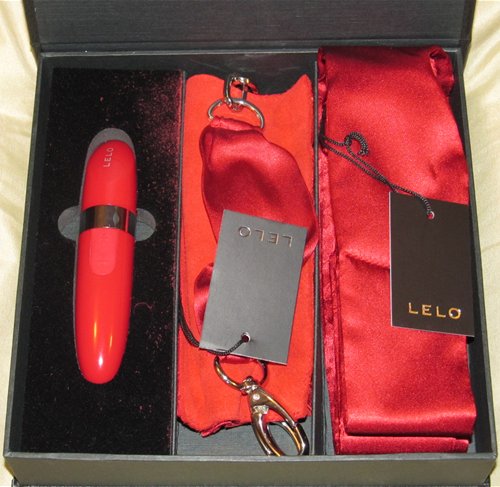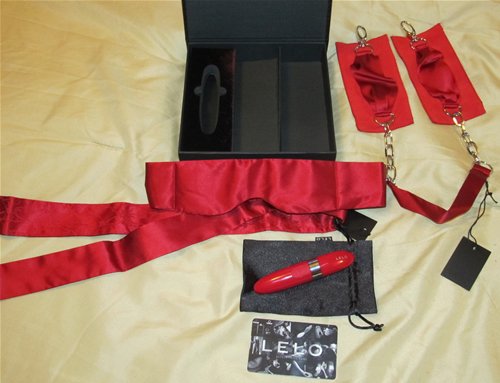 EF says that this comes with a "gift card," however, this is just your authenticity card from Lelo. You use this to register your set with Lelo, which you're going to want to do so you can take full advantage of their 1 year warranty and 10 year quality guarantees. Yes, your investment in this set will be protected!
Satura Chainlink Cuffs
The cuffs in this kit are made from silk, suede, and metal. Of those, EF only rates metal on its safety scale and it's given a 9. Keep in mind the silk and suede are
not
vegan friendly.
The cuffs are very comfortable to wear, which is great for starter or light BSDM use. I'm afraid that they won't hold the test of time, and they certainly won't hold up to heavier BDSM use. There's a couple of different ways you could use the cuffs, however the way shown in the second picture is way more comfortable and allows for greater adjustment. One of the other drawbacks to the cuffs is that you can't remove the silk part between the cuffs so there really isn't an easy way (without outside clips) to get the cuffs closer together. Overall, I'd give the cuffs a 4 out of 5 stars.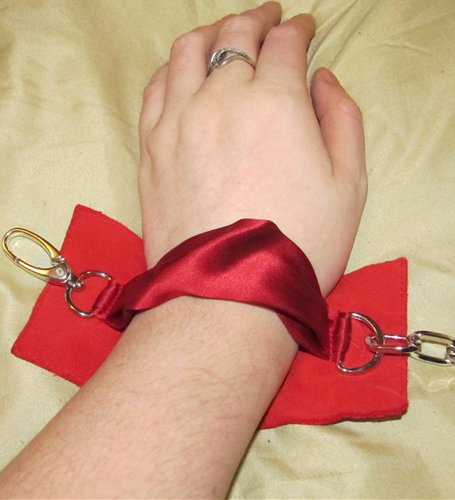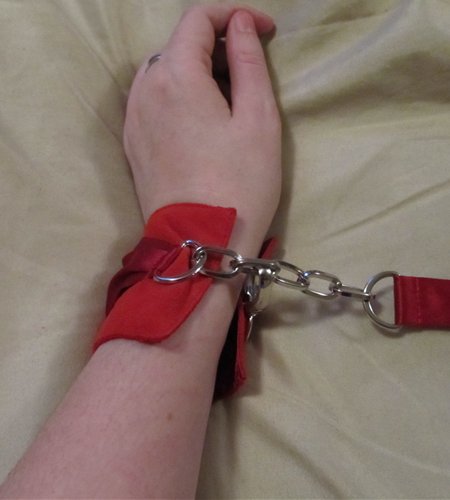 The cuffs also have a very light floral print on the side that goes towards your skin, adding to the sexiness and the luxuriousness of the entire kit.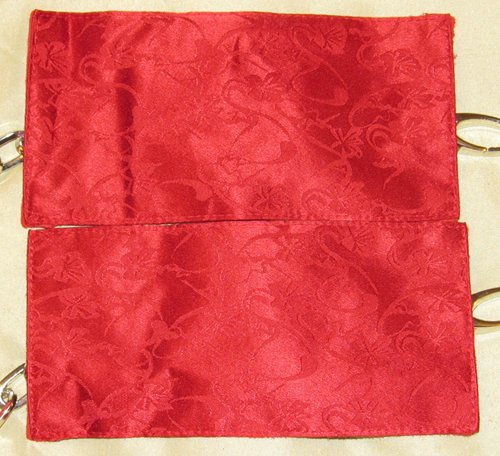 You could also use these as ankle cuffs, if you have small ankles. They don't fit my boyfriend's ankles at all, but they do mine.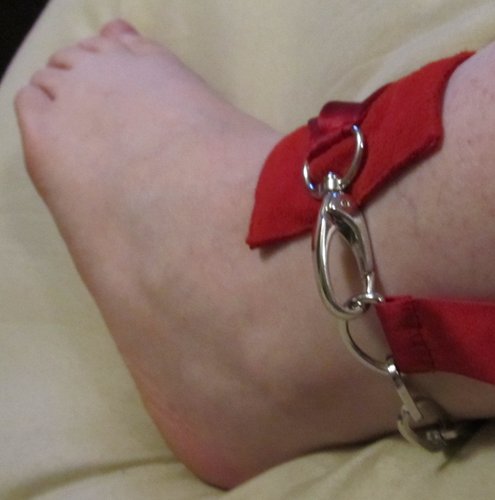 Intima Silk Blindfold
The blindfold in this kit is also red silk with the same light floral pattern on the inside as the cuffs. It's fairly comfy, definitely something that could be worn for a longish period of time. It has a little elastic band in the back which makes it slightly adjustable. It measures about 23" around without the elastic being stretched and about 27" around with the elastic fully stretched. It also has 2 long ties that are about 23" inches long each. The ties allow you to tie a big sexy bow or a smaller bow with long flowing ends which really add to the sexiness of the blindfold.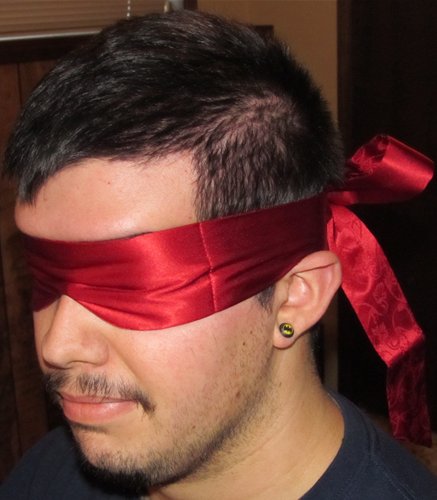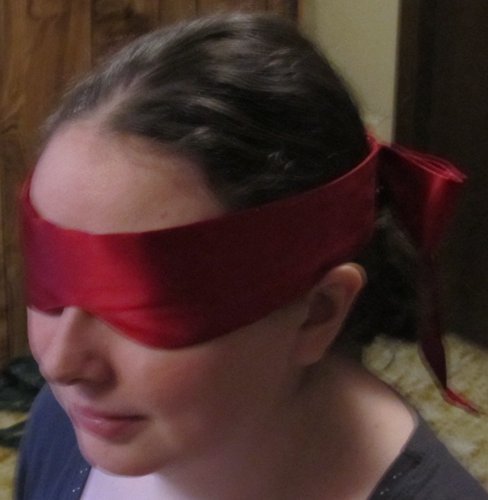 There's a couple of drawbacks for both the blindfold and the cuffs. Since they are both silk and suede, without a way to easily separate the two, they are fairly difficult to care for. If need be, you could spot clean them with soap and water, some stain remover, or something similar, but it runs the risk of damaging the other material. They both are very susceptible to stains or blemishes. If you're getting dolled up for a night, make sure you have a way to remove your makeup before putting the blindfold on.
Mia 2
This is a completely waterproof, lipstick clitoral stimulator. It's made of plastic, an 8 on the EF safety scale. It's completely smooth, with no bumps or ridges for additional stimulation. I love that this is rechargeable via USB. It's easy to clean and is compatible with both silicone- and water-based lubricants. It's very quiet and has a great variety of speeds and patterns. This also has a quick off feature by holding both the plus and minus buttons simultaneously. For the majority of people out there, this will be a very satisfying vibrator. I would not recommend this for anal play at all. It isn't tapered and only has 1.5" insertable length.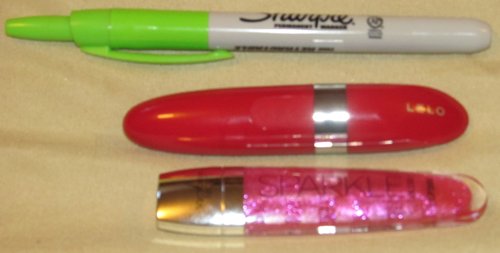 Experience
When I used the blindfold, I could still see light out of the bottom of it. I don't like this, but others might as this adds to making you want to close your eyes. When my boyfriend used the blindfold, he said it completely blacked everything out for him. I guess what works for one person may not for someone else!

I love how transportable and discreet the Mia 2 is as well. This almost immediately got placed inside the little black bag it comes with and tossed into my purse! It's really rumble-y rather than buzzy. Even on the highest setting, I'd give this about 3.8 vrooms, so if you need a solid 4, this one probably won't cut it for you.
Follow-up commentary
4 months after original review
All in all, I'm still very pleased with this purchase. While the blindfold still doesn't block out all of the light, it's something that's growing on me and nice to use every now and then as opposed to one of our other blindfolds. The handcuffs are some of the most comfortable ones I've found and get regular use. As for the Mia 2, the novelty has worn off a bit but it's still in my top 2 favorite toys in my box.
This content is the opinion of the submitting contributor and is not endorsed by EdenFantasys.com

Thank you for viewing
Adore me pleasure set
– sensual kit review page!