A thing to wear!
These condoms prove that thinner actually is better. Larger than regular condoms and almost 20% thinner than the bigger ones, Kimono Microthin Large definitely can make protection more enjoyable. They are an excellent choice for those who need some extra width, but don't require too much length.
Published:
Pros:
- incredibly thin, but reliable
- good for the girthy
- odorless and tasteless
- gorgeous package
Cons:
- a bit overpriced
- might be not long enough and slip
I used to have a strange prejudice against thinner condoms assuming that they don't actually provide that intimacy they promise to. Well, some surely don't, but some would be a miss not to try. By the way, did you know that the word "kimono" literally means a "thing to wear"? If you are using condoms regularly, Kimono Microthin Large really
is
a thing to wear!
Main features and comparisons
Kimono Microthin Large are latex condoms made with advanced Japanese condom technology and engineering. They are both thinner that usual large condoms and slightly bigger than regular Kimono ones. As any other condoms these are intended to prevent pregnancy and STDs, but due to those special features they make protection even more enjoyable.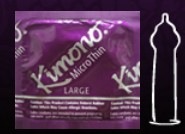 These condoms, as you can see from the small pic above, have a flared form, which means they are wider over the head of the penis. There's also a reservoir tip for additional safety.
According to the official
web-site
, the main characteristics of Kimono Microthin Large are:
- length: 7.68" (19.5 cm);
- body width: 2.05" (5.2 cm);
- head width: 2.34" (5.9 cm)
- latex thickness: 0.0022" (0.055 mm);
- lubricant type: silicone;
- lubricant amount: 0.0088 oz (0.26 ml).
Kimono Microthin Large are definitely bigger than regular condoms. However, they are not as big as most Large or XL condoms, so in my opinion, it's not quite right to compare them. Still, on the back of the condom box you can find a chart much similar to this one (sorry, but I couldn't post an actual one because of my camera's quality):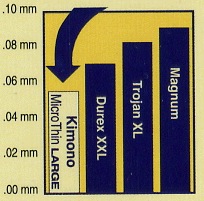 This comparison might be inaccurate due to the difference in measurements, but it doesn't lie. I also did my own comparison and, as you can see, Kimono Microthin Large are approximately 19% thinner than its competitors.

The length of 7.68" may be not enough for some, but will be just fine for guys under 7". Shaft and head width, however, is much closer to what I would classify as "large".
Packaging
Kimono Microthin Large condoms come in a variety of volumes, but Eden Fantasys carries them in 12 only. The cardboard package is absolutely gorgeous. It's purple and shiny with nice oriental ornaments embossed. It looks very exquisite and reminds me of Japan (and Kimono condoms are made in Japan), which I really like. For additional safety the box also had a clear plastic overwrap.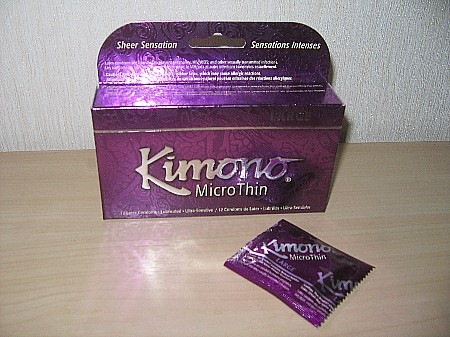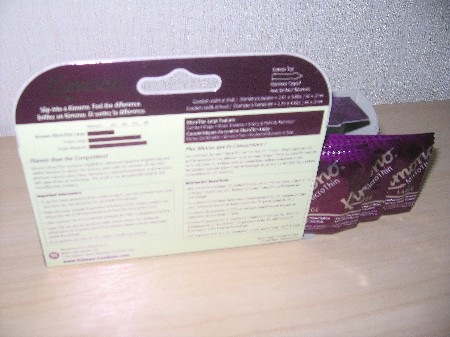 The one you can see on my pictures is a new design, different from what you can currently see on
product's page
.
Each condom is wrapped in a matching wrapper, purple on one side and sheer white on the other. The white side also has basic information and instructions printed on it as well as the expire date.
The package is extra informative. It provides all sorts of information a condom user may ever need. In one of my reviews I've already mentioned how uncomfortable it can be when information is printed on the inside of the box. You have to destroy the package to read it and sometimes that's not an option. Mayer Laboratories were thoughtful enough not only to use the space on the back of the package, but also to put a very neat "How to use a condom" booklet inside: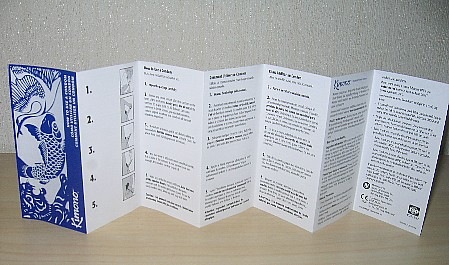 There are an illustrated guide to putting it on, some notes and precautions.
Safety
Now, I feel obligated to mention some safety rules for condoms, because protection is an extremely important issue. As you know, condom's effectiveness can be decreased severely by user's mistakes. So here are some basic rules:
- Don't use latex condoms if either you or your partner has latex allergy.
- Condoms can deteriorate if not stored properly (at room temperature) and exposed to by direct sunlight and excessive heat. If a condom feels sticky or very dry you shouldn't use it.
- Condoms also shouldn't be used if an expiration date has already passed.
- Oil-based lubricants are not compatible with latex condoms as they cause the latex to break. Use only silicone or water-based ones.
- To get the most protection from a latex condom, use it correctly every time you have intercourse. There are plenty resources on the Internet where you can find the directions for putting it on a male's penis. For instance,
this animation video
on YouTube shows it in a quite funny way.
- Never use the same condom twice or the same condom for vaginal and anal sex.
Experience
I have some medical reasons for staying away from hormonal birth control, so condoms are the only way for me and my partner to prevent pregnancy and we have to use them even being clean and monogamous. Now you see why finding a perfect condom is important to me.

Our experience with Kimono Microthin Large was very enjoyable so far. We can actually feel much more than with our other favorites, Trojan Ultra-Ribbed Ecstasy. Unfortunately, the condom is slightly shorter than needed, so my guy has to hold it up with his had sometimes. But otherwise it's totally worth it, even being so pricey, and I'm giving this product 5 stars without hesitation. However, I think, I'm going to continue my explorations in order to find a condom as thin and pleasurable as Kimono Microthin, but a bit larger and at least tad less expensive.
Follow-up commentary
2 months after original review
It's not that I don't like Kimono microthin large at all now, but they started to cause some trouble for my partner. At first we both liked how these condoms provided a natural feeling, but after a while that advantage was pushed out by the fact that they are too short after all. My boyfriend has to hold them at the base most of the time to prevent them from slipping and you can imagine how frustrating it can be. Also, even providing a decent width, they are quite difficult to roll down because of their thinness.

I would still recommend them as great and noticeably thin condoms for the guys under 7" and as toy covers, though.
This product was provided at a discounted price in exchange for an unbiased review. This review is in compliance with the FTC guidelines.

Thank you for viewing
Kimono MicroThin Large (12 PACK)
– male condom review page!