Hey condom, you there?
Trojan Magnum Condoms are great, effective, and provide a more natural feeling than other condom shapes. They're just so damn expensive! We get whatever he wants though, so we'll definitely be buying more of these.
Published:
Pros:
more natural fit and feel, will fit large penises, comfortable
Cons:
expensive
The Trojan Magnum Ecstasy condom is made of latex and features "UltraSmooth Premium Lubricant" on the inside and outside of the condom. The base is tapered and has a few ribs on it for extra stimulation. The shape is much more like an actual penis instead of having the tip at the end, but the end is very large and catches the semen just fine. We experience no problems using these. They didn't break.
My partner is pretty large--about 8.5" long and 6" around at his thickest. We only use Magnums because although he can get regular sized condoms on, they are too constricting and he can last so much longer with the Magnums' more proper fit. These fit him perfectly, and he had no complaints about comfort, not that he ever complains about wearing condoms. We use condoms every time, but since we haven't been together for too long, we haven't been able to try a huge amount of varieties together yet. We were excited to see that Eden carried the Ecstasy variety of Magnums, which we had not tried before, so we decided to go for it. We are glad that we did. He says these and the Magnum Thins are currently tied, but he did really like these. And so did I!
The condoms come in a box of 10 and are wrapped individually in gold packets like all other Magnums. If you open this in front of someone you will definitely be caught. It is very obvious what this is. The back of the package is really nice. It has a picture of the condom shape and describes each of its features. Then it has the health information, of course. I wish these were sold in larger packages, but I'm almost positive that even in the stores, this variety only comes in the 10 packs, and at most, 15, not like the huge 30 packs you can get regular Magnums in. That's a major downside--they are expensive. However, I don't care as much when I'm shopping on Eden versus when I'm at Walmart purchasing them.
The condoms I received expire May 2015, and if I can't use the 8 condoms I have left in that amount of time, I'm gonna be a sad woman.
Here are pictures of the packaging. It's pretty standard of Trojan. They always make things look nice and the least sketchy as possible, in my opinion. I think their packages make them look super trustworthy, and for good reason, because they really are a very reliable condom brand.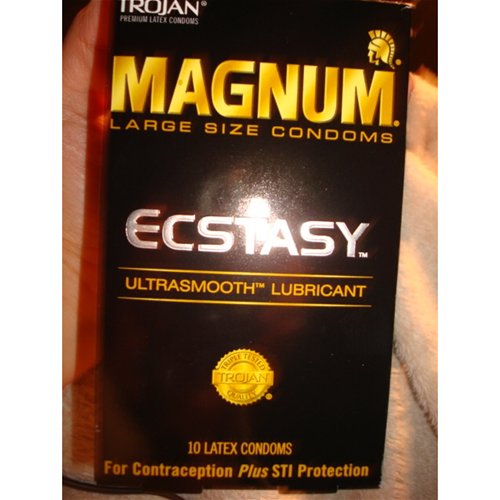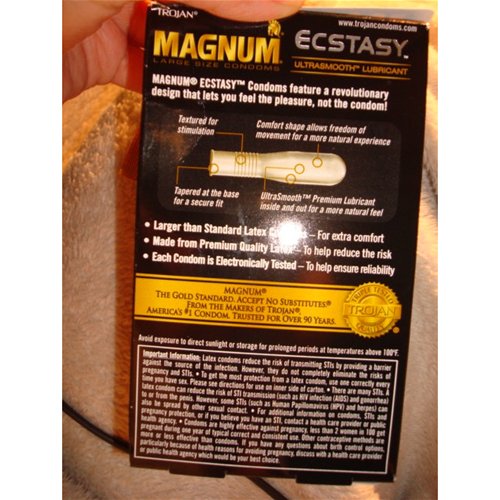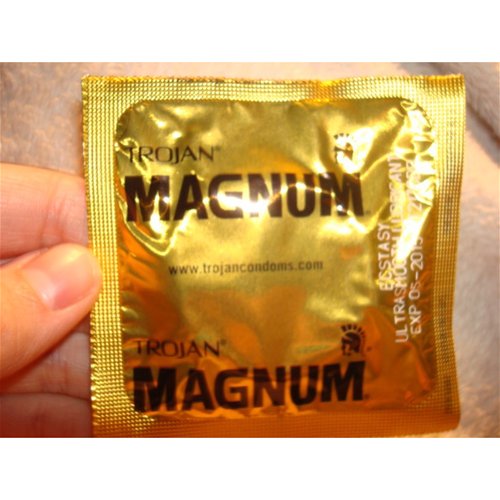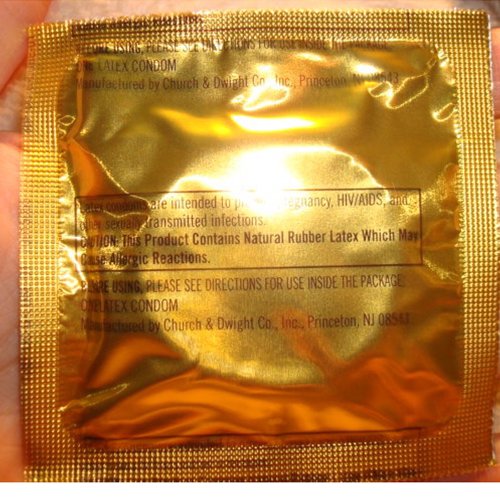 Experience
We really loved these condoms. We haven't had condomless sex together, so I suppose I can't really compare to how that would feel, but I think I have a better idea now. I don't really see how a condom would make too much of a difference in pleasure for me personally, because I really can't feel the condom. I'm concentrating on other things. However, occasionally there's a crumple sound or I can feel the tip of it, but with the Trojan Magnum Ecstasy condoms, there were not even those miniscule disturbances.

When I asked my partner what he thought of them so I could include his opinion in the review, he said that he liked the shape and that it allowed him to have larger contractions during orgasm. He spoke favorably of the lube inside of the condom as well, saying it made it feel more natural. They are his favorite now, along with Trojan Magnum Thins, which he said are tied for that title. He had nothing negative to say about them and wants us to buy more. I just wish that they came in larger packs, because 10 condoms do not last long at all for a couple of horny college students. I would give these 5 stars but the price knocks them to 4.
Follow-up commentary
3 months after original review
My partner and I still really love these condoms. We use them most of the time when we have sex, along with the other Magnum varieties. We discovered that our college sexual health center sells these for cheap, and we've definitely taken advantage of it. I think there really is a difference in the feel of the condom, though originally I was skeptical, and my partner says it is more comfortable and that they fit nicely. I take my partner's word on condoms, and let him choose what kind to wear. He always picks these! He's really hard to fit, and 8.5" long and 6" circumference at his thickest, but these fit him really well. We haven't experienced any breaks and we've been using these for a few months now.
This product was provided free of charge to the reviewer. This review is in compliance with the FTC guidelines.

Thank you for viewing
Trojan magnum ecstasy
– male condom review page!