Nothing special.
I had some extra Eden points and I was almost out of condoms, so I decided to get these from Eden. I don't regret it, and I think that it's great that Eden carries these, but they are by no means mind-blowing for my partner or myself.
Published:
Pros:
Will fit bigger penises comfortably, decrease chance of pregnancy and STDs/STIs...
Cons:
Price, quantity, no noticeable difference between these and regular Magnums.
I have used tons of different types/brands of condoms in the past, and Trojan has probably been one of my favorites. However, with my current, well-endowed partner, we can only use Magnums. His penis is 8.5 inches in length, and we cannot use regular condoms which can be a hassle. I have a lot of condoms- ONE condoms (every style they make), Durex, Lifestyles, but they are not comfortable on him and just end up breaking. That includes ONE's "Legend" condoms, which are supposed to accommodate an average-sized penis but have a little extra room for a better feel.
Being a college-student with no income, I generally go to certain clinics where I know I can pick up free condoms. Walk in, take what I need, and leave. Free, easy, and convenient. There are 2 locations that I go to where I can do this, but only one of them ever has Magnums. I noticed that I was running low on Magnums, and I decided to be proactive and go pick some up from my go-to place. I went, they had everything but Magnums. Disappointment! I went back a few weeks later, and still, no Magnums. Again, I do not have the funds to go buy anything at all, much less condoms (which are expensive) and neither does my partner. I had put these Magnum Ecstacy condoms on my wishlist at one point, but never really saw the need to get them since I had perfectly accessible and free condoms...until then. I didn't really want to use my points on condoms before, but now it was necessary.
These come in a package of 10 for $14.99. I think that condoms are too costly as is, but I couldn't complain since I was using my points to get these and otherwise would have had no access to any condoms at all which would NOT be good! However, I find fault with the price. I recently went to my local supermarket and noticed that this same package was being sold for a few dollars less...and a package of 36 Magnum Ecstacy condoms was sold for $19.99! And they were NOT on sale! I really, REALLY wish Eden carried them in this quantity and at that price. Of course, I can't even buy them at this supermarket because I have no money at all! Oh, the woes of being poor...
Anyhow, as I awaited my package I started to get excited at the though of using them, since all I had heard was good things about Trojan's Ecstacy condoms. I heard about how they felt so good for both partners, and that they were just the bee's knees. I wasn't sure that this was true, but I knew that at the very least they would work. They would fit, and we wouldn't have any problems with them, since we were used to using plain old regular Magnums. Sure enough, they did their job. They come in a gold wrapper and look almost exactly the same. If you were to look quickly at them, you wouldn't be able to tell the difference, but the wrapper of the Ecstacy condoms is slightly larger. I do not think that the condoms themselves are any larger though.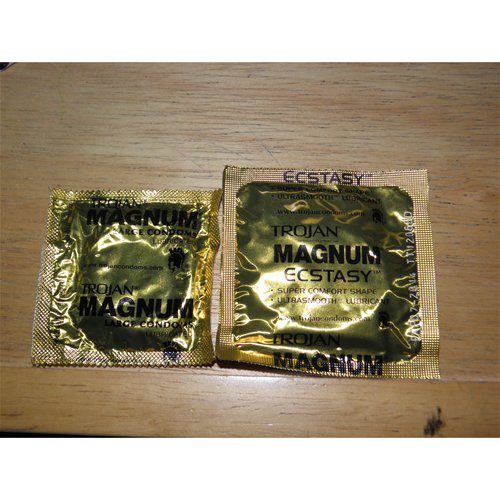 I give these 3 stars, because they are available to me and I otherwise have no access to the condoms I currently need. There is nothing really wrong with them, but there is nothing special about them either. They are just...average. They are smoothly textured, no swirls or ribs or bumps. They have a reservoir tip, pretty much expected. They are lightly lubricated and I have not had any reaction to the lubricant, which is nice. The lubricant is silicone-based, by the way, so if you are planning on using these on large silicone toys that could be a bad idea.
The price could definitely be better. I REALLY wish they have these available in larger quantities, this is my biggest issue. 10 in a box is not very many at all. I really wish Eden carried the box of 36, that would be GREAT! Even if they are not mind-blowing condoms, they are basically regular Magnums as far as I see it, and I wish I had access to 36 condoms!
If you are looking for a condom that will fit a penis over 8 inches, these will work for you. I'm not really sure of the..um...size limit, on these. I'd say if you are over 12 inches you might want to find another brand of condom that will better accommodate you. If you are looking for a condom for a larger penis, these are great. Trojan is a wonderful company, but if "ecstasy" is what you are looking for you might feel a bit cheated by these.
Experience
My partner made no comment about them feeling any different for him than our regular Magnums, and I didn't notice any difference either. They did not feel any thinner, or more exciting in any way. When we use these, we can both still tell very much that there is a condom in use. It does not feel like there is "nothing there", as the box claims. There is nothing special about these at all. I don't see what all the hype was about for Ecstacy condoms. He didn't even notice that we were using a different type of condom.
Follow-up commentary
27 days after original review
I'm not sure how to rate these, so I've just said "I still like it". I don't dislike them, but again they are nothing special. My partner never even noticed we had been using anything different from regular Magnums, and I couldn't really feel any difference at all either. However, if Magnums are your condom of choice, you won't have any complaints, it's just that they don't really live up to their name, "Ecstacy". As I mentioned in my review, I do wish the price on these were a bit more reasonable and comparable to other places I've seen them.
This content is the opinion of the submitting contributor and is not endorsed by EdenFantasys.com

Thank you for viewing
Trojan magnum ecstasy
– male condom review page!