Kind of Like Using Icy Hot On Your Genitals.
These condoms were not worth the price. I wouldn't take them again, even if they were a free gift. The sensations are too intense, and my partner and I do not enjoy the feeling of Icy Hot all over our genitals. Not to mention that these aren't good for larger men.
Published:
Pros:
Didn't break, Good fit for averaged size men, Caters to those who enjoy extreme sensations
Cons:
Numbs your inner vagina, Balls feel like they are on fire
Here is what the box of the 10-Pack Trojan Fire & Ice condoms looks like: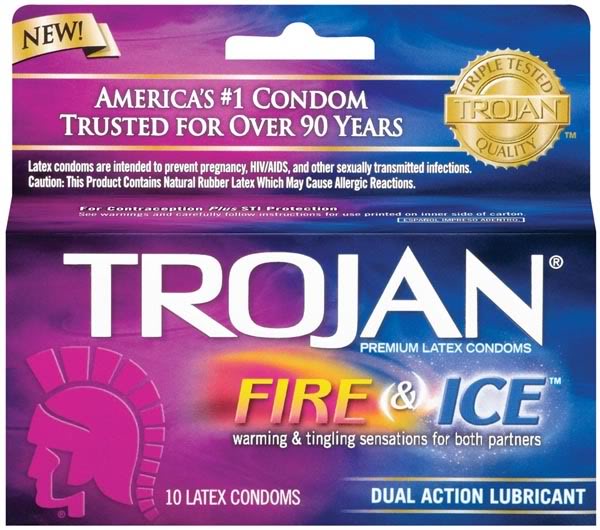 The box shown online is supposedly Trojan's "new look". So I guess we just received one of the older boxes. It's not really a big deal because they are the same condoms. Inside you will find 10 individually wrapped latex Trojan condoms. They are regular sensitivity/thickness, and have no special ribs, swirls, etc.

The only thing that is different is the extra head room, but it honestly isn't noticed or felt by either partner. Just regular, clear, smooth Trojan condoms. Each condom is dual coated with a warming and cooling lubricant that is supposed to give both you and your partner some amazing pleasure. Unfortunately, it is quite the opposite case.
Before I get to our experience with the "Fire and Ice" sensations, I have to say that these condoms will not fit well on a man of larger length/circumference/girth. My fiance is 8.5 inches in length and 5 inches in circumference. The condom felt "suffocating" to his cock. We usually use Magnums XL's or Magnum's when all of the XL's are sold out at our grocery store. So if you are currently using larger condoms, I wouldn't recommend using these.
When first engaging in intercourse with these condoms on, both my partner and I thought "Hey, these feel pretty nice!". We immediately felt the tingling/warming/cooling sensations all at once. It wasn't too strong until about a minute later when we both suddenly had to stop for two reasons:
1. I, myself, could not feel anything internally and my outer bits felt on fire - not in a good way, either.
2. My fiance's balls were burning as if someone spread Icy Hot muscle rub all over them. He tried to rinse off in the shower but it made his balls so sensitive that the water just made it worse. The discomfort wasn't unbearable, but it surely wasn't fun.
Nonetheless, we tried it again. My fiance had a raging hard boner, and I still wanted him as much as ever. So we used another condom and went at it. My fiance was able to fight through the discomfort and climax, in which he described as the "worst orgasm of his life". I wasn't enjoying myself at all, either. My clitoris was so sensitive that if I even reached down to give it a rub it would burn to the touch. My inner bits were still so numb that I couldn't get any G-Spot stimulation whatsoever.
Obviously, this wasn't a good experience. We trashed the rest of the condoms and headed to the store to get our regular Magnum XL condoms but were too tired when we got home from all the effort we put into trying these out. I think we'll just stick with our regular Trojan Magnum condoms from now on.
Experience
Our experience was pretty bad. The sensations were just too strong for the both of us. My fiance did not enjoy having his balls feel like they had Icy Hot all over them, and I didn't enjoy my insides being numb. I don't recommend trying to rinse yourself after using these condoms. The lubricant makes your testicles, penis, vagina, etc. extremely sensitive when coming in contact with water. You'll have to sit it out and let the lubricant soak in and wear off.


These condoms really reminded us of the Magnum Warm Sensations, except they were much more intense. When I state that the lubricant feels like Icy Hot, that is probably an understatement.
Follow-up commentary
2 months after original review
I might as well get this follow-up over with and let everyone know that I have still refused to even touch these condoms again. They feel horrible and are too intense for both my husband and I. Not to mention that they cost more than regular condoms and will ruin your entire night of sex.
This content is the opinion of the submitting contributor and is not endorsed by EdenFantasys.com

Thank you for viewing
Trojan pleasures fire & ice
– condoms review page!