Lubricated Dotted Playboy Premium Latex Condoms ; Discover The Holy Grail Of Condoms!
The Lubricated Dotted Playboy Premium Latex Condoms are jam packed with information, and are a highly effective form of birth control. This is now my favourite overall condom. The major selling point for my partner and I was that while we had intercourse with these condoms it felt like I wasn't wearing a condom.
Published:
Pros:
Dotted texture feels good, packed with valuable information, thin material.
Cons:
Could use a little more lubrication.
The Lubricated Dotted Playboy Condoms arrived at my residence in the same conventional packaging that I have received other varieties of condoms from the Playboy condom line. The design on the package is trendy and elegant. Playboy condoms are clearly the average gentleman's condom.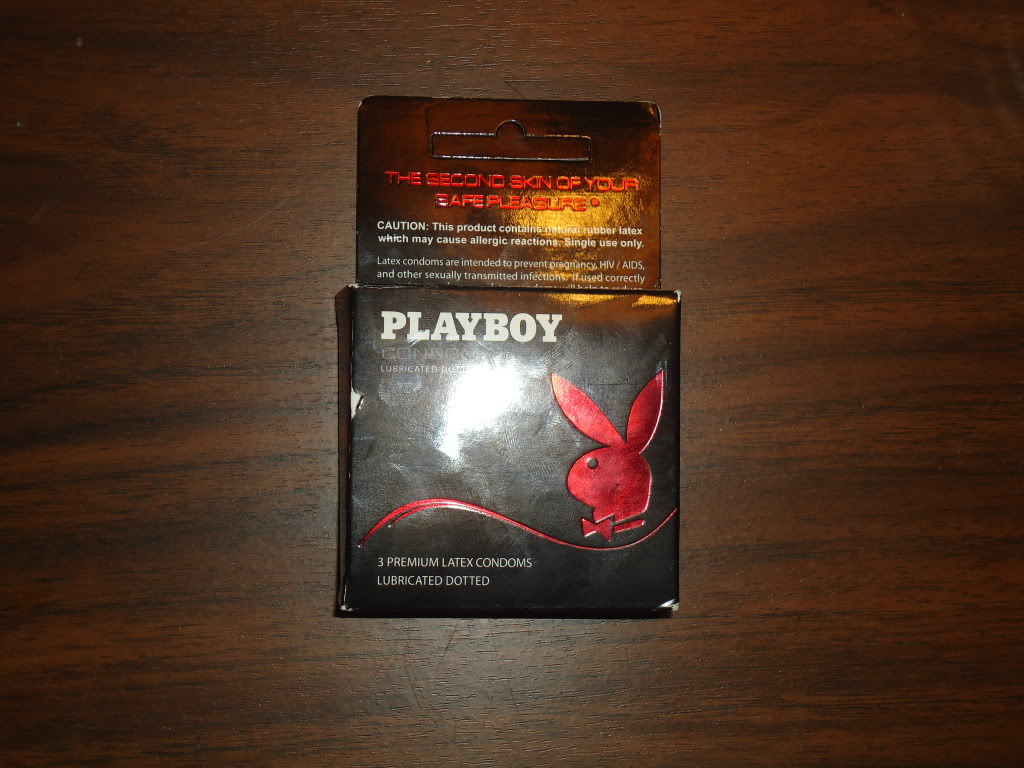 Every Time I open a box of playboy condoms I am blown away by the informational slips that are inserted alongside the condoms. These information packets are definitely jam packed with more useful knowledge than any other condom I have purchased. Included is everything and anything one would need to know about the levels of effectiveness of condoms and other forms of birth control, along with how to put on the condom, and dispose of it. Condoms do not fully decrease the risk of catching an STI (which is clearly stated on the slip). I think these condoms would be a great gift for our younger generation as all of this information is quite useful in making decisions about sexual intercourse and using the different types of birth control. Included in each box is 3 premium individually wrapped, lubricated condoms. These condoms are only for one time use only.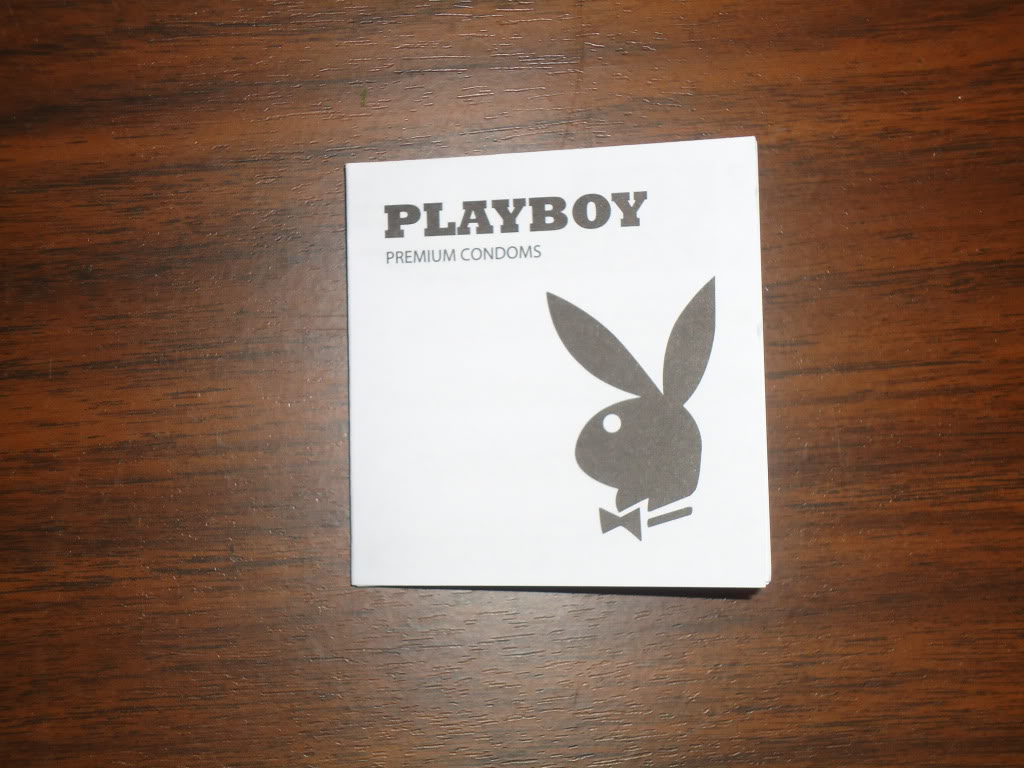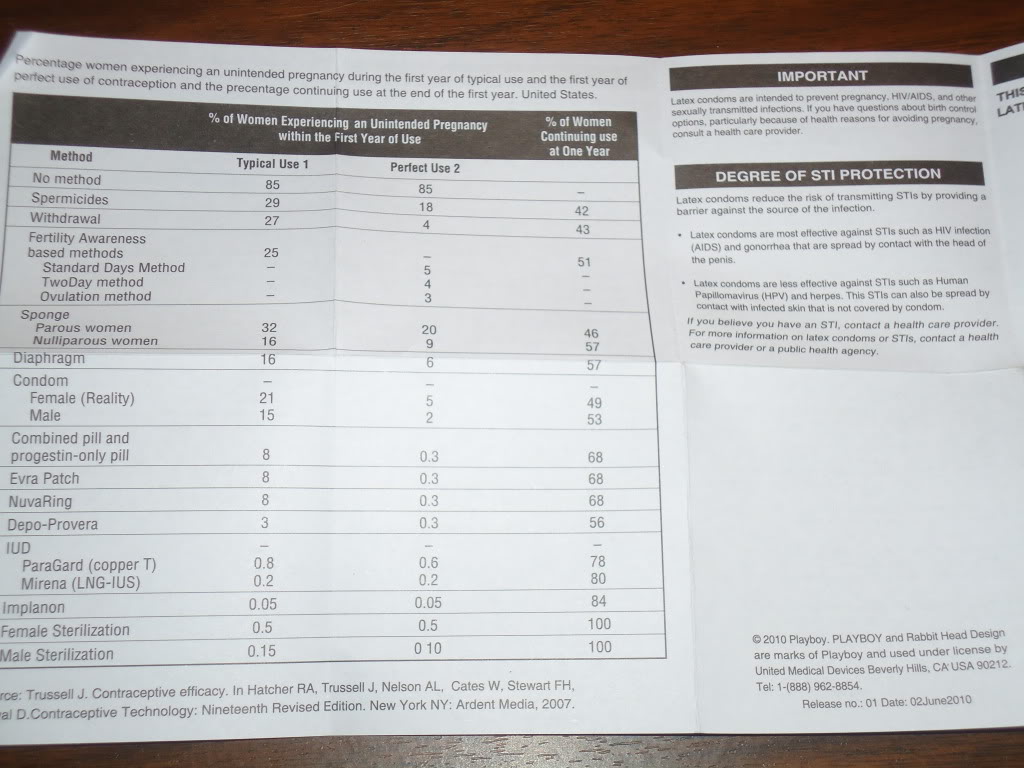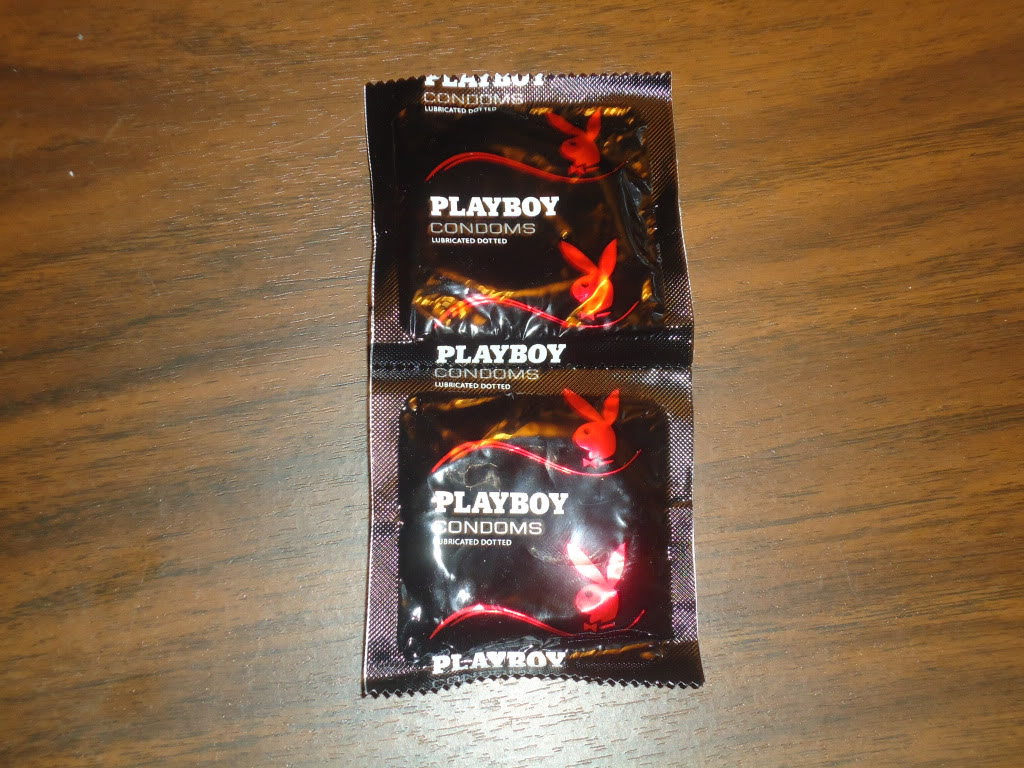 When I tested out the dotted Playboy condoms I officially discovered my new favourite condom. It rolled down all the way and fit on my penis perfectly with still an extra half inch. One of these condoms fully rolled out is seven inches long at the maximum length. The dotted texture felt so amazing with every thrust. Midway through sexual intercourse, I couldn't even feel that there was a condom over my manhood as these condoms are sensibly thin. My beautiful partner noted that she could not feel any special dotted texture, but she was impressed that she could not feel a condom on me as it was very thin. We were jointly pleased also with the fact that these condoms do not expire until the year 2015 and that the condoms are individually tested for effectiveness before they are packaged at the factory.
Overall the Playboy Lubricated Dotted condoms are now my new favourite condom and I am very inclined to stock up for the future, and throw away any other kinds of condoms I have. The dotted texture and the thin material texture make this product better, and different than any condom on the market. The only thing I found was that if you are going to have sex for a longer period of time while wearing one of these condoms it would be a good idea to add extra lubrication as a sufficient amount is not applied in the factory, and the condoms dry up quickly.
Follow-up commentary
28 days after original review
These condoms are amazing! The feel really good and offer a pleasurable sensation. I have since finished my box, and plan on stocking up on many boxes of these. These are my favorite condoms. The dotted texture and the incredible thinness of these condoms make them amazing.
This product was provided free of charge to the reviewer. This review is in compliance with the FTC guidelines.

Thank you for viewing
Lubricated dotted condoms
– male condom review page!