Painful Attempt at Diversifying the Playboy Brand.
While better than store brand, these condoms don't offer anything unique. They're painful when inserted, their lubrication is a joke and while it's not listed on the site, they're probably expensive. I wouldn't recommend this for anyone who already likes their current brand of condom.
Published:
Pros:
Little loss of sensation, odor eater, nice looking packaging.
Cons:
Rough texture, not enough lubrication, made by Playboy.
As anyone who has been on the internet is aware, it has pictures of bare boobs, quite a few of in fact. All for free. Given this, Playboy, once the premier source for pictures of boobs, has worked to broaden their brand and appeal. This is a roundabout way of saying that Playboy now makes condoms.
Upon testing these condoms as a penis sheath and a toy cover, its flaws and advantages became apparent. They fit well and have only a slight reduction in sensation and negate odors. Like Playboy products in general, they tend to favor men, providing subpar lubrication, rough texture and a possible stigma from the Playboy brand.
Clad in black packaging brandishing the playboy bunny, the condoms dimensions are wholly unremarkable.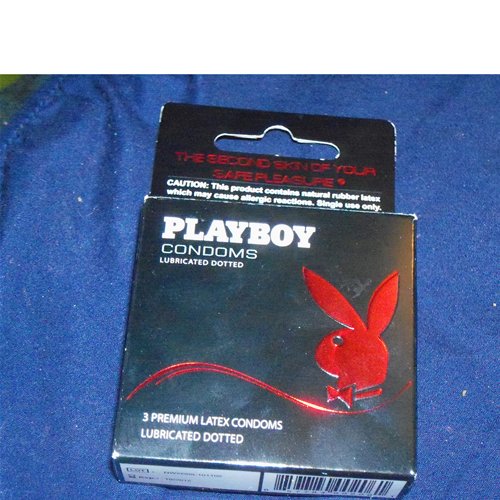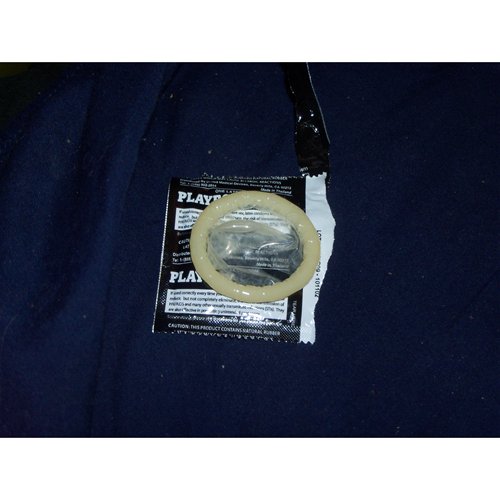 They are regularly sized latex rubber condoms, the head, shaft and base widths are all 2.1 inches, while the length is 7.5 inches and it has a thickness of a mere 0.0027 inches. While the extraordinarily large or small might have difficulties, those between 2-8 inches will be fine. These, as with any condoms, will not prevent STI's or pregnancy in all occasions, but will reduce the risk. For those who do not want children, an additional form of birth control is recommended (except for a second condom as the friction may break both condoms).
Once donned, the condom are snug, as long as the erection is maintained. As motion increases, or stiffness decreases however, it becomes far more likely to slip off. To prevent this, slow down and adjust it during intercourse if it feels loose.
The exterior of the condom is encompassed in lubrication for easy use, whether vaginally or anally, or at least that's the intention. In reality however, the lubrication was not slick enough to allow entrance into a sleeve or a toy into the colon. This seems to be a common issue with lubricated items, whether they are condoms, wipes or anything else: the lubrication is nowhere near as much as needed. Use as much lubrication with these condoms as a non-lubricated toy or condom requires.
The lubrication coating is water based, making it safe as a toy cover, and if more lubrication is used, water-based is recommended. Oil-based lubricants should not be used with condoms as they DEGRADE THE LATEX, enhancing the risk for tears, STI's and pregnancies.
Once a copious amount of lubrication was applied, these were tested by using a sleeve to determine if there was a loss of sensation. There may have been a slight loss of sensation versus going bareback, but it was so negligible that I'm not even certain there was a reduction in sensation.
Unable to test the feeling of the condom vaginally, as I lack the equipment, the condom was used as a toy cover and inserted anally. Perhaps the dots feel better when used vaginally, but used anally was borderline painful. Each dot scraped the interior of the colon, as the toy slowly slid in. The intention may have been for the dots to be stimulating, like a gentle massage, but the road to hell is paved with good intentions. The scraping of each dot along my colon was more abrasive than anything. The toy used for the test was smooth glass, meaning it could not have been the abrasiveness of the toy causing the discomfort.
An upside of the condom was its scent. When removed from the colon, the odor that oftentimes accompanies anal play was nonexistent, replaced by the strong, but not overpowering scent of the condom. While the sweet, flowery odor may be overpowering for some, it is far more pleasant than the alternative, the pungent stench of anal play.
One final note is that these condoms were made by Playboy. The Playboy brand is controversial, with its unmistakable bunny representing anything from a magazine that helped liberate the idea of women's sexuality, to exploiters of young women, or a business that still thinks showing pictures of naked boobs is a viable business model in the internet era. Given these and other connotations, be careful about using these condoms, especially for one night stands as the brand might not go over well with everyone.
These condoms seemed to favor men far more than women. Whereas women, or men being penetrated, will have to endure rough texture, especially rough if additional lubrication is not included, there were few, if any problems for men. These condoms barely affected sensation, fit well and smelled sweet even after anal play.
This product was provided free of charge to the reviewer. This review is in compliance with the FTC guidelines.

Thank you for viewing
Lubricated dotted condoms
– male condom review page!