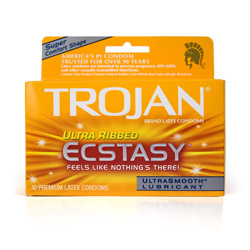 Trojan ultra ribbed ecstasy
Male condom
by Church and Dwight
Our Golden Ticket
The Trojan Ecstasy condom is my favorite condom by far. This golden ticket increases the arousal of sex with its dual silicone lubrication, deep ribbing, comfortable shape and size. If you have not tried one of these yet, you are missing out!
Published:
Pros:
Larger size, shape, dual silicone lubrication, deep ribbing, and head room
Cons:
Comes in smaller packs of 10
I got my lucky hands a sample of the new Ecstasy condom before they hit the shelves. I was floored! This is by far, the best condom I've ever used and my partner agrees. We appropriately named them "golden tickets". I was so excited when I got this descriptive review assignment; I've been waiting for Eden to have this since I tried them over a year ago!
THE CLAIM/INTRO:
"Trojan Ultra Ribbed Ecstasy condoms feature a revolutionary new design that lets you feel the pleasure, not the condom!"
This new condom by Trojan takes the design of the her pleasure condom, adds deep ribbing, and not only puts silicone lubricant on the outside, but on the inside too. All of this is designed to create a condom that can be forgotten about when worn. It even fits the majority of men.
SPECS:
Material: Latex
Head Width: 2.44"
Shaft Width: 2.05"
Base Width: 2.05"
Length: 7.87"
Thickness: 0.0027"
Lubrication: Silicone-Based
Color: Opaque
Special Features: Ribbing, dual lubrication
Availability: 10 ct-easy to find
Compared to average condoms:
Average condoms have a thickness of 0.0027". The Ecstasy has the same thickness, but the double lube and shape claims to make it feel like you are wearing nothing even though this is far from the .0019 measurement that would consider it a thin condom.
The average condom is 7.5" long. This condom is longer at 7.87"-a great length for the longer guys, which is nice since Magnum and XL condoms cost more. The unique rounded end of this condom is where the semen is caught. I recommend these condoms for members no longer than 7.5".
Average condom head width is 2.125". This condom has lots of extra room at 2.44" wide. This is part of the design made to feel like there is nothing there. By giving the head breathing room there is less restriction on the friction needed to stimulate the head. A woman will be able to feel the natural shape of her man.
Average shaft and base width is 2" the Ecstasy is slightly larger at 2.05". A difference from average condoms is unlikely to be felt by the average guy. Since the shaft and base are smaller than the rest of the condom, it creates a contoured shape that enhanced arousal. For larger guys, the base width is good; but, for the average to smaller guys, make sure to hold the end of the condom when pulling out so that it does not slip off.
The ribbing on this condom is not only on the shaft but on the head as well. It is much thicker than most ribbed condoms and there are few ribs. This ribbing is designed to hit all the right areas inside the vaginal walls and is more likely to be felt by females not normally sensitive to condom texture.
This condom has a super slick and smooth silicone lubricant. It is on the outside and inside increasing friction that feels natural. It is plenty lubed up, so reapplication is unlikely. The condom has a low odor and opaque color.
They come in large gold foil wrappers which are easy to open-hence the golden ticket. In stores, look for the bright yellow box!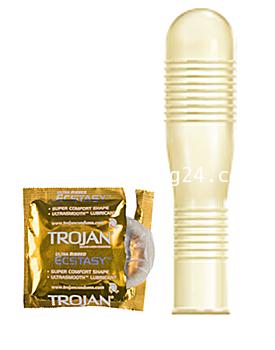 Experience
So how did the claim hold up?
Thickness/Feel/Texture:
They literally make you forget about the condom. My guy, if wearing another condom, can take forever, or not cum at all because of the desensitizing. These enhance both our pleasure. He says he can feel me and I can feel his natural shape which is awesome. The deep ribbing on these is awesome since I can normally feel texture, these are even better.
Sizing:
Sizing is perfect for my guy who is larger than average, both in length and girth. We don't need the
Magnum version
of this although, we use those for anal because they don't have ribbing. They will fit the average guys too, just not the smaller than average. These will be baggy and won't be as amazing as they can be.
Lubricant/Smell/Cleanup:
With it being inside and out, it makes the friction feel natural. It is super silky and makes our private parts feel soft and smooth after sex. I love it! The smell is low and the cleanup is easy.
THE VERDICT:
I am giving these condoms an objective & subjective 5 stars. These immediately became our favorite condom. We love that they fit larger guys and are priced right. The lubrication, shape, and ribbing make this a winner for both sexes and truly a golden ticket to our pleasure.
Follow-up commentary
2 months after original review
I'd like these, I LOVE them. I honestly don't think I will even find a condom better than these. They price could double and my partner and I would still prefer these. They make sex so much more enjoyable than using a restricting condom of one with lubricant just on the outside. The Ecstasy condom is superior in every way that I can think of. I am just waiting for them to come out with a studded one!
This product was provided free of charge to the reviewer. This review is in compliance with the FTC guidelines.

Thank you for viewing
Trojan ultra ribbed ecstasy
– male condom review page!