Twisted - in the finest sense of the word.
Stimulations Twisted condoms offer a new design for mutual stimulation and pleasure, while representing a great quality, common for the most of Trojan products. Even though they failed to become my favorite, I would recommend them to anyone who is still searching for their ideal condoms or just want to try something new.
Published:
Pros:
- unique shape and ribbing
- good size for larger guys
- low latex smell
Cons:
- not enough ribbing for my personal taste
General information
As any condom in general, Trojan Stimulations Twisted reduces the probability of pregnancy and spreading of STDs, if used properly. Apart from that, it has a special bulb shaped head with the deep ribs on it. The ribs, as the name implies, are positioned in twists, which is meant for increased stimulation for both partners. The following picture shows how exactly that looks.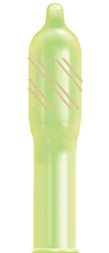 Packaging
Trojan Stimulations Twisted come in a cardboard box, which based on my experience, is pretty common for all Trojan condoms. The inner side of the box has detailed instructions on it, that is pretty cool in terms of saving paper, but not very convenient as far as you have to destroy the box to read them. Each condom is wrapped in a foil wrapper with a bright-green paper covering and opens easily.
Special features - in comparison with the other condoms
I assumed that since I had already tried several types of condoms represented on this site, it would be useful to create some sort of a comparison table. The table below shows the differences of Stimulations Twisted from some other condoms in basic characteristics and measurements as well as my overall impression. All the condoms mentioned in the chart are latex, lubricated and non-spermicidal. By the "width" I actually mean the base width, while some of the condoms like Trojan Stimulations Twisted and Trojan Ultra Ribbed Ecstasy have a wider head.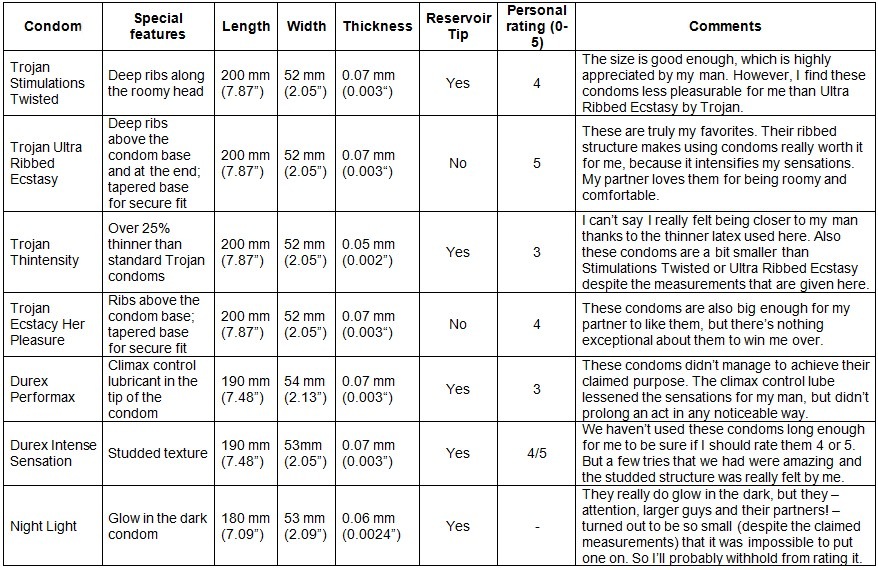 Disclaimer: The measurements presented in this chart were taken from several web-sites, both commercial and non-commercial. Unfortunately, not all the producers state their products measurements on their official web-pages or even on the products' packages.
As you can see, the Stimulations Twisted is not on a thinner side, but compensates the lack of "natural" feeling by another kind of stimulation. The above mentioned ribs are claimed to be deeper than on the other ribbed condoms so that the receiver could definitely feel and enjoy them. The more comfortable fit and a larger head make it easier and more pleasurable for the giver to use, because it allows for more friction.
As for the measurements, the Stimulations Twisted is longer than the average condom, so I would recommend it for those with larger than average penises. However, it probably won't be suitable for guys, who usually need XL or Magnum condoms.
Another distinctive feature of the Stimulation Twisted is the reservoir tip, which my favorite Ultra Ribbed Ecstasy condoms don't have. Among the advantages of having a reservoir tip are increased safety and indication whether condom is inside-out or not when you are unrolling it.
Experience
Mine and my partner's experience
Actually, I can hardly tell the difference between most condoms except for Trojan Ultra Ribbed Ecstasy and Durex Intense Sensation. All other condoms seem mostly the same apart from such issues as my partner's comfort, amount of lubrication and so on. The same thing with Stimulations Twisted, the larger head leaves more room for my partner, it has low latex smell, decent lubrication but I didn't feel anything special. Actually, I could hardly feel the ribs at all, even though they are claimed to be deep and noticeable. When I read LaUr3n's
review
of the same condoms I found a possible explanation for that. Maybe I'm just one of those women who are most sensitive for the first couple of inches of their vaginal opening, so the twisted ribs on top of the condom do nothing for me. That also explains why I like Ultra Ribbed Ecstasy so much, they have the texture at the base as well.
Friend's opinion
Since I've considered myself not the best example of the target audience, I gave one of these condoms to my friend and then asked her opinion. Surprisingly, she was really excited about her experience with Stimulations Twisted, but couldn't tell for sure if it was thanks to the condom itself or due to the other factors. Her partner, however, couldn't tell any difference at all. So you see, everyone is different and even though these condoms turned out to be nothing special for me, they may actually work for you.
Follow-up commentary
3 months after original review
It's not that I actually dislike this product, I just ended up liking it less after trying some other condoms. I have found some really nice much thinner ones on the market and fell in love with the natural feeling they provide, so to win me over a thicker condoms must have something else to offer. For instance, a good ribbing. I've never enjoyed the ribbing on this one, so that's the reason I'm hardly ever going to purchase Stimulations Twisted again.
This product was provided free of charge to the reviewer. This review is in compliance with the FTC guidelines.

Thank you for viewing
Trojan stimulations twisted
– male condom review page!