Bend me over and say Howdy PardnnnnAAaaahhh! I'll make the horsey noises!
Absolutely worth it! Looks like a big thick long one that feels good inside! This is a forever toy made of the safest soft materials. It is well crafted, and beautifully sculpted. Great overall texture and good surface sensation. Great for those with chemical sensitivities and it can be sterilized by boiling.
Published:
Pros:
Lifelike Vixskin Silicone, Girthy, Easy entry, no worries
Cons:
Bland look, More Veins & Thicker Please! Small for size queens
Outlaw is really a good guy! He takes a firm stand, but isn't hardheaded. He's a smooth operator, but no slick willy. He's no slouch. Ready to work hot or cold, day or night, even where the sun doesn't shine. He's willing to penetrate to the core and work the tension out of your day.

Ha ha, ok. Outlaw is a realistic dildo with balls from Vixen Industries. One of their largest offerings (and SO not discreet), he is cast in medical grade silicone and offered in three colors. I chose "caramel", as the online image of the "vanilla" looked a little underdone to me. The other option was "chocolate". I decided that was a little too much contrast with my hairy untanned butt. As a silicone toy, he is pthalate and latex free. He can be sterilized (and preheated!) with a three minute swim in boiling water, or washed in the dishwasher's top rack.

Never use silicone lube, and isolate him from other toys, his surface may melt or distort. This is my first silicone toy and I was surprised at how water-repellent it was. Sliquid's Sassy Booty formula formed high beads and didn't spread into a coat. This was not a problem as the material itself is very very smooth, to the point I did not notice when the lube was nearly dry. It is like a hard classic vibe, but soft and much much better. Time and wear will tell if this is due to the material or the surface finish.


Outlaw is a big dong, probably for intermediate players. Non-size queens may consider him extreme. At 8-3/4 insertable inches with a 2 inch diameter, he's probably near the extreme of actual human size that most people would be likely or want to encounter. People with cervix's may have a problem with the length. If you are going to use a harness, you'll need at least a 2" ring. For myself, well, he's a warm up toy. A nice night in for those tender moments that usually occur the night after playing too long with something a lot bigger. Yup, size queen, probably spoiled for humans and Great Danes. It's a good thing for the neighborhood I don't particularly like horses, burros, donkey's etc.

Outlaw arrived in a clear, skinny, not-quite-flimsy plastic bag imprinted with a logo and description. Inside was the toy. The bag was heat-sealed closed after loading. I was disappointed. I like minimalist packaging, but I wish the industry would move to shipping in packaging that also provided material-appropriate storage. Especially for a hundred-dollar toy. Something like the Ziplock Big Bags in 2-mil, sized to a shallow lengthwise fit would be great. Vixen recommends storing Outlaw upright but that became inconvenient so I've had it bagged and tossed in the toy drawer *with no toys laying atop him* for the last week (as of 11/23/2011), with no distortion so far.


I like the material design of this toy. A denser silicone core is surrounded by the Vixskin silicone surface. The head is very soft solid Vixskin with no core near the tip, but has a good shape and is easy to insert. There is not the smallest surface defect, great quality control! It is softer than a solid jelly, and stands dependably on it's own scrotum (Ouch!). The balls are sculpted as a hot-day-loose ball sack, but flatter with a hard, slick "base plate". This was odd to see and handle, but I got used to it and it makes for an easy to grab anal "stop". The base is flexible, so even if I can't quite bottom on it, I can flex the balls up and still hit them. My only gripe with it's first impression is the unrelieved color with no shading on the veins makes it a little bland to look at, even with the nicely sculpted surface detail. There is little translucency to the surface. Oh, and the veins could be bigger. I do have a thing for veins.

As a general comparison, it is lifelike, but not as plush or lifelike as Pleasureskin. It feels springier than pleasureskin, but not as springy as jellies or PVC, soft toy rubber, etc. This silicone is much slicker than PVC and rubber, but less slick than a smooth untextured jelly. It holds some dust, but not as much as a new jelly and nowhere near as much as Pleasureskin. I tried oral and stopped when I noticed tooth imprints, which faded. That treatment would have badly scarred or ruined an Adam's Pleasureskin.


There is NO taste. No oily coating. After washing, there was a very slight pleasant odor of chocolate or carob.

(You DO wash your toys as soon as you unpack them, before you handle them to any extent, don't you?)
Experience
I liked this toy when I first tried it out. I wasn't jazzed by it, but I've used toys a LOT
larger
, other toys that had more texture and toys with larger heads. For me, this is a nice medium warm up toy. I warmed it up, lubed it up and lined it up. The head is soft, smooth and neither pointed nor blunt . If you can handle the diameter, it enters easily with no forcing or flopping around. You can hold this toy at or near the base and guide it in. The coronal ridge is soft and rounded, so there isn't much of a "bloop" feeling once the head is in, which I missed, but someone new to this size will like the easy entry. It is great for solo play and the balls make for a nearly ergonomic grip.
The shaft is straight, without noticeable taper. It is also very smooth and I felt that the detail could have been sculpted more strongly. It's nice to feel filled, then not, then filled, but more texture means a more intense thrusting sensation, and that adds to the experience. Hence my obsession with veins. Others may like the smoothness, to each according to their tastes or textural preference.
I switched to another toy, the
funky jelly vibrator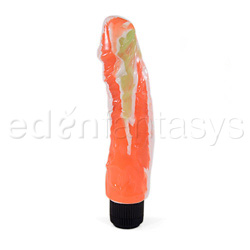 to be sure. Yep, there's the annoying pointy head I remember, bloop!, and those great veins. Stroke, stroke, bump, bump, bump. The funky jelly is also a little thicker at its widest. Happy happy. But it was a bit harder, I think it has hardened with age.
While I was at it, I also tried my Big Boy Jellie which is a smooth clear 2-1/4*10 dildo with a defined and much stiffer head than Outlaw, and a few bumps on the back of the shaft. Bloop! But way too smooth going down the shaft. Blah. Back to the Outlaw.
It actually felt nicer after the larger toy and I felt the texture more, perhaps by contrast. I've since noticed that I prefer the Outlaw by itself when I'm a little tender. It's large enough, has a good shape and the texture comes across better. I also like it after the next near-size-up, I can nearly bottom it and plunge it nicely. It doesn't hammer my p-spot like my larger toys, but at about 5 strokes a second, I start getting a non ejaculatory orgasm. Nice all-over York Peppermint Patty feeling, but I can't keep the thrusting going or stay relaxed for the full ride. I wasn't joking about the horsey noises. I plan to review Outlaw as a machine dong on the follow-up.
Using both the Hitachi and the Wahl massage units, the shaft carried vibration well. Ooh yes, that lovely additive interference/beat effect, where at the average of the two mixed frequencies you get a superimposed wave of larger amplitude. P-spot heaven, but put the vibes on the shaft, not the base.
Even though I like bigger and veinier, this has become my "everyday toy" A great replacement for the deceased Francis (Adam's Pleasureskin). I have to give it a five, because the quality and materials are great. Outlaw is growing on me!
This product was provided at a discounted price in exchange for an unbiased review. This review is in compliance with the FTC guidelines.

Thank you for viewing
Outlaw
– realistic dildo with balls review page!