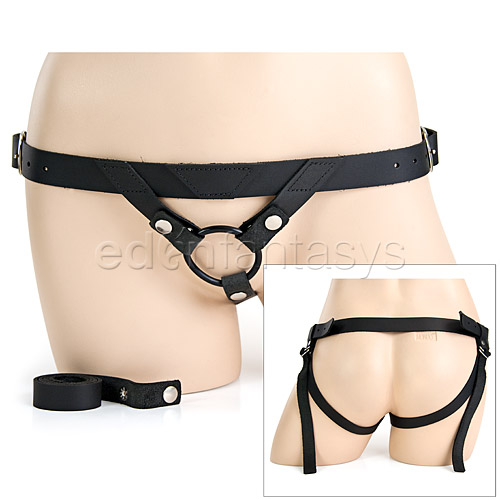 Commando
Double strap harness
by Aslan Leather
Close, but not quite perfect.
Pretty fantastic harness, which has just about everything I'm looking for, but I'm paying too much attention to it during sex - so it is not The Perfect Harness that I am seeking.
Published:
Pros
Interchangeable O-rings, minimalist design, one- or two-strap options, cock hangs really low.
Cons
Cock hangs too low, straps are a bit too wide.
I was thrilled when the Commando finally arrived - I've been eying this harness for a while, and I suspected I would really like it. I've written a bit about my ongoing search for The Perfect Harness on my site,
Sugarbutch Chronicles
- I have some very specific ideas about what I want, but I don't think they're so difficult! They should be rather simple. But in fact, it's rather hard to find them all in the same place.
Here's what I want:
1. Single-strap or jock strap style harness, because I like how the one strap hits my clit (it really helps me get off).
2. Interchangeable O-rings, because, let's face it, I have some big cocks and I want to be able to fuck with them.
3. As minimalist as possible, because I like to wear it under my clothes and have it be comfortable.
4. Material? I don't really care - vinyl, leather, faux leather, nylon - any of those are fine.
5. Buckles? I don't really care - D-rings or locking, whatever, as long as it holds in place and doesn't slip around while fucking.
I tend to find one single harness that I love, and I wear that into the ground. My last harness, though great, is rather destroyed from repeated use (note to self: figure out a better way to take care of leather. Add that to my "things to research" list).
And on top of having those things that I want - minimalist, single-strap (well, it's either, but it has a single-strap option), interchangeable O-rings - this harness has the added feature of being able to change the longitude (if you will) of the cock, since the little triangle straps that hold the O-ring are adjustable to two different settings.
So as soon as I saw it, I thought, that's IT! Could that be it? That could be The Perfect Harness!
Experience
Now that I've had it for a few weeks (and have used it exclusively, which amounts to, oh, I don't know, 100 hours of fucking? Roughly?) I will say that I do like it, but it's not 'The Perfect Harness'. Even at its highest longitude, the cock sits too low and ends up popping out during sex which, as someone who fucks with silicone, is one of my greatest fears, because I can't always tell right away when it does that. So it makes me paranoid. I keep one hand on my cock constantly while fucking with this harness which is too bad, because my hand could be used for other things, like holding her mouth closed or pulling her hair or pinching her nipples or thrumming her clit.

When using the even lower longitude option, the cock does actually sit right on my clit, which is kind of an amazing feeling, but I find that I can't fuck quite as well like that. Maybe it's because I'm used to harnesses where my cock sits much higher, so I haven't had to learn how to fuck with such a low cock. Either way, even after many (many) tries, it is getting MORE annoying, not less.

The leather straps are also rather thick, too wide, and often end up pinching my labia or clit in ways that are quite unpleasant. I have often had to stop and adjust the single strap (because I took off the 2nd strap) to stop that awful pinching.

After getting used to it, after using it for quite a while, I'm starting to look for something else, and starting to eye that older (and slightly uncared for) harness that is now looking more perfect. I can clean it, right? Maybe. We'll see.
This product was provided free of charge to the reviewer. This review is in compliance with the FTC guidelines.
Thank you for viewing
Commando
– dildo harness review page!