Girly girls like strap-on sex too!
SpareParts' Sasha panty harness brings a decidedly feminine touch to the 'masculine' job of wielding a dildo for partner penetration. Dispensing with the need for straps & buckles, the Sasha means you can get ready at short notice or even wear these comfortably all day or evening without feeling like you're wearing a harness. The included removable garter straps are a great touch although the harness looks more like old-fashioned panties than modern underwear.
Published:
Pros:
Feminine; Well-made; Sturdy; Classy; Nice packaging; Easy to care for; Vegan friendly; Tagless
Cons:
Expensive; Old-fashioned looking; Measure carefully before ordering; O ring is placed low
When it comes to strap-on harnesses, they and I have come a long way over the years. From my first cheap offering in a g/g relationship that was just some lengths of elastic, snap clips & safety pins and a piece of material with a hole, to the
Bend Over Intermediate
or
RodeoHs
, hubby and I bought here on EF, I've tried several incarnations. Some have been successful, others not so much. But one thing they've all had in common is the fact that the girl wearing the harness is taking on a male role. While that may be true, I've always felt that I'm a feminine woman doing the fucking but my choice of harness hasn't always agreed. That has now changed thanks to the new Sasha Harness from SpareParts.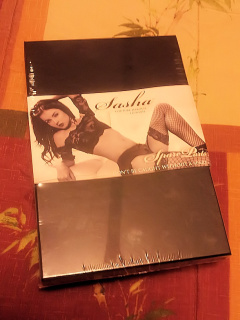 As with other panty harnesses, the Sasha is very much something that can either be worn all day ready for 'the moment' or put on quickly should the need arise. In that respect it's very similar to our
RodeoHs
, but there are a couple of fairly big differences. First, like the Joque harness we already own, the Sasha has two sewn-in compartments that will hold the bullet(s) of your choice. Secondly is the fact that these are almost two styles in one thanks to the ribbons on the side of the panties. In the mood for boyshort-style harness? No problem! Want your harness more hi-cut? Easy, just pull the ribbons and voila! (Bear in mind though that this harness sits high above the hips and can feel more like shaping/control panties). The ribbons only affect the overall appearance of the harness and don't change the way it's used at all. A nice touch was that the supplied garter straps are detachable, giving even more options. Speaking of the straps, they're actually a big part of the appeal of this harness. I may not have a lot of experience but I don't recall seeing other panty harnesses that let you attach your favorite stockings. Pair these with a sexy bra or even corset and you're going to make your partner's jaw drop and that's
before
you get near his/her face with your strap-on!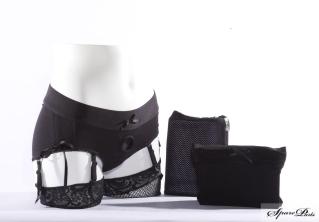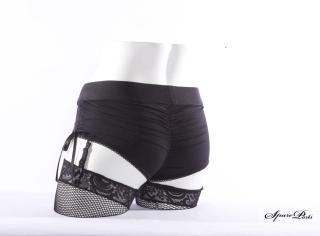 Made of 77% nylon/ 23% spandex, the Sasha reminds me of a sort of heavy-duty swimwear but with a little less stretch. There's a sewn-in, stretchable 2″ diameter dildo O-ring that sits low at the front that will accommodate most average dildos and certainly works well with all of ours. However, even with the stretch if your dildos are larger than this you might have problems since the 'o' ring isn't interchangeable. We tried ours with
Vixen's Goodfella
(1 3/4" diameter) and it worked well although it took a little work to get the base in through the O ring. Thanks to the internal front panel that can be moved aside we were also able to use this with our
Realdoe Slim
- this might actually be the best (read most comfortable and natural-feeling) harness we've found for that particular dildo, although we had to use it without its bullet. That didn't matter too much though as the Sasha has not one but two internal pockets (one above and one below the O ring) for you to insert your own bullet vibes. Note that bullets aren't included with this though.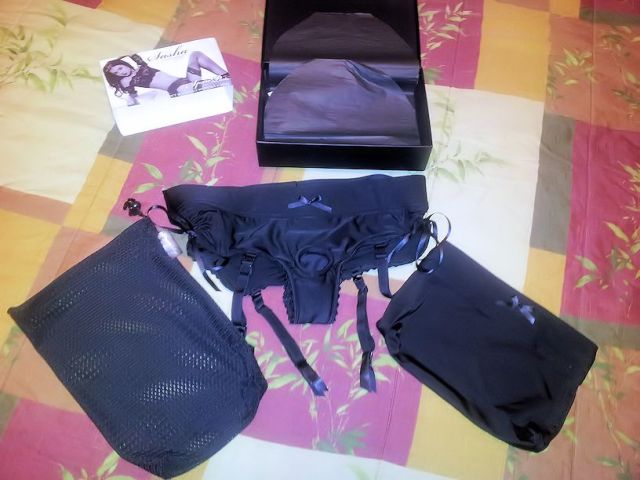 The harness is safe to use with both water and silicone lubes although which one you use will depend on your dildo of course. Clean up is a breeze too as the Sasha can be either hand or machine washed - thank you SpareParts!!. Just make sure to follow the care instructions that can be found printed inside the lining behind the O ring (yes, these are tagless - another plus!) Washing instructions are Warm, Gentle, use Mild Soap and no bleach. I was sent the black harness and have only washed it by hand, but if I were going to machine wash it I'd pop it in the included lingerie bag and put it in with other black/darks then air-drying it afterwards. For storage, the classy packaging includes a storage bag that matches the harness in material and design and zips closed.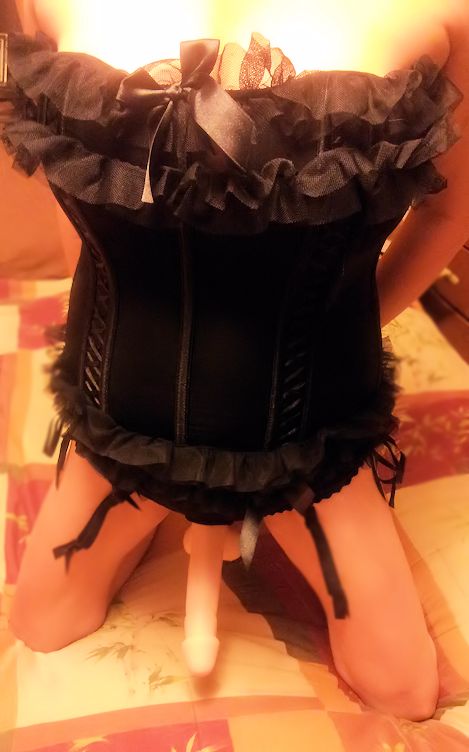 Experience
I sometimes find harnesses to be a little daunting. It could be because when I'm with a girl I prefer being on the receiving end and when I'm with hubby I'm paranoid that I can't fuck him as well as he does me, but another feature of the Sasha is that it allows the dildo to be held snug against your body. I've tried other harnesses that I was finally able to adjust to a comfortable point although the [https://www.edenfantasys.com/spareparts-joque-harness/adult-toys-dvds-22630\Joque] seems to hold our dildos higher and that can feel more comfortable during use although not as anatomically 'correct' as this. Some people might find the 'O' ring placement on the Sasha to be a little low for them.
I'm a fan of the other panty harnesses, but while they're comfortable and practical they're not always feminine. That alone makes the Sasha a stand-out product for me. I can't think of another harness that makes you feel girly while wearing a fake cock! A word of warning though - the high waist and cut make these almost old-fashioned looking, since the boyshort/panty design has more in common with shapewear/full coverage panties than with bikinis. Overall this is an extremely comfortable panty harness that fits well and doesn't pull away from the body when you're using it.
When it comes to the fit, this isn't a harness that you can order on a whim. You're going to want to get all of your measurements as perfect as you can. SpareParts give the following info - note their 'curve' information before the actual sizing:
To get the perfect fit:

Get your lower waist/hip measurement by wrapping a measuring tape around your waist, about 1 inch below your pelvic bone. Using the number where the tape measure completes & crosses over itself, determine your size from the size chart below.

Take your body shape into account before selecting a size. If you are full & curvy, with a full butt, wider hips, and a rounder stomach when viewed from the side, choose the next size up. If you have a fuller butt and, wider hips. If you are curvier in the rear, but have a flatter stomach when viewed from the side, OR if you have a flatter butt but a fuller stomach when viewed from the side, stay to the size chart. Lastly, if you have less pronounced curves in the rear and a flat stomach, choose the next size down.

Sizes are as follows:
(Measurements are taken at lower waist/hips)
XS: 26-28"
SM: 29-32"
MED: 33-37"
LG: 38-40"
XL: 41-44"
XXL: 45-48"
XXXL: 49-52"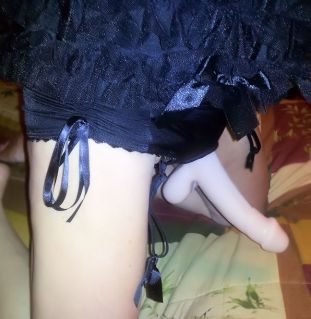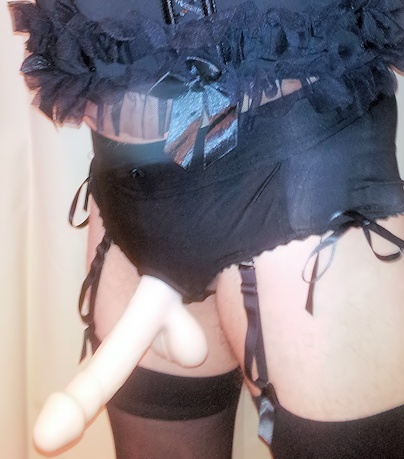 There aren't many downsides to the Sasha Harness for me. It's comfortable to wear for prolonged periods even if you're not having sex and is just as comfortable to wear during the act itself. It's waterproof, flattering and adjustable. The Sasha really just lets you feel sexy & get the job done without worrying about straps and buckles digging into you or your partner..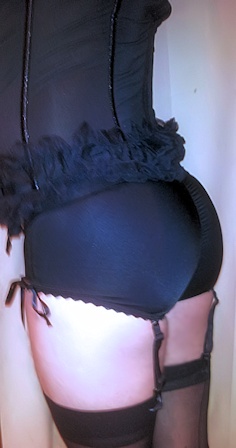 Finally, it may be of interest to some to know that a man/FtM/anyone with an appendage
could
wear these if you get the sizing right.
This product was provided free of charge by Spare Parts in exchange for an unbiased review. This review is in compliance with the FTC guidelines.
Follow-up commentary
3 months after original review
In the two months since we've had this harness we've used it on maybe 3 or 4 more occasions and it's still just as good as we first found it to be. I don't usually take the time to wear stockings and hook the straps up but it's good to know that they don't get in the way. The Sasha has really turned into the harness of choice for spur-of-the moment pegging and even though it's a lot more expensive than, say, the RodeoHs that we also own, the Sasha fits a lot more snugly and allows greater control of the dildo.

I still feel that it's a little expensive but if you're in the market for a quality feminine panty harness it's about the best we've found so far.
This content is the opinion of the submitting contributor and is not endorsed by EdenFantasys.com
Thank you for viewing
Sasha harness black
– panty harness review page!