Great for Strap-on Sex!
I was very excited to purchase this product as a dildo accessory, and it has not disappointed me in the least. Although I purchased it as a way to make strap-on sex more comfortable, it has many other potential uses. Stop and take a second look at this unassuming little product, and use your imagination!
Published:
Pros:
Soft and stretchy; Multiple uses; Phthalates- and latex-free
Cons:
Not sterilizable; Slight scent
Basics
This "Universal Silicone Sleeve for Pump", by California Exotic Novelties, is marketed as a sort of gasket for fitting over the opening of a penis pump, in order to increase his pleasure while using it. However, this item is
not
just for pumps. I bought it for use as a combination O-ring cover and dildo-shortening accessory for harness play.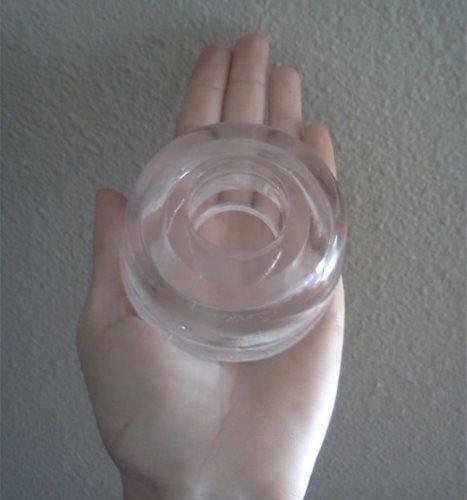 In fact, after seeing the product and noticing its alternate-usage potential, I inquired on the forum as to whether anyone had tried it for this purpose; I was soon directed to a "Tuesdays with Nina Hartley" video, in which she talks about using this item in exactly the way I wanted to use it! Great confirmation, Nina!
On top of the uses listed above, this product could be used as a cock-ring for someone whose partner prefers a shorter penis; it could also be added to the cap end of a larger vibrator (1.5" diameter and up) to provide a secure base for anal-safe play.
Material
This accessory is composed of TPR silicone, which rates a 6 on the EdenFantasys Material Safety Scale. TPR silicone is a blend of thermoplastic rubber (a synthetic rubber) with at least 10% silicone. It is free of latex and phthalates, which qualifies this material as hypo-allergenic. It is still somewhat porous, though, so it can't be sterilized and shouldn't be shared, except with a long-term, mutually-monogamous partner. This particular TPR-silicone blend is soft, squishy, stretchy, transparent, and colorless, with a smooth, somewhat sticky surface. It has a faint scent, similar to plastic or rubber, but I can only smell it when the item is within about an inch of my nose. It has no detectable flavor whatsoever. (Yes, I licked it, just for science and for YOU!)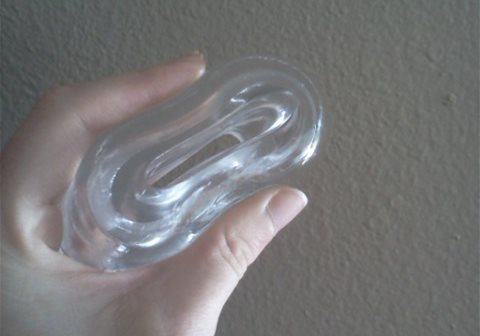 Shape & Size
The shape is similar to that of a doughnut that's been flattened on one side, or a mini bundt cake. The rounded side tapers slightly from flat bottom to rounded top, while the flat side has a circular groove surrounding the center opening.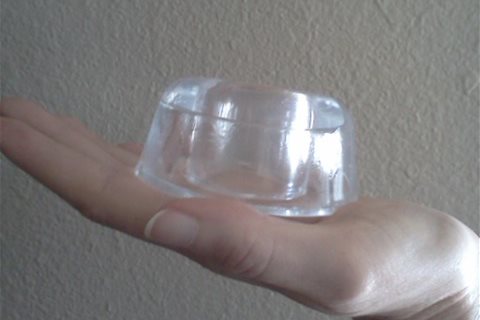 This opening measures 1 1/4" in diameter unstretched, and stretches to accommodate at least a 2.5" diameter. On the underside, the outside of the inner ring measures 1 3/8" across unstretched; the inside of the outer ring measures 2 1/4" across; and the outside of the outer ring (or the entire sleeve) measures 3 1/4" in diameter. The thickness or height of the sleeve, from flat bottom to rounded top, is just under 1 1/2".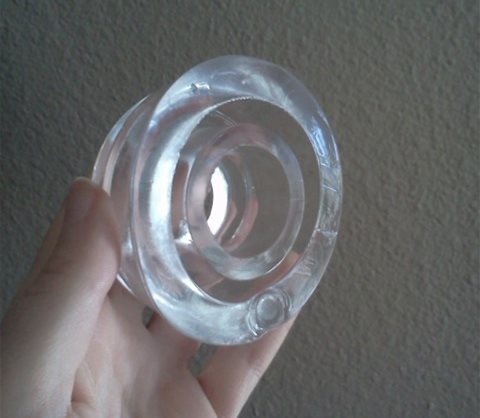 So, if you're purchasing this as a pump accessory, the best fit will be for pumps with an inner diameter of 1 3/8" to about 3" or so. As far as a dildo accessory, it fits perfectly at the base of my
VixSkin Raquel
by Vixen Creations, which is 1 1/2" in diameter, and I believe it will easily fit anywhere from 1 1/4" to 2" diameters.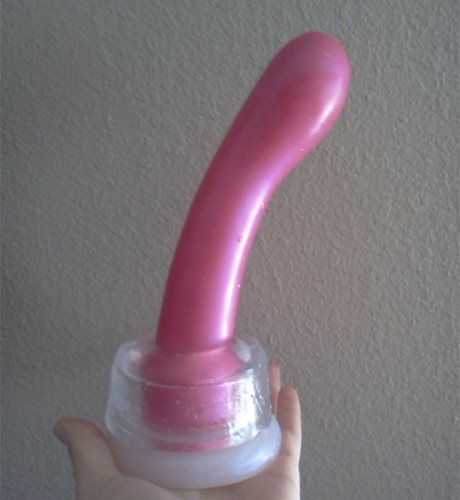 Care & Storage
TPR silicone is slightly porous, and as such, it can't be completely sterilized; also, boiling or a bleach solution might harm the material. The best way to care for this material is to clean it with soap and water, or with an antibacterial toy cleaner, before and after use. You can easily flip the outer ring inside out to clean it thoroughly, as well.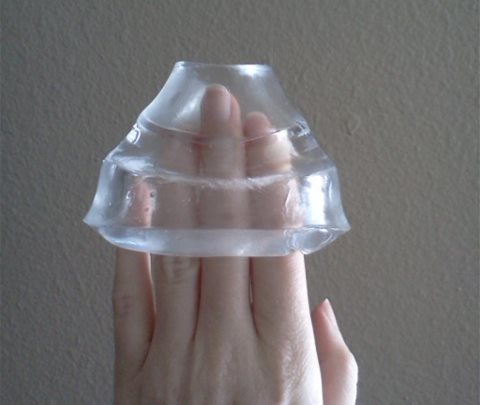 It should be stored sitting on its flat side in a cool, dark place, and shouldn't be left in contact with silicone or other TPR items for long periods. In addition, it's best to use only water-based lubricants with this material, as silicone- or oil-based lubes may damage the smooth surface.
Packaging
This item is packaged very simply in a clear plastic clamshell with a blue paper insert. It shows an image of a penis pump with this product fitted on, the name of the product, and the company's logo. Inside the blister, the sleeve is shrink-wrapped in cellophane.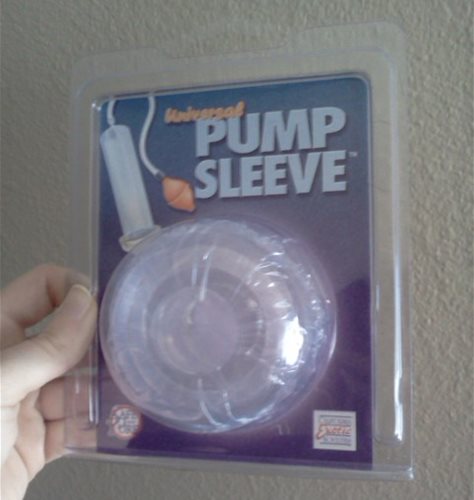 The back shows text explaining how to use this item with a pump, as well as measurements which are surprisingly accurate.
Experience
I'm very physically sensitive in general. I sunburn and break out easily, I have a low pain threshold, I hear, smell, and taste things others don't, and my erogenous zones are easily stimulated--but even more easily over-stimulated. I prefer my dildoes on the smaller side, and my vibrators on the low-pitched, moderate-to-gentle side. I have trouble with most harnesses because the metal or rubber O-rings, with all those straps and snaps wrapped around them, are quite uncomfortable against my vulva during strap-on sex. The
rodeoH
undie-style harness is better, but I can still feel its O-ring, even with the cotton fabric encasing it.
In addition, I adore the Raquel in many ways, but her length is just way too much for me in most positions. So, when I came across this accessory, I realized that it could be the answer to both problems! Its smooth, soft surface, and its tight fit around any toy 1.25" in diameter or more, meant no discomfort from O-rings, while its thickness meant an effective shortening of Raquel's length by nearly 1.5". Oh, the joy! The only thing that could be better is if a product similar to this was made out of VixSkin!
Follow-up commentary
12 days after original review
My partner and I used this item with the Raquel dildo and the RodeoH boxer-style harness the other night. At first, Raquel was still a bit too long for me! However, I realized that I could move the "sleeve" to the spot on Raquel's shaft where I wanted it, and its texture would grip her shaft and keep it in place. I'm now looking forward to trying some of the toys that have sounded too long for me, up until now. This product is going to open up a whole new dildo world for me!
This product was provided at a discounted price in exchange for an unbiased review. This review is in compliance with the FTC guidelines.

Thank you for viewing
Silicone sleeve for pump
– pump accessory review page!