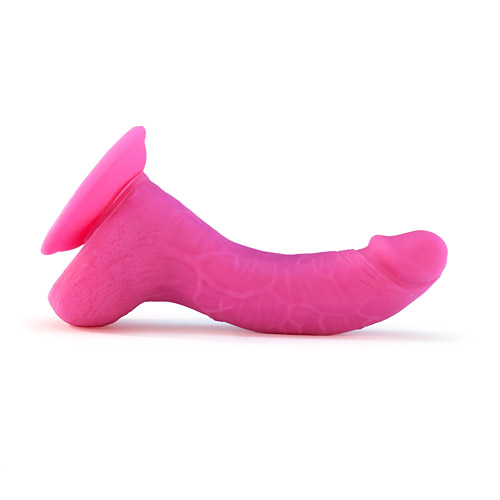 Eden lover G skin like realistic dildo 7.5"
Silicone realistic dildo with balls and suction cup
by EdenFantasys
Hahaha! A Perfect (And Hilarious) Toy!
This is a top-notch toy that is super fun to play with - whether you are flinging it across the room and watching to see if it sticks to the dresser, or sharing it with your partner during a rambunctious night. The neon color is adorable! And takes away some of that anxiety that comes with purchasing/owning a penis look-a-like.
Published:
Pros
Suction cup
Fun to play with
Cute color
Realistic Size
Cons
Material is prone to collecting hair
Could come in more fun colors
Haha. Alright, now I need to explain what is so funny about this toy.

Let's just say the reaction on my partner's face when I handed him our new toy, still in packaging was nearly worth the cost of the toy. At first, he was a little shocked considering it was our first penis look-a-like dildo, and yup, it does look look like a penis. Then he began to size himself up to this neon pink contestant. And it wasn't until I convinced him to do a side-by-side comparison that he realized that the size is actually very realistic. Lucky me, they are nearly the same shape! While my partner is maybe half an inch longer, the toy is slightly girthier under the head than he is.

Then he promptly suction cupped this floppy onto the flat of his chest with a huge grin on his face.

I think we spent a good 20 minutes laughing our asses off while flinging this rubbery neon pink penis around the room watching it stick to so many surfaces. The bed frame, the dresser, the desk - testing how far we could throw it and watch it suction on and wobble about.

Now, if you are a person/couple on the fence about a penis look-a-like, but already have a few toys and want something more akin to sex, than this is an amazing toy for you. First it is pink! Who wouldn't love a neon pink sex toy. Second, it's very soft, the LoveClone RX material is very rubbery but doesn't have any pungent smell to it. It is firm but squishy meaning it can bend to many different positions and it's very forgiving towards lady bits. So even if the girth is more than you are accustom to, you should still be on the safe side as it holds some compressibility from its material. It also has a nice realistic texture to it! With the funny tight cold-shower balls that are found on all toys similar to this.

Now cat owners beware, the material of this dildo attracts hair and lint like no other. But thankfully it washes up perfectly with some hot water and soap. So if you like to tussle in the sheets, know that it will find any, and all hair. Making for a less than pleasant post-presentation.

The suction cup is very fun, but is difficult for newcomers to get the hang of. (Oh god, my puns..) Sometimes you will find that sweet spot and get a good rhythm going when it is attached to the bed frame, and then it will suddenly slide down ruining the mojo. A good work around in having your partner stabilize your momentum or the toy while you give fellatio. Obviously the suction cup gives this toy so many uses, including bath-time use! One that I have not had the pleasure of trying yet, but me and my partner are holding patient while we wait to move into our new place that has a bathtub to play in.

On the other hand, solo play is great fun too. The suction cup and balls base allows for a good grip. If you are flexible you can place the heel of your foot on the suction cup while laying flat on your back. This frees up your hands for some clitoral stimulation. Once you really get going you can also slap it on all sorts of flat surfaces making way for many many different uses that makes this a very versatile fun toy to have.

I would definitely recommend this toy. It's very fun and versatile, and the neon pink color and realistic size makes it a great toy for couples who aren't keen on having their new toy penis - look quite, penis-like. Which is A-OK!

Personally this is a new favorite toy. Firstly because it was a funny and cute experience to share with my partner, but also because it is really a good toy with so many uses I don't think I will get bored of it any time soon.
This content is the opinion of the submitting contributor and is not endorsed by EdenFantasys.com
Thank you for viewing
Eden lover G skin like realistic dildo 7.5"
– sex toy review page!