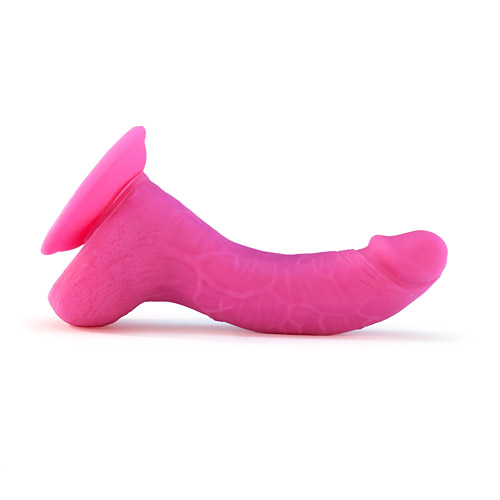 Eden lover G skin like realistic dildo 7.5"
Silicone realistic dildo with balls and suction cup
by EdenFantasys
Skin like indeed!
Overall, this product isn't for everyone.

For those who love solid toys and that really rough almost painful penetration during sex; nope, not for you.

For those that are beginners or are too sensitive for solid toys or just like a gentler sexual experience; FOR YOU!
Published:
Pros
Silky feeling
Realistic
Decent suction cup
Cons
Unpleasant smell and taste
Hard to penetrate with
Needs special care
At first, I wasn't that wowed and thought it felt like any other sex toy. But once I put lube on it...WOW. You could've told me I actually had a penis in my hand! It went from just silky soft to slippery smooth and down right out...HOT!

However, there's one thing I couldn't get over...The smell. It smells AWFUL. I thought cleaning it or even having it in me would get rid of the scent. Nope. It just made my sex smell like chemicals or plastic or something...I really can't even describe the scent other then a similar smell to burnt hair, YUK! The taste is just as bad. It was so tempting to practice deep throating such a realistic penis but the minute I put it in my mouth, I spit it out and started wiping my tongue. It has the weirdest sweet chemical taste I've ever had the displeasure of putting in my mouth. So anyone that wants this for oral practice etc...LOOK SOMEWHERE ELSE FOR YOUR TASTE BUDS SAKE!

Now with this very unpleasurable scent and taste you'd think I would be repulsed by this particular toy, but you'd be wrong. You see, I've NEVER liked solid toys. I have a mild case of endometriosis that makes it very painful for anything to hit my cervix or to be too firm (Regular partners seem to be ok as long as there's lots of foreplay but I guess that's off the subject). Hard toys aren't pleasurable for me and feel like I'm being stabbed instead of being penetrated. Basically, you'll never see me with any glass toys no matter how pretty they are. So when I saw such a perfectly shaped, hyper realistic, suction cupped dildo that so many complained of being 'too soft'...I jumped at the chance to buy it!

I wasn't disappointed! I was able to be very rough with this toy and it didn't hurt.(Which was amazing for me!) It has a slightly bigger girth then what I'm used to but is so soft that it's easily overcome. I felt full and extremely satisfied. The penis is curved and hits THAT spot just right. I didn't have to angle it or anything and it still hit my g-spot every time.

However, it's hard to enter with (I spent a good 30 seconds trying to shove it in while I was very lubricated and it still wouldn't budge. Finally, genius me grabbed it by the head and gently slide it in...Duh Lynn. Goes to show I've never had a semi soft toy before. I'm so use to the hard toys that you just slide right in...Or painfully stab through in my case)

It didn't hurt once it entered despite its girth and though mildly uncomfortable at first, I quickly adapted. It's above average in length and size and has the feeling of a hard or semi hard penis. It's veined and is beyond realistic, which is great for those looking for a realistic lover! It even flops around like one which was kind of hilarious to watch and play with.

The suction cup is decent and I got it to stick to quite a few things. But it's not the best and the weight of the toy makes it fall when on a wall or headboard.

The material has anything stick to it so clean it VERY well; better then you do most toys. Use a condom if you share (It's a very absorbent material) and use a water-based lube, NOT as it's not recommended for the product.
Follow-up commentary
12 months after original review
Honestly, this was such a good toy...For awhile, however, it's been a lesson to myself to NEVER get anything but silicone or glass ever again no matter how tempted.

It was soft (Which I really like because sometimes too firm toys really hurt!), it was curved perfectly, it was cute and realistic at the same time, perfect size, SO realistic in touch (at first), great suction...Perfect, I tell you!

But because of its material, it started to collect lint and dust BADLY. I had this thing in the Eden purple toy case which is very smooth and it still collected this dust and lint. I tried to wash it but of course, I couldn't use soap (Because it's porous and I don't trust most soap to be up my vag honestly) and water wouldn't get it off completely despite what other reviews have said.

It had a scent and taste not AS bad as jelly toys but it still had an overpowering plastic scent and artificial sweet taste that really threw the mood off. Again, because it was porous it couldn't be cleaned properly to get the scent off.

The ball sack was a tad bit bigger than necessary which made storing it hard... Like this thing wouldn't fit in a plastic bag because it was too 'sticky' material wise and it actually smelled MORE like plastic the longer it was in the bag!

That's right. The more I used this thing and the longer I had it, the sticker it got. Like, it went from soft and felt like real skin too, after a month it became sticky! I know you can buy powder's to renew skin like material and I've even heard of using cornstarch but...Well, if you read the rest of the review idk if it would even be worth it.

So I put it in my toy case (Could barely even zip it shut but still) and it must have accidentally touched my silicone purple vibe and it started to melt on one side.

That was kinda the last straw for me. Bad taste, weird odor, soft to the point, it was TOO soft to penetrate without shoving it in forcibly at times (Like stated I like soft but this thing sometimes was TOO soft), sticky material collected lint and would 'drag' on my inner vaginal walls (after awhile, ouch.), couldn't hardly store it, couldn't hardly clean it properly AND starting to melt on one side?! I had to throw it away.

I couldn't resell it because there's no way to sterilize it. I legit had no choice but to throw it away because... Well, why would you want to put something inside you that MELTED? That can't be good...

Even now looking at it I feel a bit disheartened because it was SUCH good toy the first month or so! All well, lesson learned...Nothing but silicone is worth that price because no matter what you do, it will not last. ;(

Could I have bought a renewal powder or used cornstarch? I guess. But after it melted it kinda was a wake-up call of "What the hell are you putting up yourself?!" my health comes before my pleasure.

(I swear, if this same toy ever came out in a soft silicone form, I'd buy it in a heart beat!!)
This content is the opinion of the submitting contributor and is not endorsed by EdenFantasys.com
Thank you for viewing
Eden lover G skin like realistic dildo 7.5"
review page!