Hands free fun!
The Vac-u-lock suction cup is a great addition to your vac-u-lock compatible toys. It's easy to use and makes for an awesome hands-free experience! Not only can this be used during solo play, but it can also be used with a harness. This suction cup makes using a dildo a whole new, versatile experience! It's inexpensive and works great, especially for the price!
Published:
Pros:
Inexpensive
Makes a hands-free experience
Small
Easy to Use
Harness Compatible
Cons:
Won't stick well to all surfaces
Porous Material
Use
The Vac-u-lock suction cup plug by Doc Johnson is a wonderful accessory in the vac-u-lock system. It's made to be inserted into a dildo (that's also a part of the system) and used on it's own or with a harness. This is an accessory ONLY and is not intended for internal use by itself!
This suction cup can be used to help with couples play when put in use with a harness, or to make solo play a totally hands free experience!
Great for beginners and advanced users alike! There's a wide range of toys that work with this suction cup, making it a great toy for users of any experience! You can find them
here
Material / Texture
The suction cup is made from Rubber which rates a 3/10 on the Eden material safety scale. The material is porous, but also is very wear resistant and should last a very long time. This item is phthalate free.
The top of the plug feels mostly smooth, but does have a very slight texture to it. It's not bumpy or rough, and is barely noticeable. It has a shimmery, yet matte look to it. The bottom of the plug, the part that allows for suction, is very silky-smooth and is shiny. The whole plug is white in color.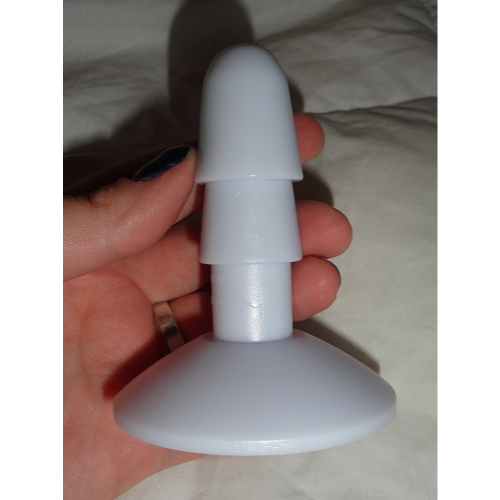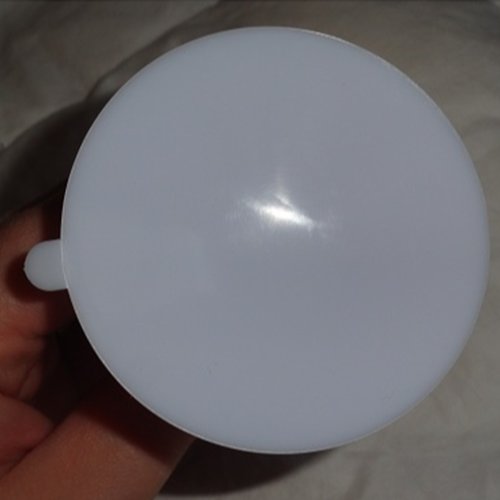 Design / Shape / Size
The look of this toy highly resembles a poorly designed butt plug. It's made so that it's easy to insert into a dildo, and much more difficult to take out. The bottom of the toy is circular and comes up into a very slight coned shape. From there, the plug goes up into three different sized areas. The top of the piece is rounded, making it easy to insert, and the two ridges make it more of a challenge to remove.
On one side of the base is a small tab that's made to help relieve the suction. The suction holds very well and can be very difficult to remove unless the tab is pulled up, breaking the seal.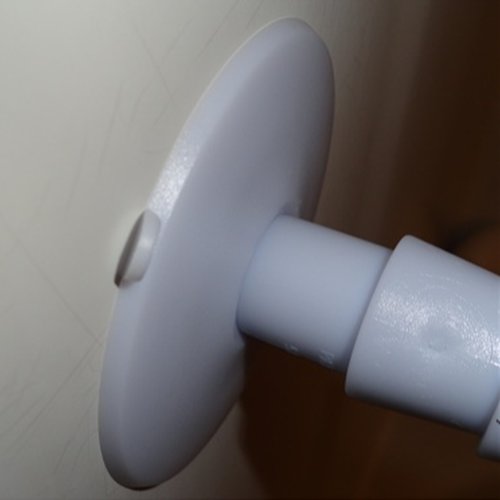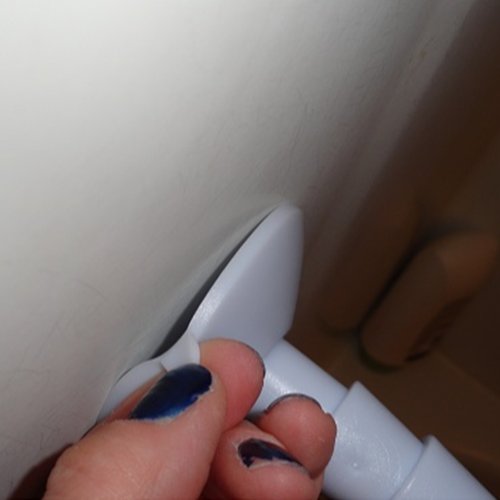 Length: 3 3/4"
Diameter of Base: 2 3/4"
Tab on Base: 1/4"
Bottom Ridge: 2 5/8" around - 3/4" tall
Middle Ridge: 3" around - 3/4" tall
Top Ridge: 3 1/4" around, 1 7/16" tall
Performance
I was very impressed with how well this suction cup held in certain places, and disappointed in others. It works extremely well when used against a clean shower wall, or on a smooth hardwood chair. It didn't hold well on a painted wall, or on a few other wooden surfaces that weren't 100% smooth.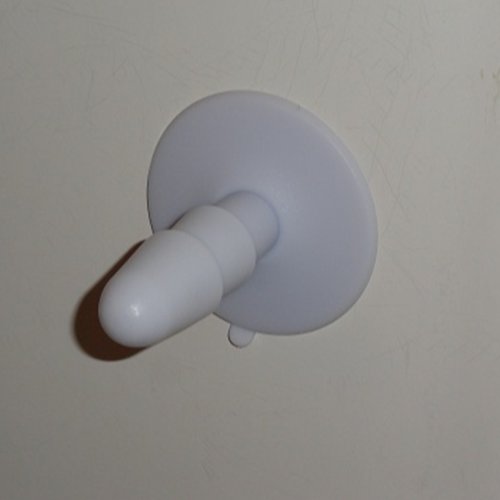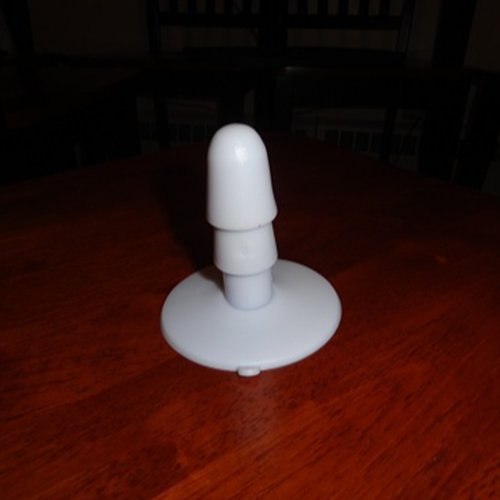 The plug itself slides well into the dildo, and takes a little bit of effort to remove it. It's recommended that you use
Vac-u-powder
with this item, but I don't and it works fine for me!
I don't own a harness, so I can't tell you how it preformed with one. I purchased this toy to give myself the option of having something hands free for solo time.
Care and Maintenance
This suction cup plug can be cleaned with antibacterial soap and warm water or your favorite sex toy cleaner. Since it's made from rubber it can't be boiled in order to sterilize it, so use caution when more than one person will be using this item.
Rubber is compatible with silicone based and water based lubricants, but I don't see a reason why you would need to use one with this toy. If you feel the need to use something, use the powder that I have linked above.
Packaging
The box this suction cup plug came to me in, is not the same shown on the product page. It's a mostly greenish-blue and white box that seems to be made of a thick card-stock. The box has a ton of information on it and an image of the plug on the front. It's not discreet in the fact that anyone can read what it's for, but there's no nudity on it.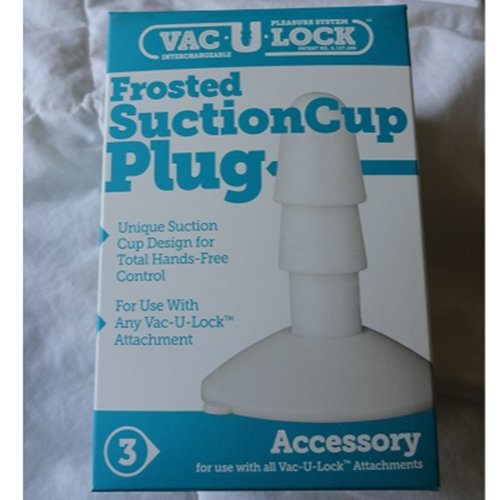 One one side of the package there are six different languages that tell you a small amount about the product, and each side gives you a little bit more information about the product.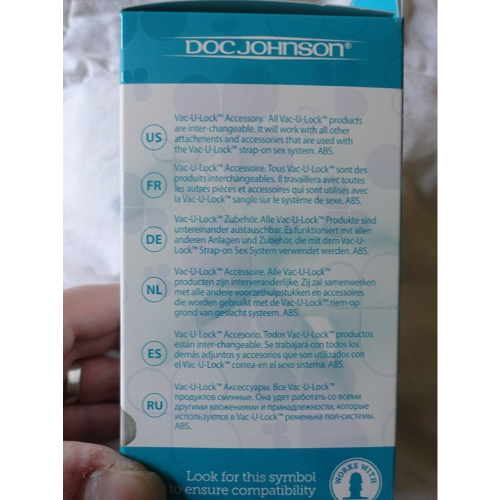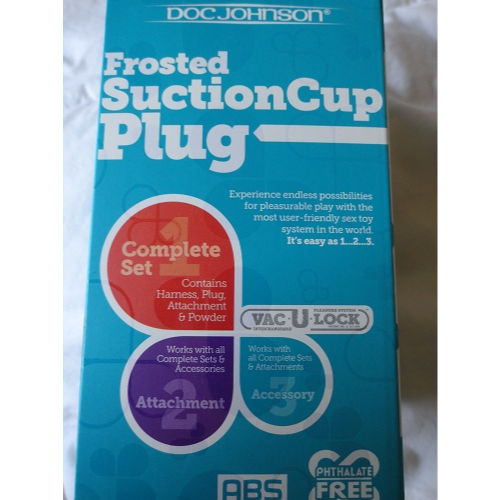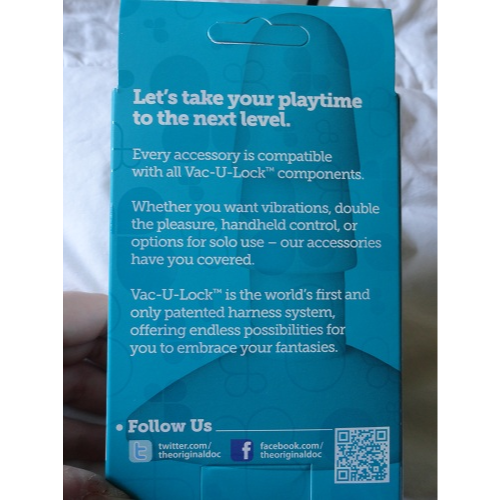 The box can be used as storage, but the plug can easily be tossed into your toy box without the extra bulk and the package can be recycled.
Inside of the box, there's a folded up paper with instructions on one side and other products that you can purchase through the company on the other.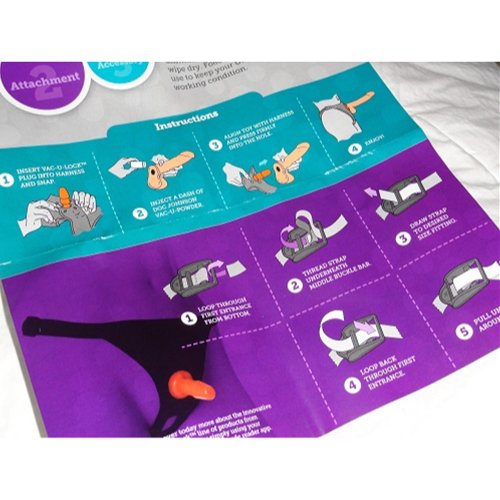 The plug comes with a small plastic bag placed around the top of it, but not around the full toy.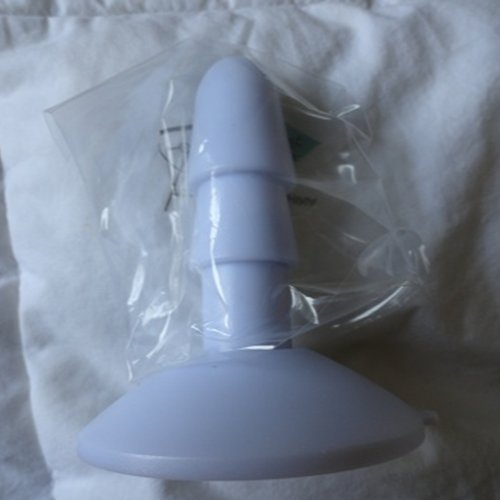 Experience
I was so anxious to try this suction cup in my pink,
Super vac-u-lock dildo
! I was impressed with how easily it pushed into the toy! I immediately tried taking it out again just to see how it would do, and though it was harder, I was able to do it with little effort. I first tried the suction cup with the dildo on it against my bedroom wall. It didn't even last 30 seconds before falling off. I was very disappointed! I tried it on my nightstand, and while using it, the suction cup kept breaking off. Another disappointment. I moved into the bathroom and tried the shower wall. That bad boy STUCK! I think it would have stayed there for days if I would have left it! After playing in the bathroom, I ventured downstairs and pushed it onto one of my kitchen chairs. It stayed perfectly while I straddled the chair and was amazing!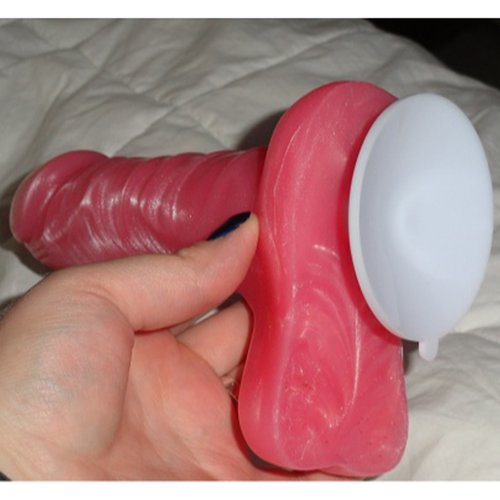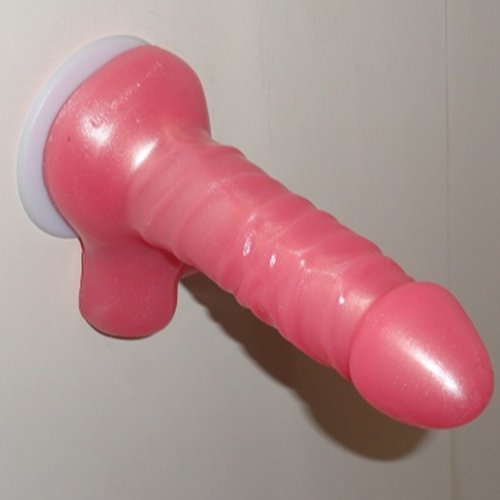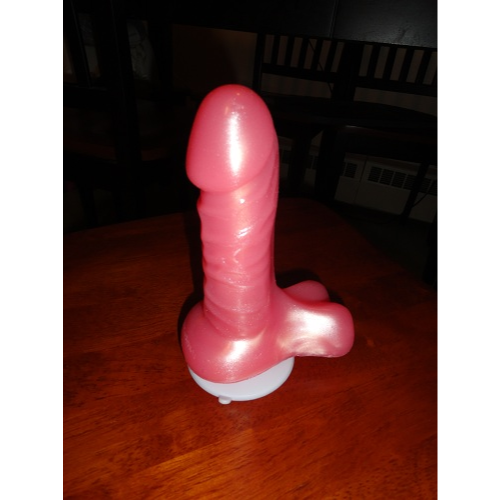 Though it doesn't stick to every surface, I'm very impressed with the overall quality and function of the toy. It does work for it's intended purpose, which in my case is a hands-free experience!
I would recommend have the cup strongly suctioned against a surface when you try removing the dildo, it works much easier!
Follow-up commentary
3 months after original review
I only have one toy that I'm currently able to use this suction cup with, so it doesn't get used as often as some of my items. It still suctions well and shows no visible wear.

Though I don't use this all the time, I'm still glad I have it. It works great for it's designed purpose, even if it's not always at the top of my toy box.
This content is the opinion of the submitting contributor and is not endorsed by EdenFantasys.com

Thank you for viewing
Vac-u-lock suction cup plug
– sex toy review page!