Suction in all the wrong places
I bought this suction cup along with the super vac-u-lock dildo by Doc Johnson. I had high hopes for this product, and I would've probably enjoyed it if it had not gotten stuck inside the dildo and never came out.
Published:
Pros:
Sticks well to extremely smooth surfaces (tub/shower materials, stone countertops, etc.)
Cons:
Doesn't stick well to all surfaces, can get stuck inside dildo if wet and will NEVER COME OUT
The packaging the suction cup comes in is rather discreet, since you wouldn't know what it was unless you really read the descriptions on the box, which has no pictures of half-naked ladies and/or dildos splayed across it like some packaging does. This suction cup comes with a folded-up paper slip inside with instructions on it, and a lot of stuff about other vac-u-lock products.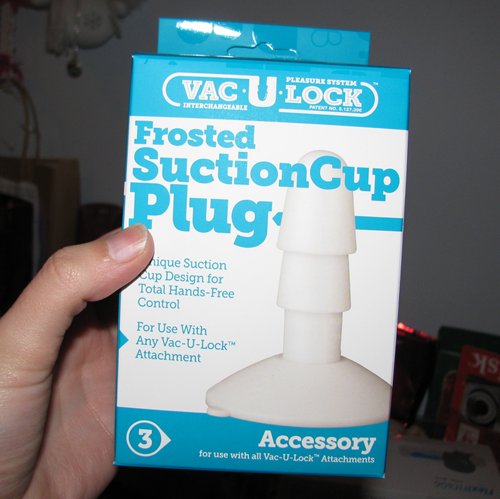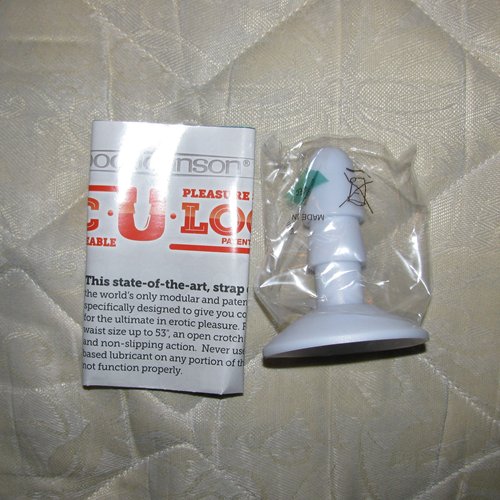 The suction cup itself isn't really anything special. It goes in the hole of your vac-u-lock dildo, and it sticks to things. It doesn't stick very well to places like walls, or polished wood, or pretty much anything that isn't completely smooth. However, it does stick very well to things like glass, mirrors, or the side of the tub or the shower.
I wish I had more to tell you about the performance of this suction cup, but shortly after I got it, it got stuck inside my dildo. After reading the instructions, and trying to see how the dildo and the suction cup stuck together without any powder, I decided to try pushing it in after getting it a little wet, since it was kind of hard to push in the first time. This apparently was a big mistake, as some kind of hellish vacuum seal was formed, and I never got it to come out. Seriously,
never
. I tried to get it out for over a day, ended up ripping the dildo (which was made out of a firm silicone), and I still couldn't get it out. I had to send it back to Eden still stuck in there.
I would advise against getting this product, lest this happens to you... Or you could just learn from my mistakes and never get it wet (kind of like a gremlin), because this could just be a one-time thing (which it probably is.) It's up to you.
This content is the opinion of the submitting contributor and is not endorsed by EdenFantasys.com

Thank you for viewing
Vac-u-lock suction cup plug
review page!