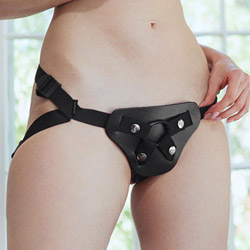 Leather strap on
Adjustable double strap harness by Sportsheets
Harnesses-- Not Just for Horses
This is a great, simple, no-frills harness. It's easy to pull on, easy to adjust, and easy to take off and throw in the washing machine when you're done with it. The straps do loosen a little during vigorous use, but they can be pulled tight again one-handed without interrupting the action. It isn't the sexiest looking harness out there, but I don't care. It works like a charm.
Published:
Pros:
Easy to Use
Versatile Fit
Works well
Cons:
Loosens after a while
Extra straps hang down
First Impressions
The Latigo Leather Harness is slightly misnamed-- it contains a triangular piece of leather which rests over the wearer's crotch behind the base of the dildo, but the rest of it is made from nylon straps a lot like backpack straps. I decided I didn't want to deal with cleaning a piece of leather which had been pressed against my pussy (or my girlfriend's pussy) during sex, and promptly removed it. That said, I kind of like the nylon straps-- they're black, durable, and outline the wearer's ass nicely.

Fit and Design
This is a dual strap harness. I've never tried a G-string style harness, so I can't compare them directly, but I like that this one has straps around the back of each thigh below the butt-- it makes it feel secure. It comes with a removable 1 1/2" diameter rubber o-ring to slide your dildo through. I was a little worried, because the dildo I have has a diameter of 1 1/4", but it still fit nicely. The straps looping through the o-ring to hold it in place take up a bit of room.
This harness is highly adjustable, with extra-long straps. My girlfriend and I are sizes apart and it fit both of us with room to spare. I'm thinking of trimming down the straps because I don't like the way the excess looks hanging down, even though it hasn't gotten in the way. To tighten a strap you simply yank on the end. To loosen it you grab the plastic buckle and tug at the front, kind of like an airplane seat belt. The waist strap can be adjusted from either side, and each leg strap can be adjusted separately. After one trial run I was able to tighten and loosen it almost without thinking, which is exactly what I want in a sex toy.

Use
This harness is easy to put on after you've tried it once or twice. Pick it up, hold the waistband like a pair of underwear, and step into the two leg straps. Then pull it up and tighten it. I definitely misstepped the first time, but luckily the learning curve was really fast.
Then comes the fun part-- sex! I used this harness for strap-on sex, not pegging, and it's also the first harness I've used. So my experience may not be everyone's. But I have to say-- I really liked it. I found it pretty comfortable, and I was able to position the o-ring low enough so the base of the dildo was against my clit. It stayed on well as I moved-- the straps did loosen a bit, something Elle also experienced later, but they were easy to tighten again and I only had to do it once. It seemed like the weight of the dildo just pulled the straps down a bit. Maybe with the leather backing in place it wouldn't have happened, but that's not how I want to use it.


Packaging and Care
This harness comes in a not-discreet-at-all cardboard box with pictures of a blond woman wearing it from several angles. The box is white and pink-- not my favorite colors. There are brief instructions on the box itself telling you how to put the harness on, with images. I found this helpful the first time I tried it on. Those are the only instructions, but what else do you need?
This product was provided free of charge to the reviewer. This review is in compliance with the FTC guidelines.

Thank you for viewing
Leather strap on
– sex toy review page!