High Quality Harness
The Cherry Jaguar by Aslan Leather is the most gorgeous harness available here on Eden, I dare anyone to try to find higher quality leather, a better fit, or a sexier look that this harness can give you.
Published:
Pros:
Gorgeous Leather. Fits a variety of wearers. Great for pegging.
Cons:
Difficult to clean.
This gorgeous cherry-red harness works great for pegging and vaginal play. This and the
Devine PlayChest
are the two best products I have ever seen on Eden. If you are at all interested in strap-on sex, I highly recommend Aslan's
Jaguar
. Other products look ridiculous, like someone wore them in a 1970's porn, but this harness is luxurious, sexy and slightly intimidating - which I love.
The cherry red color is quite dark and is easily stain-able, however, it really adds a level of uniqueness to this harness that standard black harnesses lack. This really pops against black play clothing, and is a soft enough color to go with any lingerie choice.
Because my girlfriend and I are both around a size six, the harnesses straps hang a little long on both of us. If you want you could simply cut off the excess leather, however, I believe that if we ever introduce another partner, the extra settings could come in handy.
Sizing
This harness is great because the straps genuinely extend long enough for most sized wearers.
Maximum hip size:
42"
Dildo holder diameter:
1 3/4"
Weight of harness:
0.4 lb
This material has a safety rating of seven on EdenFantasys.com, this means that the leather is pretty porous, but not super unsafe. I wouldn't suggest sharing a strap-on between non-fluid partners without using a condom covered dildo, or at least safety wiping down and air drying your harness.
This harness fits well over a clit, which I loved, because I can get off while my partner is being pleasured.
According to Aslan
"Designed for the ultimate ride the Cherry Jag has a dildo placement that is lower than our traditional jock allowing for delicious pressure on the clit and a sweet fit. Permanent 1 3/4" hole fits most dildos with a flared base" (Aslan).
I would personally never use the
Jaguar
on someone I wasn't already fluidbonded with/want to be fluidbonded with. I believe that the Rodeoh (an amazing underwear-style harness) would be better for non-fluid bonded peoples because you can throw the Rodeoh in the wash machine and it also looks great under clothing, which is important if you're wining and dining someone. I personally own both harnesses and use them in different situations, I also give my Rodeoh to others to wear, but I would never let anyone touch my
Jaguar
if I didn't trust/love them. Because I love her so much!
Cleaning
Leather is difficult to clean. I suggest wiping down the harness with a warm cloth, only slightly wetted. You can also buy leather cleaner, which is a lot safer for your products. I have heard of Aslan products rusting, but they also have an amazing guarantee program, so if this does happen you aren't left with a rusty harness. If you use soap, try a simple bar type.
According to Eden
Dirt adhering to the leather can be removed with a damp cloth, using a mild soap if needed.
Comparison
My girlfriend has just received the
Le Butch
, made by Stockroom, and we held our two harnesses together to compare. My harness, the
Jaguar
, is soft, the leather is finished on both sides, the sizing could fit a greater variety of body types and the cherry red on mine looked great. However, hers came with two metal o-rings, whereas the [italic|Jaguar came with a simple silicone support ring.
Suggestions
I suggest buying a few extra silicone or metal o-rings with your harness, as well as a nicely sized dildo.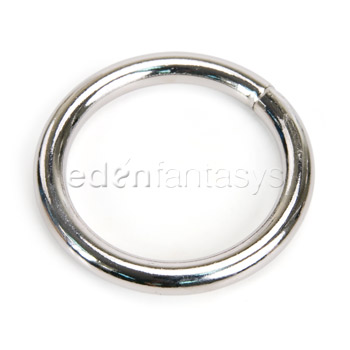 Metal Ring
Buying a few of these rings will really help you out becuase you can just pop, either the metal or silicone versions into a pot of boiling water for a few minutes and sterilize them. If you want to change the ring out every-time, it helps to have a few extras. I also get varying sizes to fit larger/smaller dildos. Usually they will work in a 1. 3'4. harness, but sometimes dildos are a little too large, like the O2 below, which is surprisingly huge in real life.
Silicone dildos: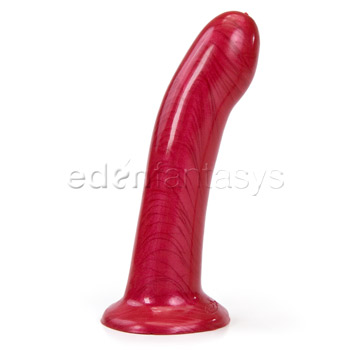 Red Silicone Dildo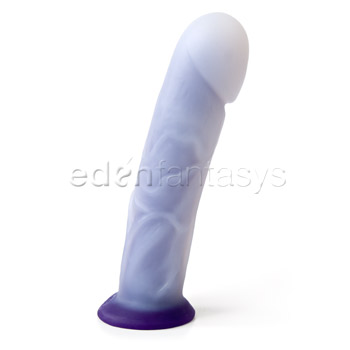 O2 Blue Dildo
Experience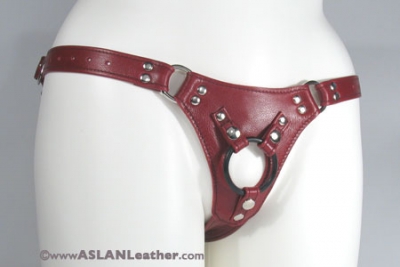 I saved up for the
Jaguar
for months, and I had wanted it for years before. When I finally had enough money, I went on the site and noticed it was gone. Gone? Yes, gone. It had vanished, it had been sold-out!
I waited for a few days and then finally decided to spend my money on a lesser quality harness, right before I checked out, the
Jaguar
miraculously came back into stock. I have never been so happy about a piece of red leather ever.
My Partner's opinion
My favorite harness ever, hands down. The leather is top-notch: it smells amazing and is so soft to the touch. The red color is also striking and unique. Beyond its simple appearances the harness also works great for its intended purpose; once my partner or I get the harness on it is on tight, no need for awkward adjustments half-way through. It fits a wide range of dildos, but unfortunately not a wide range of people. My only complaint would be that it is almost too large for my partner and I. However, we've been able to make it work and I'm glad that we did. Anytime we use the Jaguar it is a wonderful experience.
This content is the opinion of the submitting contributor and is not endorsed by EdenFantasys.com

Thank you for viewing
Cherry jaguar
– double strap review page!