King of the Jungle
When it comes to leather harnesses, the Jaguar leads the pack. The hide quality will make a leather lover swoon, the hardware and construction are top notch, and the design is purposeful and well thought out. It's a strap-on aficionado's dream come true. Give it the care it deserves and make sure you have a cock with a serious curve for certain positions, and the Jaguar will never fail to please you and your prey of choice.
Published:
Pros:
Gorgeous leather and steel, major aesthetic appeal, adjustable fit, lifetime guarentee
Cons:
Low O-ring placement creates angle issues
Ah, the elusive and mythical Jaguar. Before mine arrived, I had observed them many times in their natural habitat, wrapped around the hips of friends, lovers, and performers alike. Now it's very satisfying to have one resting in my toy bag, ready for the next hunt. Considering Aslan Leather's stellar reputation in the kink community, I had the highest expectations for this harness and I'm pleased to say it did not disappoint.
The moment I opened the plastic bag, my nose was greeted by that wonderful leather smell. THIS is the kind of leather I long for, the ideal leather for this type of gear. It isn't heavy boot leather, it's soft, sumptuous top-grain glove leather. Examination of the edges around each piece reveals that they are fully tanned and dyed all the way through. This is the kind of leather that only gets better with time. The hardware is built to last as well, made of welded steel and plated with nickel (there is one with brass hardware on Aslan's website for those with nickel allergies). Aslan offers a lifetime guarentee on their products, so they will repair or replace this harness if it fails under "normal wear".
Visually, it's a knockout. The color is a beautiful deep red, even better than the pictures. The hardware is front and center, solid and shiny. I couldn't be more pleased with how it looks. The straps that hold the D-rings provide space to tuck in the waist straps so that they don't just swing loose. The two strap style gives you access to the wearer's body, or they can be centered and tightened for a thong-style fit. If you need a custom fit for your body type, Aslan Leather does this at no extra charge, just contact them through their website.
Everything about the design screams deliberate, quality craftsmanship. The O-ring is held in place by a three-point set of straps that are securely riveted to the front piece. The stress points are double riveted. I love how it has buckles around the waist and D-rings around the legs. The buckles allow you to get it on super quick and easy, and get it balanced evenly on your waist by just counting the holes on each side. The D-rings let you adjust for the exact amount of tightness around the thighs where you need it most, and they also allow you to sit comfortably while wearing it. Overall the fit is excellent and very stable.
One of the most prominent design features, the low O-ring placement, is a double edged sword. On one hand, it places the base of the cock closer to the clit and I love clitoral pressure. It also centers the cock against the body in a way that puts the full power of your thrusts directly behind it. As Carrie Gray (owner of Aslan Leather) says during demos, you don't fuck from your belly, you fuck from your groin. In other words, this is a very well balanced harness, and balance is half the battle during strap-on sex.
However, the other half is all about angle. The lower placement means that if you use a cock with no curve in the Jaguar, it will most likely point down. Most curved dildos still only sit at half mast in harnesses with higher O-rings, so they'll also have a lower angle in the Jaguar. This places serious limitations on the positions you can achieve, especially missionary or standing positions where you really need that upward angle. To use the Jaguar for such positions, you will need a cock with a drastic curve or one with an adjustable spine (like
Vibratex's Silky
). Silky is my favorite cock to use in the Jaguar because it holds any curve you need. Without it, my use of the Jaguar would be far more limited.
Care for the Jaguar as you would any fine piece of leather gear. Wipe sweat off of it after use, unless you plan to wash it immediately (who does?). Use glycerin saddle soap and a slightly damp cloth for cleaning, dry it immediately, and then lay it flat to dry completely before storage. Store it away from mold and mildew. Rub it with leather conditioner if it shows signs of stiffness. Avoid leaving it out in the sun to prevent dryness and color fading. A pre-emptive coat of wax-based conditioner (like Fiebings Aussie) will protect it from absorbing tons of bodily fluids. Avoid getting water on it and NEVER submerge it. Aslan suggests coating the rivets with clear nail polish to prevent rust. With proper care, this harness could outlast you.
Experience
The rubber O-ring that comes with the Jaguar is actually a bit bigger than the hole in the front piece (although being leather, the hole will stretch a bit over time). I suppose this would allow you to use a larger cock that wouldn't fit through the hole by placing it in front of the hole, as long as it has a base that can fit between the three front snaps. But since I keep the cock behind the front piece, I see no point having an O-ring larger than the hole. I ended up swapping it out for a slightly smaller metal O-ring that matches the hardware, which ended up being a look that I like even better: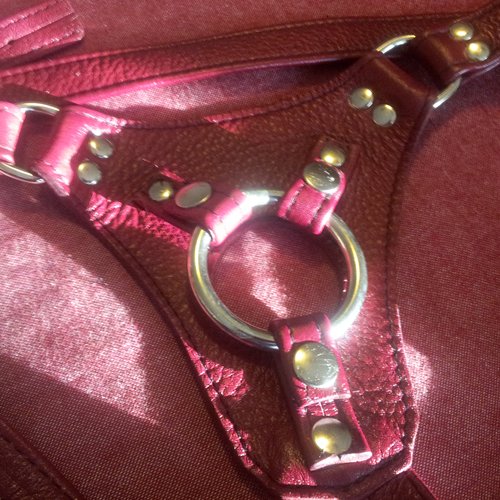 I'd bet it would also really pop on the silver version.
I do not wear leather strap-on harnesses under clothing anymore (not since Rodeohs) but if I had to pick one to do so with, the Jaguar is a good choice. It will still be uncomfortable because that is just the reality of straps and buckles under clothing, but it's so much softer than a harness made of, say, latigo leather (yikes!).
Follow-up commentary
4 months after original review
I'm still loving my Jaguar. Of all my harnesses it is the best combination of durability and comfort, and it is far and away the best looking harness I've seen to date. The hole in the front has stretched a bit to fit thicker cocks, so switching out the appropriately sized o-ring is key.

That said, amidst my rhapsodizing about the leather in my main review, I should have mentioned that leather is porous. This harness will undoubtedly come in contact with bodily fluid, and you cannot use the regular cleaning methods normally recommended for sharing toys with different partners. But this doesn't mean you cannot share leather toys. Dr. Charles Moser, a leading authority on sexuality-related medicine, recommends hanging up leather toys in a ventilated place for a week after use if you intend to share them amongst non-fluid bonded partners. Most pathogens cannot live outside the body for very long. So avoid using the same leather harness with different people in a short span of time, give the harness a nice scrub with glycerin soap after use, and then hang it up after it has had time to dry.
This product was provided at a discounted price in exchange for an unbiased review. This review is in compliance with the FTC guidelines.

Thank you for viewing
Cherry jaguar
– double strap harness review page!