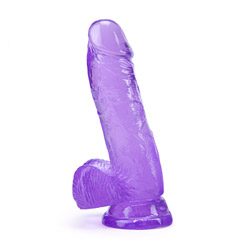 Pioneer
Realistic dildo with suction cup
by EdenFantasys
My Personal Deep-Throat Trainer
This dildo is very impressive with dimensions that optimize pleasure and minimize discomfort during even the roughest of play sessions. With this toy, I've had the best anal play and the sexiest cock-sucking of my life. The suction cup allows you to play out your naughtiest fantasies even when your partner isn't around. This toy has become a staple in my collection. With realistic details and a very reasonable price, I recommend this to everyone.
Published:
Pros:
flexible, thick, realistic
Cons:
TPE not body-safe, could have better suction cup
First Impressions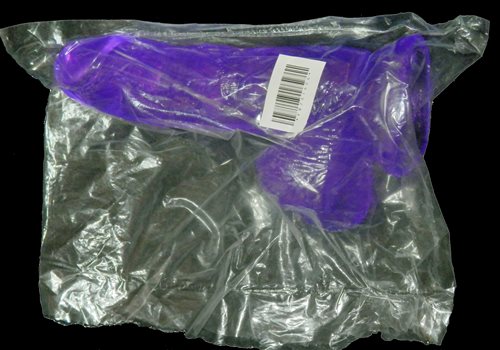 Upon opening the box, the first thing I noticed about this toy was its brilliant, purple hue. As you can see from the pictures, the way light reflects off the dildo makes it appear as if it glows. When I first opened the plastic packaging and felt the slightly tacky surface, I was reminded that this toy was made out of TPE. Click
this link
to learn more about TPE. The majority of my sex toys are silicone, as I prefer body-safe materials, so I didn't have particularly high expectations for this toy. (My expectations were quickly exceeded!) The toy looks very realistic...well, except for the bright, purple color. With veins, slightly asymmetrical balls, bunched foreskin under the head, urethral opening, wrinkles, corona, and frenulum, you could probably teach an anatomy lesson with this toy! ;) These details provide delicious texture.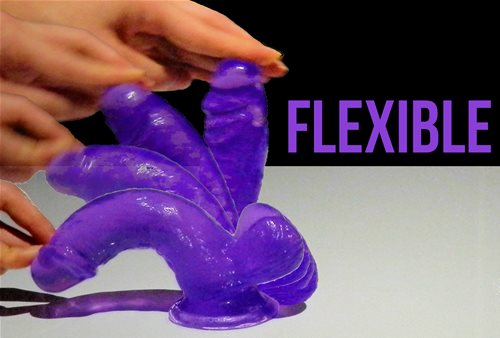 I was pleasantly surprised by how flexible this toy was. The shaft bent in every which way but was firm enough to hold its erect shape. This combination of flexibility and firmness allowed for easy anal insertion and comfortable deep-throating, an admirable feat for any cock. I own a vibrating dildo that is not at all flexible because of its electric components. With my vibrating dildo, the straight, rigid shaft could not curve down my throat. It wasn't until this Pioneer dildo that I could easily deep-throat a dildo and actually enjoy the experience.
The suction cup base is an extremely attractive feature. It opens the door to so many possibilities, vaginal, anal, and oral sex in the shower, against a bookshelf, on the refrigerator, or against the floor. Any firm, flat surface can turn into a f**kable surface. For the best seal, I applied a small amount of water or water-based lube to the base of the toy, then pressed the toy onto the flat surface for about ten seconds. On a polished wood bookshelf, the seal lasted for over two hours. I found that certain surfaces like my wooden dresser or mirror would not hold the suction cup for extended periods of time. I could not find any pattern to what materials the toy stuck to best. However, I can tell you that I probably looked quite silly sticking a dildo to every available surface in my house.
Details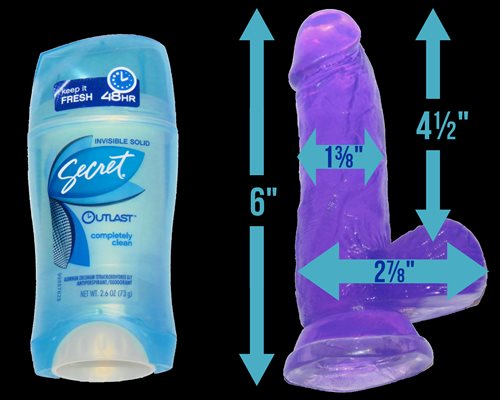 The balls on this dildo provide a nice, wide base that allows for safe anal play. No one wants that awkward emergency room visit to remove a purple dildo stuck in your ass. When the dildo is slick with lube and maintaining a good grip gets more difficult, I find that the balls provide the perfect handle for thrusting.
The dildo is similar in size to a stick of deodorant, so it's on the shorter end for dildos. However, I find that the length makes deep-throating very manageable and even pleasurable. The diameter of the shaft is 1 3/8", which provides a nice, full feeling when inserted in my ass. I wouldn't change the dimensions at all. However, if I were looking for a toy to use in my pussy, where I tend to prefer longer dildos, this might not be the best choice.
The squishy texture of the TPE provided comfort that I have not found in similar dildos. I have a 1" silicone dildo that I find very uncomfortable because of its rigidity. Before, I assumed that my ass just took a while to adjust to a 1" diameter. However, after trying the TPE Pioneer dildo, I found that that was not true. This dildo slid in on the first try with no pain what-so-ever and practically no time needed for adjustment before I could thrust away. This toy is very easy to clean with antibacterial soap and water.
Further Explorations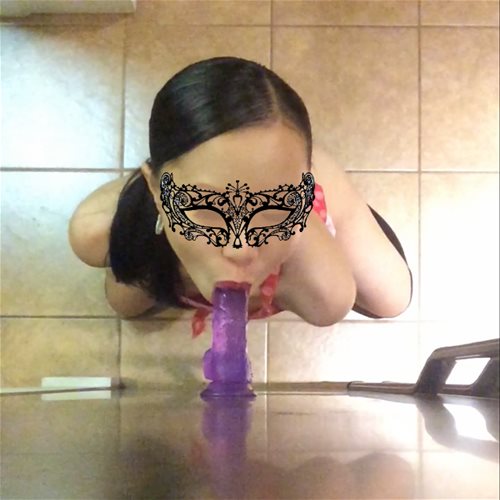 My Dom made playing with this dildo a daily task. Alternating days, I do my oral training or my anal training for 15 minutes. The more I do these tasks, the more tricks I find. I realized that the refrigerator makes for the best face-fucking surface. I found that putting my phone camera on top of the refrigerator made for a wonderfully erotic point of view (POV) video for my Dom (a still photo from said video can be seen above). I found that pressing the suction cup into a surface with my full body weight helped the suction cup retain its seal. Laying on my side and pounding my ass with the toy from the back brought me the most pleasure.
Experience
First Use
My first time using this toy was for a play session with my Dom over Skype. He happily agreed to help me do "research" on this toy. Our session started out with oral training, I was to stick the dildo to a surface and pretend that I was sucking my Daddy Dom's cock. I quickly grew frustrated as I tried to find a surface that the dildo would stick to. I tried the wood floor, a white board, and a dresser, but the wooden bookshelf worked best. After putting a small drop of water-based lube on the suction cup, I was able to successfully stick the dildo to the bookshelf. I inserted a Bluetooth-controlled vibrator into my pussy and slowly lowered myself to my knees. My Dom said, "Show Daddy how you would suck his cock," so I spread my knees as wide as they would go and clasped my hands behind my back. I felt shy at first, performing for my Dom. He could see everything, my naked body and my total submission. After licking around the shaft, exploring the texture on every inch of the dildo, I sucked the shaft into my mouth. Circling the head with my tongue, I looked back at my Dom through the computer screen; he was watching me with an intent look on his face. My need to please him quickly overrode any lingering self-consciousness. I pushed my mouth down to the base of the dildo, allowing the tip to slip into my throat. I had expected more resistance and was pleasantly surprised how easy it was to deep-throat this toy. I bobbed my head up and down on the dildo, receiving vibrations from the toy in my pussy as encouragement. I began to enjoy the feeling of this toy rubbing the back of my throat. After 15 minutes of my oral training, it was time to move on to the anal portion of the evening.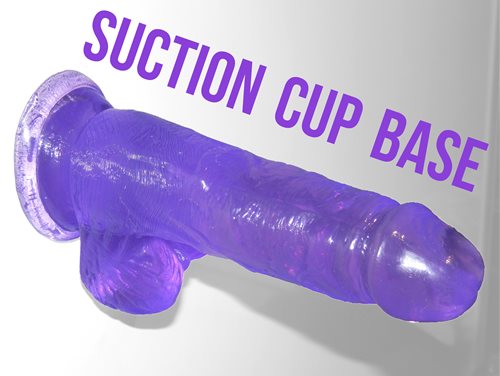 Moving back to my bed, I positioned the laptop so my Dom would have a clear view of my ass. Once I fastened
a gag
around my neck, I was ready to play. Again, I expected the insertion process to take a while with many shallow thrusts before the dildo was fully seated. However, after coating the dildo in water-based lube, I was able to push the dildo into my ass in one long glide. I could feel the veins and textured tip of the dildo as it pushed inside of me, adding to the sensation. The balls pushed into my pussy as the dildo was inserted to the hilt, increasing my pleasure. I felt completely stuffed. I kept switching positions, from head-down-ass-up position to cowgirl. Each position felt better than the last. Slowly thrusting the shaft while gripping the balls as a handle, a pressure built up inside of me. For the first time from anal penetration, I felt like I would come. My Dom's words only added fuel to that fire. "All three of kitten's holes are plugged up nicely," he said. While I didn't actually orgasm, I did feel the most pleasure from an anal experience while using this toy.
Follow-up commentary
2 months after original review
This toy continues to be a favorite in my collection. I find that it is the perfect length for deep-throating and the perfect firmness to use as an anal dildo!

I have discovered that I am less than pleased with the suction cup. My Dom and I have had some comical moments when the dildo's suction cup fails and the toy bounces across the room. However, I am still very pleased with this toy.
This product was provided free of charge to the reviewer. This review is in compliance with the FTC guidelines.

Thank you for viewing
Pioneer
– realistic dildo with suction cup review page!