Slick it to me
The Slick Jock opens up a whole new world of places to fuck. It goes where a leather harness cannot, and it boasts the same sexy design and dependablility that I've come to expect from Aslan Leather. It's not the most comfortable harness in the world and I wouldn't want it as my only harness, but it's worth a look for getting wild in the water.
Published:
Pros:
High quality rubber and steel, waterproof, seamless, cleans easily, lifetime guarentee
Cons:
No interchangable O-rings, not big on comfort
This is my first rubber harness. I'm a dedicated leather freak, but I saw the need to have something that could get seriously wet (pun intended) in my collection. To me, Aslan Leather's rubber and vinyl harnesses have more sex appeal than nylon, so I contacted Carrie Gray, owner of Aslan Leather, and she told me that the rubber harnesses were the most durable of their waterproof options.
The Slick Jock arrives with minimal packaging, just a clear plasic bag. It smells like a new tire, but that fades quickly. The front piece has one hole and no snaps for interchangable O-rings. It will fit cocks with diameters between 1.5" and 1.875" or smaller cocks with a "universal" (cone shaped) base.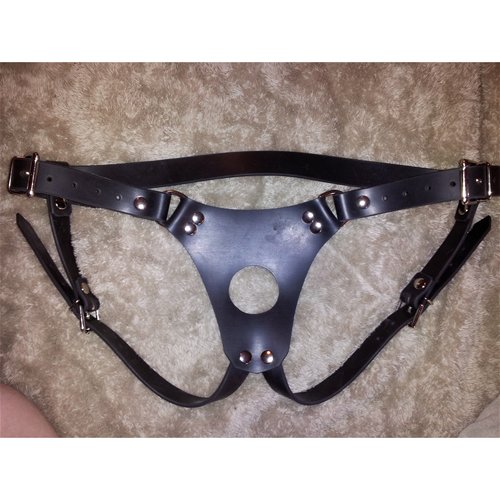 The front piece is cut just like the Aslan Jaguar. The hole is placed low on the groin so that base of the cock sits near the clit, providing great balance and wonderful opportunities for pressure and friction. The downside is that it doesn't help much with achieving different angles. Cocks that are straight or slightly curved will end up pointing down. For positions like missionary, you need a cock with an extreme upward curve or an adjustable spine, like the Vibratex Silky.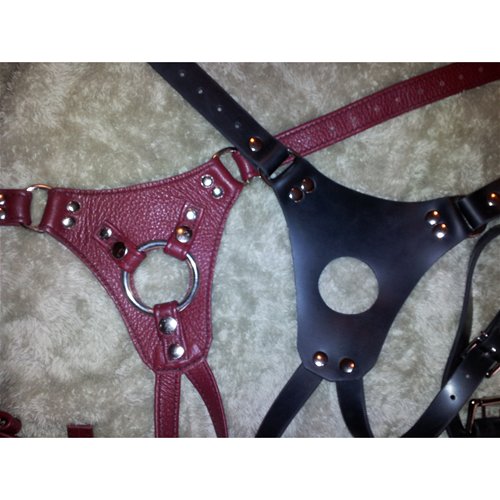 Visually, the black rubber and shiny hardware are quite striking. The two-strap style provides rock solid control and the wearer's genitals are accessible. The construction is excellent, with seamless pieces (no thread to come apart or deteriorate) and double rivets at the stress points. All the hardware is nickel-plated steel, a very strong and dependable material for these purposes, though folks with nickel allergies will want to look elsewhere. The waist and leg straps adjust with buckles for a close fit. Aslan even offers custom sizes for different body types at no extra charge, just contact them through their website. The downside of buckles on the legs is that sitting or laying on your back on a hard surface can be uncomfortable. The rubber is just too thick for adjustable D-rings, so it's a necessary evil. It's also too thick to tuck the ends of the waist straps into the loops at the top of the leg straps (like with the Jaguar) so I had to trim them down.
The thick rubber does make for a sturdy and supremely durable harness. When I was shopping around for waterproof materials, I wanted something that would withstand harsh chemicals and exposure to the elements. With the Slick Jock, I am confident that it won't just laugh at rain, but at chlorine and salt water too. It would also be great if you like to play messy, say with food or mud or whatever else. The trade off is that it is not as comfortable as leather. The strap edges aren't sharp and they don't dig any more than other harnesses, but they just don't mold to your body like a second skin the way leather does.
With regard to cleanliness, rubber is a step up from leather. It can be cleaned with regular soap and will withstand any vigorous scrubbing you want to throw at it. It is less porous than leather, but it is still porous. I've long reconciled myself to using some porous gear, on a case by case basis, and in this case I'm fine with it. This harness undoubtedly comes in contact with bodily fluids, but you have options for making it safe to share with different partners. It can be cleaned with diluted bleach between uses, and if you want to be really careful (or you want to avoid bleach) you can hang it up in a well ventilated area for a week after use. The second method is a recommendation by Dr. Charles Moser, a leading authority on sexuality-related medicine, based on the fact that most pathogens cannot live for very long outside the body. I wouldn't recommend using this harness with different non-fluid bonded partners in a short span of time without a thorough cleaning in between.
The Slick Jock is excellent to travel with, especially since you don't have to worry about protecting it from spills. There is hardly anything that can get on it that you can't clean off. It is not at all discreet. Store it anywhere you like, just make sure it's dry first. Aslan recommends coating the rivets with clear nail polish to prevent rusting. This harness is protected by Aslan's lifetime guarentee, so if it gets damaged under normal use (including rust) you can send it to them for repair.
Overall I am very happy with the Slick Jock. It's not something I'll use everyday, but it is invaluable for use in the shower/ocean/rainstorm/hot tub or any other circumstance that could potentially ruin a leather harness.
Experience
The rubber on the Slick Jock is very grippy, so it has a tendency to drag and pinch while you are putting it on. People who love tight latex clothing know the solution to this problem: lube it up before you put it on. The harness can withstand any lube, but stick with water-based if you are using a silicone cock. Don't worry about the lube washing off in the water while you're using it. Once it's on nice and tight, the grippiness of the rubber is a good thing.

I don't pack with harnesses under clothing anymore (not since Rodeohs) but if I did, I would never consider doing so with the Slick Jock. Wearing a strap-on harness under clothing is hardly comfortable, but with the Slick Jock it would be hell.
Follow-up commentary
2 months after original review
The Slick Jock has gotten a workout this summer, and it has withstood pools and salt water just fine. As colder months approach I am looking forward to using it in hot tubs and the shower. It gets far less use than my other harnesses, but I love having it ready and waiting for the water.
This product was provided at a discounted price in exchange for an unbiased review. This review is in compliance with the FTC guidelines.

Thank you for viewing
Slick jock
– double strap harness review page!