What's one more?
You only need to consider this ring if you have a O-ring styled harness. It could technically be used as a cock ring if you're determined, but I recommend other cock rings if you're new to them.
Published:
Pros:
Affordable, does the job
Cons:
Seam, gets less aesthetic over time
What is this... ring? And who would need one?
This plated chrome ring is used for O-ring styled harnesses. If you don't own a harness and never plan on owning one then you don't need this ring. However, if you are a harness owner, one of these rings may be of use to you. With O-ring harness, you can only use certain flared dildos with certain rings. If the ring is too large, the dildo may not be as secure in the harness. If it is too tight, the ring won't get over the dildo to the base to begin with.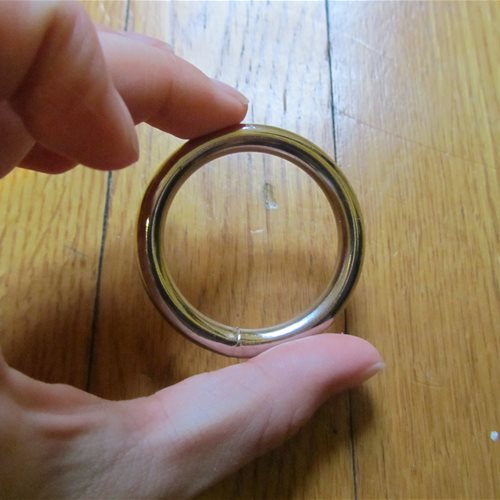 Rings, for the most part, are small and innocuous. If you have a favorite dildo and know what size ring it needs it doesn't hurt to have a spare harness ring on hand. If you wish to acquire more dildos for harness use, then you can pick up one of these rings when on sale. They don't hurt to have an take up very little room. Remember: these rings are only used for O-ring harnesses when it comes to toys. That is their intent anyway. If you can find additional toy uses for these rings, then rock on. The metal is also a good material for harnesses, especially silicone toys. There are silicone rings available, but they can be flexible for the harness and they can possibly react to silicone dildos (reactions can use color transfer and other damage to the coating of the toy).
This is a ring... can it be a cock ring? This ring is not advertised as a cock ring. In general, I recommend metal cock rings for more advanced cock ring wearers. I'd recommend starting with an affordable, stretchable ring that is easy to use and possibly discard if you don't like it. If you must try this as a cock ring, there are a few things to know. Only wear cock rings for 20-30 minute sessions. Wearing cock rings traps the blood inside the penis. That means the blood cannot leave the penis to receive oxygen or nutrients. It's also best to take a break of at least an hour if you plan on using a cock ring twice in a night or for another play session. The one main benefit of using metal as a cock ring is that it won't snag and pull on hair like other materials can. However, it also means that you need a good fit. Make sure to get a size that matches what you're using it for.
Give me the specs.
As stated, this ring is made of metal. Metal ranks fairly high on the materials safety scale. It is made of food grade materials, and is relatively hypoallergenic compared to other materials like rubbers and jellies. Metal is non porous, which makes it easier to clean. The ring is silver colored. Being metal, it is heavy for its size (as to be expected). I got the 1.5 inch diameter ring. That means it can fit for dildos with a circumference up to or near 4.7 inches. Smaller dildos can also work. Remember, the ring secures the dildo at the flared base, so dildos without a flared base won't work. The flared base should be larger than the ring or it won't fit securely. The dildo can be smaller if the base is larger.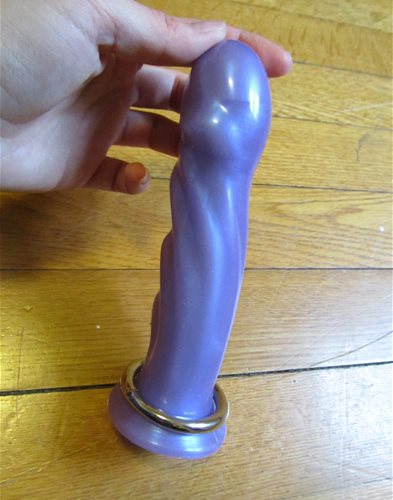 Caring for this metal ring is easy. If fluids or debris get on it, you can wash it with soap and water. Since the metal is plated, I would refrain from stronger cleaning agents. Wet wipes can also work. Make sure you dry the ring well after cleaning it. There is an obvious seam where the ring is welded. It is not sharp, but it's obvious. This ring isn't super heavy, but be careful not to drop it in some areas. It could hurt your toe if it dropped there, but it shouldn't be a risk like some larger metal rings out there.
This content is the opinion of the submitting contributor and is not endorsed by EdenFantasys.com

Thank you for viewing
Plated chrome ring
– multipurpose ring review page!