A Strutting, Jutting Peacock
The Mistress is an amazing, usable cock, great for beginners to penetration (either anally or vaginally) or strap on use. Comfortable, semi realistic, neither too long nor too girthy it is hard to find a dildo more ideal for nearly any user. The addition of the removable bullet means you get everything you need for a fun time in one simple package.
Published:
Pros:
All purpose, soft, flexible, no droop or flop, sanitizable
Cons:
May be too slim for those who like a girthy toy, head may catch the occasional pubic bone
When it comes to a slender semi realistic dildo, you cannot do much better than the Vixen Mistress vibe kit.
The Mistress dildo measures in at a moderate 7" long, 6.5" of that insertable, the other .5" taken up by base. It has a slim girth of 1.25" in diameter which is generally an acceptable size for just about any user, from beginner to advanced. While it may not be quite filling enough for the true size queens among us, even those of us who prefer a lot of girth can appreciate a well made, high quality, less filling cock on occasion. I particularly like to recommend the Mistress for those new to strap on play or anal penetration. It is neither too long nor too thick and is almost guaranteed make the experience a pleasant one.
The Mistress is made of silicone so it is completely body safe, sanitize-able and sharable between people or orifices. The silicone is squeezable, flexible and glossy but not the least bit floppy. The base is hollowed out for a bullet - which it comes with - so the bottom few inches of shaft are softer and more squishy but it becomes firmer along the top few inches where it is not hollow. This is kind of neat, even if you aren't using it with the bullet inserted. Insertion is easy due to the lightly tapered and firm tip and, since the shaft curves and can be bent when there isn't a bullet inside it, you can really do some exact g-spot pinpointing. When there is a bullet inside, it flexes less near the base but can still be angled pretty easily.
The bullet is a typical "silver bullet" push button style mini bullet. It runs on three watch batteries, has an o-ring to keep it fairly water tight and a retrieval cord hooked to its cap - which makes pulling it out of the dildo MUCH easier than those that do not have this cord. The bullet is pretty strong but buzzy. Inserting it into the base of the Mistress turns the entire silicone cock into a moderately buzzing vibrator - maybe not ideal for clitoral stimulation but it adds a nice touch when inserted. The bullet can, of course, be used solo for clit stimulation or tucked into a harness while the dildo is used for penetration, making this adaptable for nearly any taste.
To me, it's just a tiny bit too slender for truly satisfying vaginal use but I absolutely love it for anal play. The realistically ridged and molded head tends to catch a bit on my pubic bone when thrusting vaginally but, used anally, provides a nice sensation similar to being penetrated by a live penis and just the right amount of thickness and length to keep it comfortable, even when vigorously thrust.
It fits beautifully in a harness, provided you have an o-ring to fit it and does not bend or droop once in the harness. It stands rather proudly, like a beautiful peacock colored dick, just waiting to get down to business. The base is thick enough and stable enough to give decent control (at least, I think so. I don't have a person to fuck so I try it out with a male masturbator. :P) but is flexible and soft enough to be comfy and not too bulky.
The shaft is basically smooth and free of texture, though there is a slight ridge under the head on the underside of the toy that is also semi relistic. It doesn't add a feeling of texture in use, just a small amount of extra area and girth immediately following the head, where it would otherwise possibly taper too small without the ridge. The curve is moderate and realistic to the natural curve of a curvy penis. (Say that ten times fast!)
Silicone toys are best used with water or oil based lubes as silicone lubes can react badly. Clean using hot, soapy water and give it a good rinse. Alternately, if you want to share between partners or orifices, boil for a few minutes or spray with a mild bleach solution, let sit a bit, then wipe and rinse.
Packaging is typical Vixen - a red and clear tube that perfectly fits the toy and, if you have space, is great for storage. If not, store with other silicone or non porous toys and do make sure you give it a rinse before using; silicone picks up dust and lint and pet hair like a magnet does paper clips.
As a side note, my Mistress is a much prettier color than the stock images show; more of a peacock teal blue than the sky blue shown.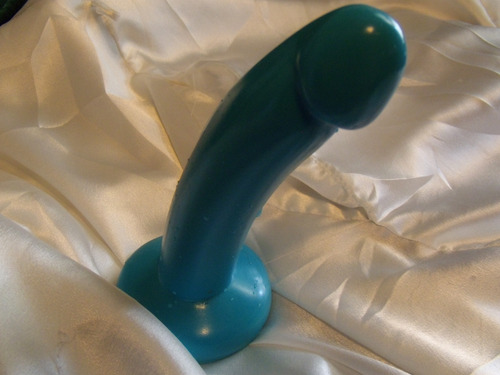 Follow-up commentary
30 months after original review
The Mistress and I, we just don't get along so well these days.

I love her beautiful color but, for me, she's on the slim side and I'm not super fond of her pronounced head.

She's still a great dildo, however, if less girth is what you're looking for!
This content is the opinion of the submitting contributor and is not endorsed by EdenFantasys.com

Thank you for viewing
Mistress vibe kit
– dildo review page!