A Toy for a Throe
If textured glass appeals to you when it comes to G-spot play, then the Spiral and Ribbed Double Dong should be on your wish list or already in your cart. Glass toys offer so much. They are easy to clean and use, have the option of temperature play, and are beautiful to look at. Personally, I find them very easy to slide in and out of my body. While the texture might be a bit intense for some, those who do enjoy it will be thrilled with this toy.
Published:
Pros:
+ Glass
+ Texture
+ Temperature play
Cons:
- Air bubbles in nubs
The Spiral and Ribbed Double Dong is going to interest those of you who have had positive experiences with the solidity of glass and the exciting sensations brought on by texture. The Double Dong is curved in the middle, specifically for your G-spot. However, it also makes the other end of the Double Dong very ergonomically helpful during masturbation. Your own imagination is the only limit as far as what the Double Dong can do in the realm of couples play. On the anal front… or back… the Double Dong might meet all of the material requirements; however, its lack of a flared base keeps me from fully promoting it as a backdoor toy.
The glass that the Spiral and Ribbed Double Dong is made of is referred to as Pyrex. What comes with having a toy made from Pyrex is its ever-popular durability. If you drop it, although still glass, it won't splinter off into a million pieces. What it will do is crack in two or more large pieces, if it breaks at all. If you do drop it and it doesn't break, look that sucker over from top to bottom and make sure there's no cracks, because if there are, you'll need to toss it. As a precautionary measure, it's always a good idea to look any glass toy over really well before using. Pyrex is also non-porous. It's one of the safest materials on the sex toy market. Even with the texture that the Spiral and Ribbed Double Dong has, the pyrex material is extremely smooth to the touch. It's also very firm and completely inflexible. If you decide to do some thrusting with this toy, do so lightly. You'll want to take caution with thrusting any firm toy so as not to bruise your cervix.
You're free to use any type of lubricant that you desire with pyrex: silicone, water, or oil based, but you'll only need a drop. Pyrex gets slick and slippery with only a tiny bit of lube. Although you may be taking into consideration the extra texture that the Double Dong has when lubing up, still be careful not to over-lube and drop your toy! Speaking of texture, the Spiral and Ribbed Double Dong has plenty of it. Half of the Double Dong has a wonderful, thick, spiral that runs the length of its side of the shaft up towards its own phallic-shaped head. The other side of the Spiral and Ribbed Double Dong has large, raised nubs, (25 to be exact) that climb to the top of its own phallic head.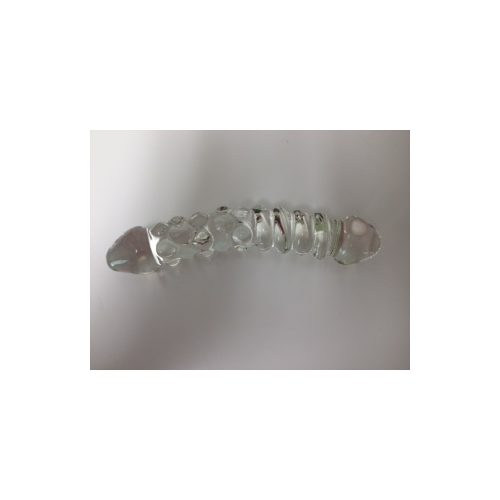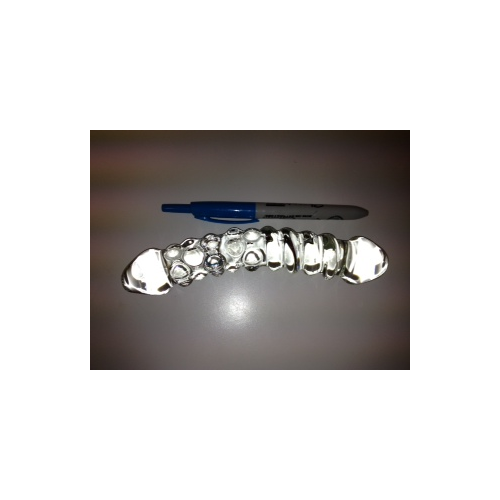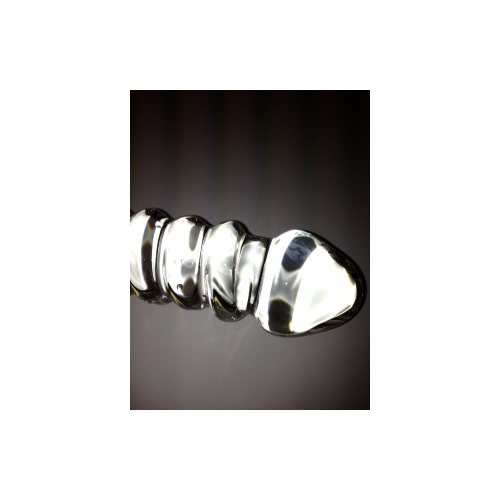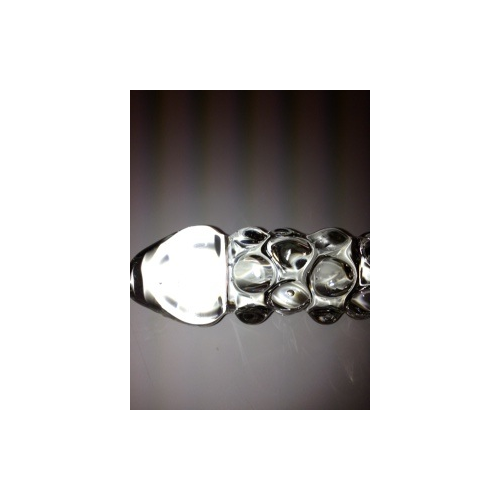 Its entire length is 7 ½ inches. Technically, you can insert as much of this as you want to, just… not the entire thing at one time. Overall, it has some heft to it as well, weighing in at around half a pound. I've got a few other odd measurements for you: at the very bottom of the heads you get a circumference of a little over 4 inches. The circumference around the nubbed shaft is a little less than 4 inches. The circumference around the spiral shaft is a little over 4 inches. While you might not be able to see any big size difference when looking at the toy, if I hold one side of it in one fist and the other side in the other fist, it's slightly noticeable that the spiral side has a bit more girth. It's nothing major, just a slight observation. Also remember that not every glass toy is going to be exactly the same. Unfortunately, I did notice some design flaws in the nubs of my Double Dong. Some of them have air bubbles inside them. Hopefully this won't be a problem, and none of them will snap off.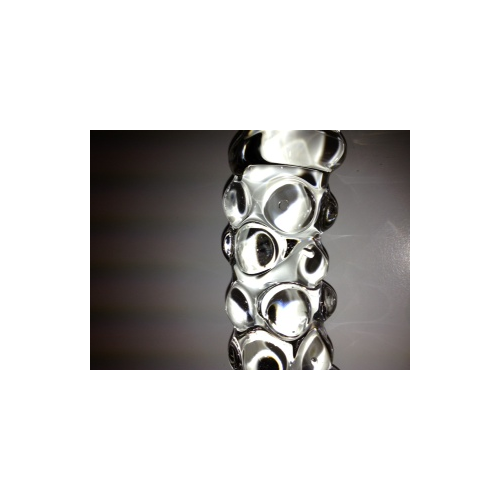 Another perk of owning a glass toy is the option of temperature play. You can refrigerate glass toys or even have them sit in a bowl of warm or cold water before playing with them for added sensations. Touch the toy to the inside of your wrist before beginning play with your partner in order to make sure that the temperature isn't too extreme. Also, keep in mind that one of the main reasons for cracks in glass toys (other than drops, obviously) is going from one intense temperature to another. This often happens during temperature play or cleaning.
Experience
(continued)... When it comes to cleaning you glass toys, it's fine to boil your all-glass toys or even put them in the top rack of your dishwasher, but remember that glass holds temperature extremely well and needs to sit to cool off. A good idea when it comes to boiling a glass toy is to take a cloth and lay it against the inside of the pot so that the toy doesn't have direct contact with the metal. Always remember to check the manufacturer's instructions before sterilizing your glass toy via the boiling/dishwasher methods.
Here are a few quick and easy ways to disinfect/sanitize and clean your glass toys:
1. Use a clean, soft cloth and mix ¼ cups of household bleach with 2 ¼ cups of water.
2. Toy wipes
3. Use antibacterial soap and warm water
4. Use a bit of rubbing alcohol.
The Double Dong came with a soft, little, purple pouch. It's not thick at all, but it's better than nothing. That's a far better place to store it than the plastic packaging that it came in. If you were to give it as a gift, I'd suggest wrapping it.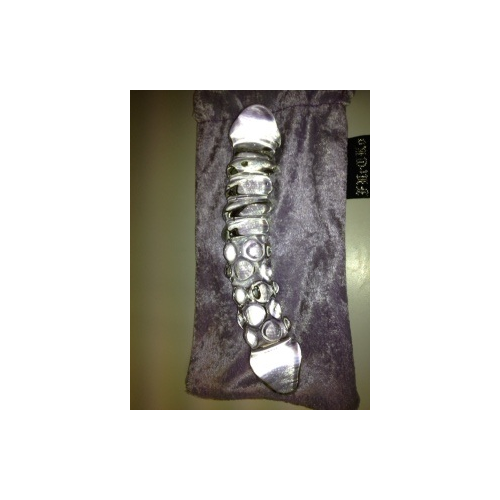 Experience
I was really excited about the texture on the Double Dong and couldn't wait to use it. Because glass is so solid, it makes a perfect massager against my G-spot. Using the combination between the two has been one of the few ways that I've been able to make myself squirt without vibration or The Husband's helpful skills.
I'll go ahead and tell you that the spiraled end as my favorite. It slightly mimics the feeling of a bulged toy, which gives me the sensation of being entered multiple times upon insertion. The thick, raised spiral of the Double Dong puts the most magnificent pressure on my G-spot. I don't just enjoy continuous pressure; I like a slow, upwards drag of the toy against my G-spot.
The night that The Husband and I decided to test this out, I started out by myself with just a little water-based lube. Maximus is our favorite, so that's always our go-to. I kept the nubbed end completely dry and began thrusting the spiraled end lightly. The curve was perfect; the texture, even better.
The Husband took over with the Double Dong. It was such an amazing feeling. I was fucking the toy as much as The Husband was using it to fuck me. I told him that I was going to cum, which only increased his efforts in making me do so. Squirting isn't the word for it. Flooding, maybe. My next review should be on a throe.
Follow-up commentary
2 months after original review
A few months later... and still with the squirting orgasms. I believe that it's the textured solidity of the glass pressing up against my G-spot that gives me such intense orgasms. Regardless, the Spiral and Ribbed Double Dong has become one of my favorites. If you're a texture and glass lover, then I would definitely recommend that you give this guy a try. He hasn't disappointed me yet.
This product was provided free of charge to the reviewer. This review is in compliance with the FTC guidelines.

Thank you for viewing
Spiral and ribbed double dong
– g-spot dildo review page!