Two In One Dildo
The Spiral and ribbed double dong is a double ended dildo with two separate textures. It's made of a body safe material that can be boiled for cleaning, but it's an unforgivable material. This dildo is not the most ideal for anal play, but is overall an awesome toy. At this high price tag, you think the product page picture would be the toy you get, but that is not always the case.
Published:
Pros:
Safe material, boilable, textured, double ended, pouch included, and temperature play.
Cons:
Not ideal for anal, head issues, unforgivable material, too textured for some, and expensive.
Use
The Spiral and ribbed double dong is meant for vaginal penetration. Anal penetration is not advised because the lack of a proper base, but if extreme caution is used, it could be used anally. Due to the length of this double dong, it won't work out as an actual double dong. However, the plus side is that each end has it's own texture. So, you get a two for one deal with this purchase.
Those who are new to glass should look into a texture-less dildo because you should know how glass feels prior to purchasing one with texture. If you already own glass, but are looking into texture picking a double ended glass dildo with two different textures is a good idea. The spiral and ribbed double dong along with other dildos list in the similar products section are good options to get more for your money.
Material
This dildo is made of
Pyrex glass
and manufactured from Phallix. Pyrex glass is an inorganic, non metallic material that is a cooled liquid. It's cooled at a rate crystals can't form. Your end result is a stunning, seamless dildo. Should you drop your dildo, it shouldn't break into small pieces or chip. Instead, if it were to break, it would break into large pieces. NEVER use a chipped, cracked, or broken glass dildo. If it's within the time for a return, use Eden's awesome
return policy
.
Be careful when using glass because it's an unforgivable material. If thrusted too hard the firm material can bruise your cervix. You will also want to watch your teeth if you put this in your mouth. It could chip a tooth. Glass can usually be instead with little to no lube, but when you use lube glass will become slippery. So, be careful you don't drop it. Should you drop it, fully inspect the dildo for cracks. Upon arrival you should also inspect your glass toys for imperfections. Since glass dildos don't have any controls, it's also waterproof. However, the water will also make glass slippery. Be careful not to drop your toy in the shower. It could break and it could get stuck in the drain.
The best quality about glass is it's ability to take on temperatures from it's surroundings. You can make this dildo warm or cold by running it under water of the desired temperature. If you want a cool glass toy you can add it into the fridge, but I find cool water with or without ice is great. If you are looking for a warmer toy, don't boil this for temperature play. This could really hurt if you don't allow proper cooling time. Using warm water is best. You can boil this for cleaning purposes. Glass toys can be boiled for 3-5 minutes at a time. Doing so will completely sterilize your dildo. So, sharing is possible without a condom.
Glass is latex free, phthalate free, hypoallergenic, and non porous with a safety rating of 10 out of 10.
Texture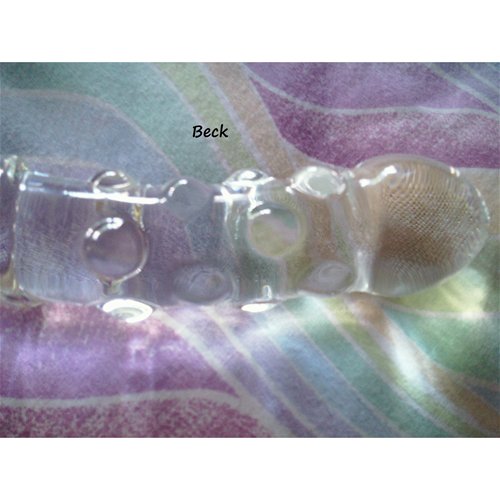 Marked as ribbed, it's actually nubbed texture. There are 16 circular nubs that are about 0.25" raised off the glass. These nubs have a 0.5" diameter. They're only along the shaft after the head and stop before the half way mark to split the textures.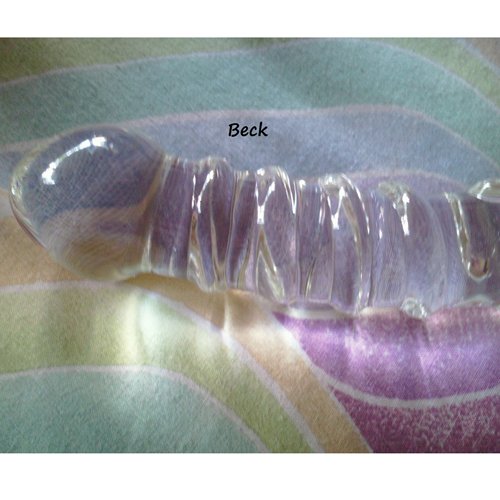 Spiral is exactly what I would label this textured end. After the head the shaft has a single 0.5" thick line of texture wrapped around it. This is also raised about 0.25" along the shaft.
Design
Spiral and Ribbed double dong is available in three colors on Eden Fantasys. There is clear, blue, and pink. I have the clear one. Since glass pieces are hand made they can vary. So you can get different measurements for two of the same toy. They can also have different head shapes. The thickness of the texture could vary, and so on.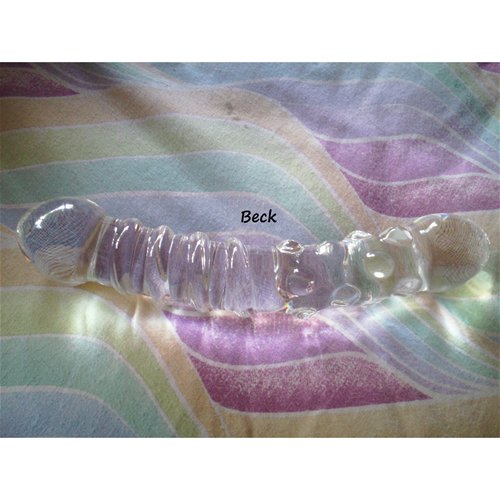 The Heads
Upon arrival I was a bit bummed out to have received, yet another, glass dildo with small heads. My first Phallix toy was
Cobalt
. My Cobalt toy came with perfect heads. They were shaped like they should be and create a popping sensation. Which is the whole point of fuller heads. My second Phallix toy was the
Colorful G-Spot Wonder
. I was disappointed that did not have the same full head size as I did with Cobalt. So, when my Spiral and ribbed double dong arrived, I again was disappointed in the head. I longed to have a full head to help with the popping sensation, but instead was given a small rounded head. This head is not full enough to get this popping sensation. However, it's still a great dildo. Here is a comparison photo of the three above mentioned heads next to each other.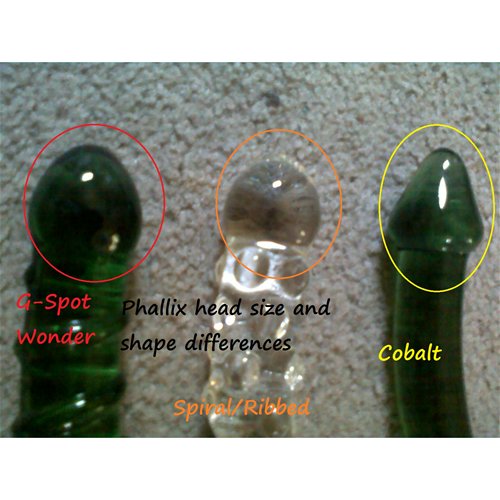 Experience
Size
The Spiral and ribbed double dong is marked as 7" long, but I have about 7.5" in length. The shaft is curve slightly in the middle. So, each end is angled slightly upright. Circumference/diameter is different depending on what area of the toy you measure. The heads have rounded tops to make insertion easy, but then they get fuller. The nubbed end's head has a 4" circumference or a 1.25" diameter. The spiral end's head has a 4.25" circumference or a 1.35" diameter. This head difference isn't noticeable when inserted, but noticeable appearance wise. The shaft thins down and is the same circumference/diameter for both textures. The circumference is measured in at 4.25" or 1.35" diameter.
***Remember Glass Toys Vary. Your toy could be different from mine.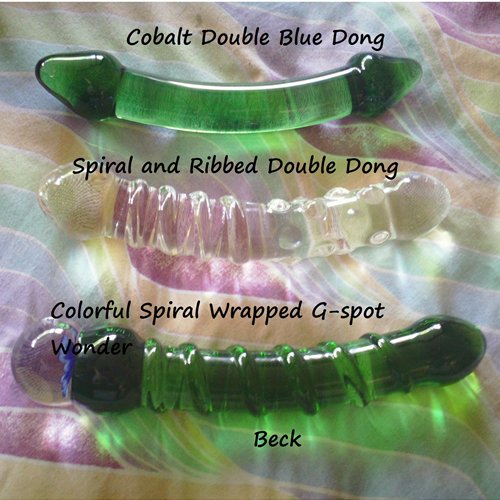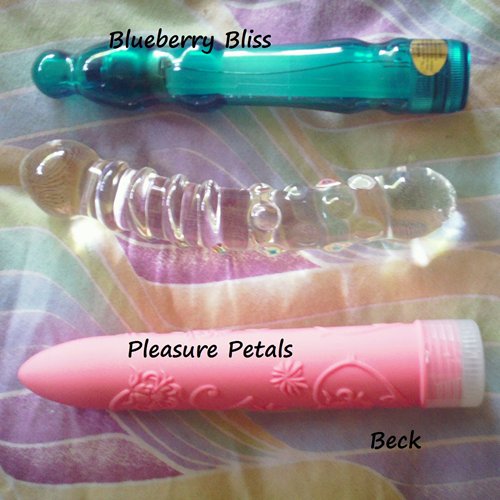 Performance
I am happy with this glass dildo. And despite my complaints about the head size, it is still a 5 star dildo.
I have not owned many glass toys with nubbed texture on them prior to this dildo. This is because my
Passion Wand
didn't do anything for me. I just have a hard time feeling it on that toy, so I figured I would have the same issue. However, these nubs are raised and more defined than the passion wand. I find myself really enjoying them. And I have ordered two new nubbed textured glass toys. The nubbed texture independently rubs the vaginal walls with each nub. They hit random places and feel so amazing. I hit places I never knew about prior to using this nubbed end. I'm really pleased with it's performance. However, my favorite end is the spiral texture.
My first glass toy was
Pink Swirl
. That dildo has swirled texture like the spiral end of this dildo. After trying swirled texture for the first time, I was in love. I have since bought many swirled glass dildos. And I love each of them. This end is no exception. The swirl/spiral texture rubs the vaginal walls and it feels like heaven. The curve with this texture just happen to line up on my shallow G-spot and rub it. This really makes my juices flow. I do still wish the heads were fuller to help create the popping sensation. But I am still very pleased with my dildo.
Care
Glass is extremely easy to care for. You can wash it with soap and water, toy cleaner, toy wipes, 10% bleach/90% water solution, or boil it. If you are sharing this toy, you need to boil it or use the bleach solution. But that could be avoided if you use a condom. Be sure to let your toy dry completely before putting it away. All Phallix toys come with a non padded pouch for storage. These pouches can vary, but mine is a purple velvet pouch with a draw string. You should store your toy safely so it doesn't get damaged. If you are traveling be sure to pack it securely.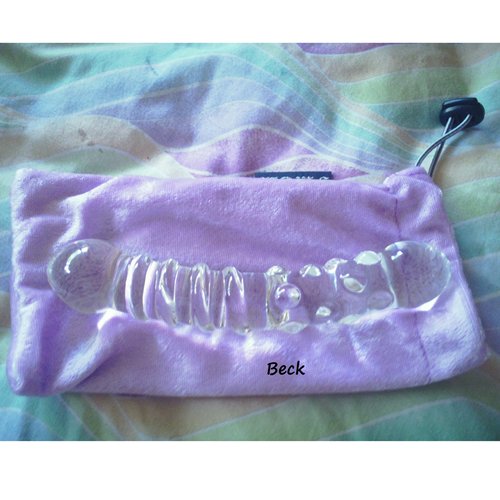 This product was provided free of charge to the reviewer. This review is in compliance with the FTC guidelines.

Thank you for viewing
Spiral and ribbed double dong
– g-spot dildo review page!