Amazing Wood!
Want to experience new heights in personal massage. This hand crafted dildo is firm and solid while being amazingly light weight. Designed for g-spot or p-spot stimulation, this toy is ideal for solo play or with a partner. Easy to care for the salad bowl finish is completely body safe and easily sterilized. Go Green and experience the joys of wooden toys with the #359.
Published:
Pros:
Elegant, Hand Crafted, Light Weight, Perfectly Sealed, and Earth Friendly.
Cons:
Maybe be a bit short for some users.
Natural in every way, the #359 by Hardwood Dildos is a wonderful toy. Handcrafted from cherry wood; this dildo looks and feels like a piece of art. Are you ready to go green with your sex toys? Wood is an excellent choice. Its natural qualities make it ideal for intimate toys.
Designed to match the natural curves of the body, this dildo is the perfect g-spot toy. Don't have a g-spot? No worries, it works for anal or p-spot stimulation equally as well.
Wood toys are not only pleasing to the eye; they are also excellent pleasure objects. Feeling the solid firm wood thrusting inside of you, is a whole new experience in itself. Another wonderful aspect of wood is that it is a natural insulator. This means that when the wood first touches your skin there is no gasping effect from the temperature. What's more is that, wood will quickly match your body's temperature and retains the heat. Sealed with a silky smooth salad bowl finish, there is no need to worry about splinters or sterilizing this piece.
Completely body safe: Food-grade material, Latex free, and Phthalates free.
Elegantly hand crafted, the #359 has a thick and short shaft with a bulb handle. The shaft is perfect for those who have a low g-spot or those who like a bit of force when reaching that perfect zone of pleasure. In addition, this shaft is just the right length to reach the p-spot.
Although the bulb looks amazing to massage the g-spot with, it is the perfect handle. When using this end for the handle, you have complete control of the piece. It feels natural and comfortable in your hand. Also when using this toy solo, the handle is easy to grip and hold onto. On the other hand, when the dildo is turned using the opposite end for a handle, it is slippery and you have a hard time maintaining a firm grip.
When looking for a dildo, why not treat yourself to the pure elegance of wood? The #359 is a superb choice for your personal enjoyment.
Here's the Facts:
Hand sculpted from Cherry wood, the #359 is elegantly made. To minimize the impact on the environment
Hardwood Dildos
only uses wood which is scraps from larger projects, salvaged from lumber yards, or milled from limbs or fallen trees.
Furthermore, the wood is sealed with five coats of salad bowl finish. The completely seals and preserves the wood. The seal is non porous and makes it completely sanitary and safe to share between orifices or partners. Easy to sterilize wood is virtually effortless to care for.
Measurements:
With items created by hand the measurements can always vary ever so slightly from the in each piece.
Length – 6 ¾ inches. Insertable length – 5 ¼ inches.
Circumference – 4 inches along the shaft. 5 ½ inches around the bulb.
Weight – 0.2 lbs.
Also, it is designed with an ever so slight 10 degree curve in the middle of the shaft.
Care:
To ensure your piece lasts for years to come keep it safe from dents and dings. Always store it the included velvet bag. Also, use caution when wet or covered with lube since it becomes extremely slippery and might possibly be damaged by hitting a hard surface.
To clean simply wash it with mild soap and water, and dry with a clean cloth, after each use. Also it can be cleaned with 10:1 water and bleach mixture or your favorite non abrasive toy cleaner. It is important to clean your wooden toys in the dish washer or by boiling.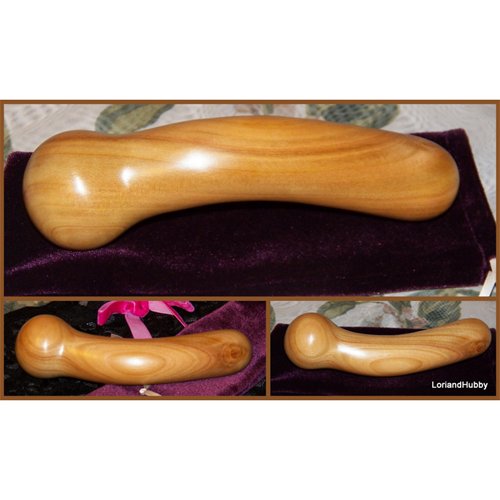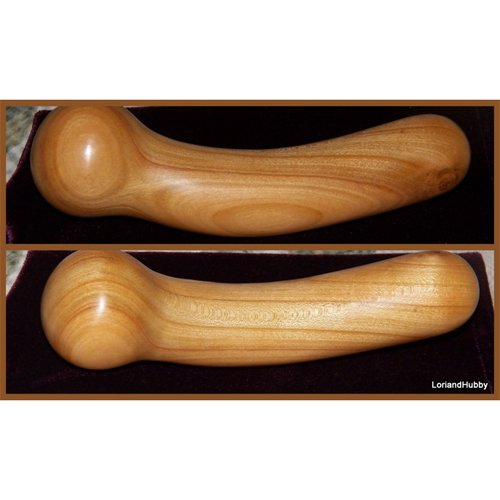 Experience
After experiencing my NobEssence g-Spot flogger, I am absolutely in love with wood.

The feel of it gliding in and out of my body is mind blowing. In all honesty, nothing compares to wood. What draws me so much to wood? I can sum it up with four points.

First: What draws me wood first and foremost, is the grain patterns and the color of the wood. To me it is classy and elegant. It is a thing of beauty.

Second: Next is the feel. Wood is firm and solid. When this is combined with the silky smooth finish, it feels erotic gliding across your skin. Also, just the slightest amount of lubrication is all you need to get things slipping and a sliding with no resistance.

Third: Now we come to the weight. Wood is amazingly light and it allows you to have girth without that heavy feeling. For those like who have carpal tunnel syndrome like me, this is a heaven sent.

Fourth: Lastly, it is simple and easy to clean. With its seal there is nothing to worry or fuss with. Just wipe it down with EdenFantasys toy wipes and its ready for the next time.

In my mind there is absolutely nothing that can compare to wood.

You may be saying now, "Ok, but how does it stand up to the test?"

From the first time I used this piece, I knew it was a keeper. Being thick and firm, it gave me that feeling I so love. Combined with its near weightlessness, I was in heaven. Now I could go with the flow and relax. Playing with the #359 alone was fun and invigorating since I didn't walk away unable to finish the job due to wrist fatigue. Hubby also has similar experiences after using it on me.

For squirting it does the job just right. Although it is on the shorter side, it hits the lower edge of my g-spot perfectly and makes me flow like fountain. No I'm not exaggerating, there really was a puddle left behind in the floor one night.

For anal play, Hubby finds it completely satisfying. Although for prostrate milking it isn't ideal, for stimulation it is a champ.

We have used this toy numerous times and it has never let us down. Still not convinced? They say the proof is in the pudding, just try one and see for yourself. I'm sure you will fall in love too.
Follow-up commentary
3 months after original review
Glorious wood. I love my wood friend. It is firm and solid inside of me and does its job perfectly. If you are worried about making a large investment to try a wooden toy, this piece is ideal. It may be a bit lower in cost than other brands available, but the quality is not lacking in any way.

I love this toy and I could not be happier with my purchase.

This product was provided free of charge to the reviewer. This review is in compliance with the FTC guidelines.

Thank you for viewing
Handcrafted wooden dildo #359
– dildo sex toy review page!