Beyond Ophoria And Back Again
If you are looking for a durable g spot toy that will last a lifetime, look no further than the Ophoria #3. The curls and textures of this firm silicone provide perfect pressure and maneuverability without the chance of any harm while thrusting. It will satisfy size queens or beginners alike, and it can be taken anywhere with you.
Published:
Pros:
Fantastic shape, perfect firmness for g spot/p spot/a spot stimulation, everything else.
Cons:
None.
The Ophoria Beyond #3 is a fantastic g spot dildo, made from pure silicone that absolutely delivers. Its contoured curve is shaped just right to fit my body and it leaves me breatheless.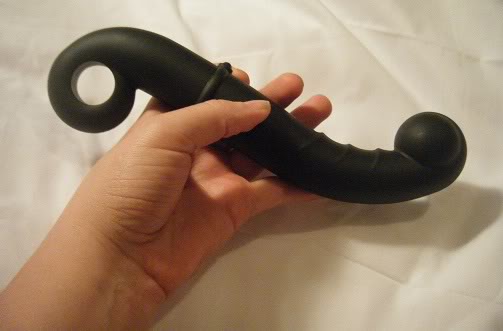 *Use*
This dildo is best used for g spot or p spot stimulation. I say this is safe for anal because of its shape, size, and looped handle that can act as somewhat of a flared base. There is a small button further up the shaft that some find useful for clitoral stimulation as well.
*Material/Care*
Ophoria 3 is made of 100%
silicone
, making it easily sterilized and able to share. Since silicone is non porous this can be stored with other toys, but it is recommended that you keep this away from other silicone toys and/or lubes. Silicone can deteriorate if it comes into contact with itself and we do
*not*
want that happening with this precious piece!
The silicone gives this toy a firm core, but it also provides flexibility so you won't hurt yourself while thrusting. It is a smooth black color, and has a matte (almost velvety) feel to it which gives it drag. Lube is suggested to use with this (remember: no silicone lube!).
Silicone is the easiest material to clean in my opinion. After use you can simply wipe it down with a toy wipe, or suds it up with soap and warm water. Air drying would be best as silicone collects lint and dust easily. It can be sanitized by dropping it in boiling water for a few minutes or throwing it in the top rack of the dishwasher.
*Design/Size*
Ophoria is 9" long with a diameter of about 1 1/2". 6" is insertable (more or less depending on your comfort level) and its flexible design makes you feel full and satisfied.
Here is the Ophoria next to a 3 hole punch for size comparison.
The head is a small, bulbous shape that contours to hug the g spot ever so wonderfully. Just below it are three small ridges for added texture. I don't really notice these, but then again I forget about everything once this slips inside of me. Further up the shaft a small band is crafted in the silicone with a small protruding nub.
From the other reviews I have read, this is intended for clitoral stimulation while thrusting, and can be accomplished if you bend the toy while fully inserted. I don't find the button very useful, but I am not into that kind of clitoral stimulation.
The shaft curls up and around into a 1" opening that can be used for bullet insertion. All of my bullets are too small for me to test this theory yet, but I will be on the lookout for one that can fit snugly into that hole. For now I just use it for gripping while I use it.
A POV view of the wonderful curves and nub that Ophoria offers.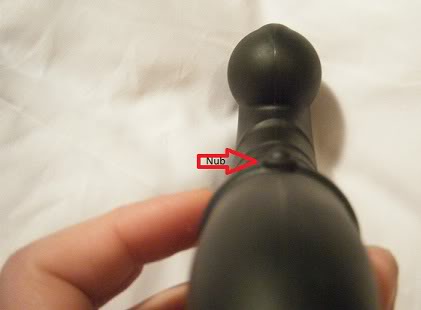 Now you may notice the small seam that runs down the middle of this toy. Fear not, this is simply a cosmetic "flaw" for some. It cannot be felt while thrusting and this tiny "con" is well out weighed by every other aspect of this thing.
*Performance*
This is an absolutely excellent g spot toy if you need firm stimulation, but a little bit of wiggle room. The head is a nice thick silicone which provides that feeling of rigidity, yet the core is soft and flexible enough that you can maneuver it without harming yourself. Don't let the flexibility fool you: it is not floppy and stays in place well enough to give firm pressure to the g spot. It also works wonders on the a spot, p spot, and any other spots you may have in there. I know it helped me have some awesome orgasms. I am keeping this as my go to g spot toy from now on!
Experience
*Traveling/Discretion*

This isn't exactly discreet, but it is abstract and I think you can get away with displaying it as art (depending on who sees it). It is a decent size but it can fit in a bag or purse, and since it is silicone you don't have to worry about it going off in the airport (therefore causing you to be XXX-rayed or end up in some foreign prison, heh).
This content is the opinion of the submitting contributor and is not endorsed by EdenFantasys.com

Thank you for viewing
Ophoria Beyond #3
– dildo review page!